Today we will discuss about Kasturba Medical College MBBS Admission 2023. Read this article till end to know complete details about MBBS admission process & other details.
Kasturba Medical College MBBS Admission 2023
Kasturba Medical College Manipal & Mangalore is top choice of Indian as well as foreign nation medical aspirants in Deemed Medical Colleges.
There are more than 27500 students – from around 60 countries. If we talk about faculty members , there are more than 2650 faculty members of top quality. We want to tell you that are two campus one in Manipal and another one is in Mangalore.
If we talk about fees and quality -fees is same in both the campuses. And there is no compromise in term of quality education. There are around 25 institutions  in medicine, engineering, management and humanities . Mangalore campus also have a medical, dental and a nursing college with attached  hospitals. In addition to these two campuses they are having engineering, technology and management campus in Dubai.
Facility at Kasturba Manipal Medical College
There is no doubt that it provides state of Art facilities in each of their campus.Manipal campus is equipped with best laboratories like Simulation Lab with computer driven Manikins, center of excellence , largest health sciences libraries of not only India but Asia's.
In addition to this it have  top anatomy museums, a business incubation center. It have tie -ups with many top universities of  United States, United Kingdom, and Australia for world class exposure to their students. It is not only famous for its world class education but also for sports facilities like  badminton ,squash ,tennis, basketball court. In addition to this it have latest machinery equipped  gym for good health of students. There are many awards and certificates win by these two campuses.
Inception of KMC Manipal Campus
It was started in year back 1953 and having  campuses in Sikkim and Jaipur in India, and in Nepal, Malaysia, and Antigua, in the Caribbean. Kasturba Medical College, Manipal,  was the first self-financing medical college in the private sector in India.
Location of KMC
Location of this campus is very excellent was started  in a barren hill and one of the greenest campus. When ever it comes about the discussion of Top medical colleges especially in Private sectors  Kasturba Medical College, Manipal, ranks first. It is a name synonymous with quality medical education which forces students from all over the world. The college has consistently been ranked among the top five medical colleges in the India. Students from over 60 countries graduate from the college every year.
Mission & Vision of  KMC 
Providing quality professional medical education to every student who joins Kasturba Medical College, Manipal to facilitate his overall growth is the prime objective of the institution. The mission of Kasturba Medical College, Manipal is "to train competent, compassionate and carrying physicians through excellence in teaching and patient care". The entire team of management, the faculty, staff and the support employees, with the best of the available infrastructure facilities, has been working towards achieving the same.
KMC Manipal MBBS Fees 2023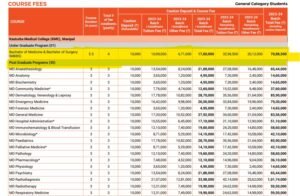 Click here to see the complete details from official website.
Facts & Figures of KMC Manipal
As we have you earlier that Kasturba Medical College, Manipal that was started in 1953 not only provide MBBS Course but also many PG medical courses. We must know that to get admission in MBBS in any deemed college of India , a medical aspirants have to appear for NEET UG examination. We would like to inform you that mostly NEET UG exam schedule is released in October and November. Last date to fill examination form is December month End.
Currently NEET UG and NEET PG examination is conducted by NTA.To see the complete details and apply online click here.
As NEET UG 2023 is conducted on May 7,2023 and result will be declared by June 15,2023. After that counselling and admission procedure will be started.It is conducted by MCC. To visit official website of MCC click here.
And this exam is compulsory not only for Indian but for NRI and foreign nation students also
KMC Manipal PG medical Courses
Similarly students who wish to do PG course after MBBS have to appear for NEET PG examination . Currently, the institution, besides the undergraduate medical course leading to the award of MBBS degree, is also conducting various postgraduate medical courses in various disciplines and super-specialty courses leading to the award of M.Sc., MD, MS, DM, MCh qualifications.
The institution offers the following courses:
· Undergraduate Courses – MBBS
· Postgraduate Courses – 55 (in various disciplines)
KMC Manipal Scholarships & Financial Aid
Manipal Academy of Higher Education (MAHE) Manipal awards scholarship for its Under Graduate (UG) and Post Graduate (PG) students under various categories.
Click here to see complete details.
Alumni
At present ,there are around  1295 UG students and 690 PG students doing  various professional medical courses.  More  than 14510 alumni of the college are giving their services all over the world.
As all the medical courses must be approved by NMC ( National Medical Commission).
Kasturba Medical College, Manipal, is a constituent college of MAHE, Manipal (formerly known as Manipal University), which is a deemed to be university recognized by University Grants Commission under Section 3 of UGC Act 1956.
The whole campus of Manipal University is spread over an area of more than 550 acres of land.
All the facilities provided by college is world class including
Laboratories,
Gym
Lecture halls
sports facility
Library
Hospital
Kasturba Hospital, Manipal
Kasturba Medical College at Manipal was begin on June 30, 1953. After college came into existence, requirement for a teaching hospital  felt  to give practical knowledge to students.
In 1960, that long felt need was fulfilled when the Medical Relief Society of South Kanara joined hands with the college in setting up a hospital in Manipal. Kasturba Hospital started in May 1961, with 150 beds. Today, Kasturba Hospital has 2030 beds.
The hospital is fully equipped with state-of-art diagnostic and therapeutic departments to provide treatment of a wide range of medical and surgical diseases.
It is well equipped for advanced and sophisticated surgeries such as coronary bypass and open-heart surgery as well as kidney transplantation. The 280-bed cancer research hospital is located adjacent to the main hospital.
The hospital caters to a large number of people not only from Karnataka but from other states like  Kerala, Goa etc. In addition to providing health care in the normal course, the hospital also provides special health care schemes like Medicare and the Manipal Health Plan.
Kasturba Hospital has been providing yeoman service to the people for nearly five decades in the fields of medicine, dentistry, and pharmacy.
It is also accredited by NABH.
Feel free to contact us @ 88-26-86-11-47/93-50-990-408 for counselling and admission related inquiry in MD/MS/PG Diploma/DNB and MBBS. You can call us for any query and questions related to  NEET UG/PG examination .We are ready to assist you anytime.
You can also visit our You Tube channel by clicking here.
Share this post?