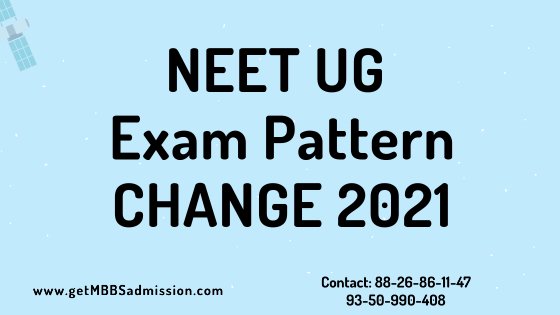 As lots of students and parents are asking a question about NEET UG Exam Pattern 2023 ,so today we have decided to cover this Topic.Read this article till end to know the complete details and strategy to attempt NEET UG exam.
As you know that in India ,now a days there is only one Entrance exam ( NEET UG ) to get admission in any of the medical college(Govt./Semi-Govt./Central University/AIIMS/JIPMER/ESI/Private or Deemed Medical College).
NEET UG Exam Pattern 2023
We have also observed that medical aspirants have suffered a lot in previous years due to COVID 19. Students have not attended offline classes/coaching in last one year.
Keeping the same thing in mind , all the concerned department may decided to provide some relief to the students and this is the reason that NTA have decided to change NEET Exam Pattern two years ago.
Today we will discuss about NEET UG Syllabus & Preparation 2023. As all of us know that NEET UG is the largest entrance exam in respect to the number of applicants.
Now a days this is the only channel to get admission in any medical college of India. Before year 2020 there were at least three different exams (NEET UG, AIIMS, JIPMER ),but now only one .This is the reason that ,this exam is very crucial for all medical aspirants looking medicine as career.
NEET UG Syllabus & Preparation 2023
As per the latest update, the NEET UG 2023 entrance exam is Scheduled on May 7,2023 (Sunday). Last year NEET UG examination was conducted on July 17 (Sunday) but result was declared too late ,on September 7. Medical aspirants are giving their best to score high in NEET UG 2023 so that they can get admission in best Medical college . As board examination(CBSE) is scheduled in the month of March, so the students are having only one month to Crack NEET UG 2023 .
That's why we decided to write this guide to help all those students who want to know "NEET UG Syllabus & Preparation 2023 ".
In this guide, you will find all the details regarding NEET Syllabus & Preparation 2023 and how to crack NEET UG.
So, let's get started by knowing about NEET exam,
What is NEET UG exam and things you need to know,
NEET (National Eligibility cum Entrance Test)  UG is an all India pre-medical entrance test for all those students who decided to pursue their career in the medical field and want to study it. By cracking this entrance exam students can study in top government and private medical colleges. If you know what is NEET UG exam, you can skip this part.
To know the minimum marks required to get good medical college ,Click here.
To crack this exam this entrance exam is all about checking students knowledge in PHYSICS, CHEMISTRY and BIOLOGY. If we talk about total number of question and marks there are generally 180 questions and a total of 720 marks MCQ pen-paper exam Mode .
Note: You must also keep in mind that negative marking is also there, so avoid those question in which you are not fully sure.
The Entrance Test shall consist of 200 multiple choice questions (four options with a single correct answer) from
Physics, Chemistry, and Biology (Botany & Zoology). 50 questions in each subject will be divided into two sections (A
and B) as per the details given below:
Section A shall consist of 35 (Thirty-five) Questions in each subject (Question Nos – 1 to 35, 51 to 85, 101 to 135, and 151 to 185). All questions are compulsory. Section B shall consist of 15 (Fifteen) questions in each subject (Question Nos – 36 to 50, 86 to 100, 136 to 150, and 186 to 200). In Section B, a candidate needs to attempt any 10 (Ten) questions out of 15 (Fifteen) in each subject. Candidates are advised to read all 15 questions in each subject of Section B before they start attempting the question paper. In the event of a candidate attempting more than ten
questions, the first ten questions answered by the candidate shall be evaluated.
PHYSICS– 180 marks
CHEMISTRY– 180 marks
BIOLOGY – 360 marks
NEET  UG exam question paper 2020 has a total 180 question with 3 hours time duration.
| | |
| --- | --- |
| Subjects | Questions |
| Physics | 45(35+15 out of which 5 are optional) |
| Chemistry | 45(35+15 out of which 5 are optional) |
| Botany | 45(35+15 out of which 5 are optional) |
| Zoology | 45(35+15 out of which 5 are optional) |
| Total | 180 |
Two years ago, NEET  UG exam question paper pattern was changed.
Revised NEET UG 2023 Exam Pattern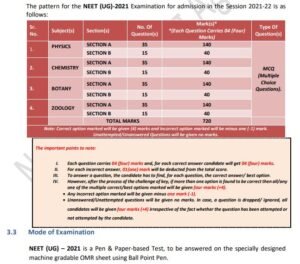 Every right answer to these questions can give 4 marks but a wrong answer will cost you 1 marks, 1 for the wrong answer to a question. This why students need to pay attention to only the questions that they are 100% sure.
You are having less time for preprations ,so prepare well and get Good college of your interest.
Good Luck !!!
Feel free to contact us @ 8826-86-11-47/93-50-990-408 for counseling and admission related inquiry in MD/MS/PG Diploma/DNB and MBBS. You can call us for any queries and questions related to  NEET UG/PG examination. We are ready to assist you anytime.
You can also visit our YouTube channel by clicking here.
If you want to see all details related to 2022 MBBS counseling state-wise and All India level, please download Free Android App -ADMISSIONMANTRA.
Share this post?