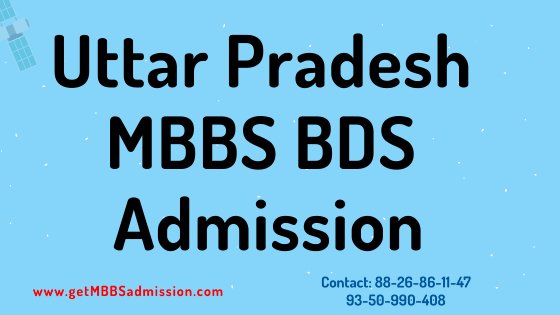 Today we will discuss about " Uttar Pradesh MBBS BDS Admission 2024 ". Read this article till end to know total MBBS seats & fees structure  in Govt./Private medical colleges ,minimum marks required to get MBBS admission for domicile and non domicile candidates. 
Uttar Pradesh is also one of the largest states having large number of Government and private medical colleges.Uttar Pradesh is an open state which allows medical aspirants of non domicile states from any state/UT from India to take part in private medical colleges counselling and get admission on the basis of NEET UG score .
Note :One important point about Uttar Pradesh is, it's 100 % seats in private medical colleges are available for all students irrespective of their state. While in other states some of the seats are reserved for state/UT domicile candidates.
Uttar Pradesh MBBS BDS Admission 2024 | Uttar Pradesh MBBS  BDS counselling 2024
Directorate of Medical Education and Training (DMET), Uttar Pradesh is responsible for conducting Counselling for  the UP MBBS,BDS and other medical courses admission. The committee will do admission in UP MBBS/BDS 2024 against 85 % state quota seats offered by 67 medical and 23 dental colleges. Applicants who fulfills the eligibility criteria prescribed by the counselling authority. For UP MBBS 2023 admission, medical aspirants have to qualify  the NEET UG entrance exam. There are around 8678 MBBS and 2251 BDS seats  in Uttar Pradesh under 85% state quota seats and 100% quota seats in private colleges of the state.
If we talked about NEET UG 2024 it is scheduled  by NTA on May 5,2024 (Sunday) and result will be declared by June ,2024.
13 New Govt medical colleges in Uttar Pradesh 2024
As per social media news , Mr. Alok Kumar, Prinicipal Secretary of the department of Medical Education had said, Uttar Pradesh is set to make significant progress in the field of health care by opening 13 new Govt. medical colleges in different districts from coming session. These districts are as follows: Bijnor, Kushinagar, Sultanpur, Gonda, Lalitpur, Lakhimpur Kheri, Chandauli, Bulandshahr, Sonbhadra, Pilibhit, Auraiya, Kanpur.
Uttar Pradesh MBBS BDS mop up Round 3 counselling schedule 2023
Uttar Pradesh MBBS BDS admission 2023 counselling registration schedule
As per latest information on official website ,Uttar Pradesh MBBS BDS admission 2023 counselling will starts from July 25,2023.
Uttar Pradesh MBBS BDS cut off 2023
 
 
 
 
2022
2023
Quota 
Category 
Institute 
Course 
R1
R2
R3
R1
R2
R3
UP-Govt Quota
UR-OP
King George Medical University, Lucknow KGMU, Lucknow
MBBS
2786 ( 74 )
2906 ( 74 )
–
2849 ( 74 )
2948 ( 74 )
–
UP-Govt Quota
UR-GL
King George Medical University, Lucknow KGMU, Lucknow
MBBS
2255 ( 21 )
2255 ( 21 )
–
2783 ( 21 )
3137 ( 21 )
–
UP-Govt Quota
UR-EX
King George Medical University, Lucknow KGMU, Lucknow
MBBS
5970 ( 2 )
5970 ( 2 )
–
4180 ( 2 )
4180 ( 2 )
–
UP-Govt Quota
BC-OP
King George Medical University, Lucknow KGMU, Lucknow
MBBS
3872 ( 40 )
3872 ( 40 )
10132 ( 1 )
4427 ( 40 )
4428 ( 40 )
–
UP-Govt Quota
UR-GL
Dr. Ram Manohar Lohia Institute of Medical Sciences,Lucknow Dr RML IMS, Lucknow
MBBS
3542 ( 13 )
3834 ( 13 )
–
3968 ( 13 )
4792 ( 13 )
10544 ( 2 )
UP-Govt Quota
BC-GL
King George Medical University, Lucknow KGMU, Lucknow
MBBS
3583 ( 11 )
3969 ( 11 )
–
4010 ( 11 )
4877 ( 11 )
–
UP-Govt Quota
UR-OP
Dr. Ram Manohar Lohia Institute of Medical Sciences,Lucknow Dr RML IMS, Lucknow
MBBS
3976 ( 46 )
4094 ( 46 )
–
4323 ( 50 )
4902 ( 50 )
8084 ( 1 )
UP-Govt Quota
EW-GL
Dr. Ram Manohar Lohia Institute of Medical Sciences,Lucknow Dr RML IMS, Lucknow
MBBS
4164 ( 3 )
4164 ( 3 )
–
5468 ( 3 )
5468 ( 3 )
–
UP-Govt Quota
EW-OP
Dr. Ram Manohar Lohia Institute of Medical Sciences,Lucknow Dr RML IMS, Lucknow
MBBS
4889 ( 12 )
4902 ( 12 )
–
5653 ( 13 )
5669 ( 13 )
11133 ( 2 )
UP-Govt Quota
BC-OP
Dr. Ram Manohar Lohia Institute of Medical Sciences,Lucknow Dr RML IMS, Lucknow
MBBS
4900 ( 32 )
4900 ( 32 )
–
5876 ( 32 )
5876 ( 32 )
10804 ( 1 )
UP-Govt Quota
UR-EX
Dr. Ram Manohar Lohia Institute of Medical Sciences,Lucknow Dr RML IMS, Lucknow
MBBS
6262 ( 2 )
6262 ( 2 )
–
5430 ( 1 )
6063 ( 1 )
–
UP-Govt Quota
BC-GL
Dr. Ram Manohar Lohia Institute of Medical Sciences,Lucknow Dr RML IMS, Lucknow
MBBS
4342 ( 9 )
4487 ( 9 )
–
5424 ( 9 )
6161 ( 9 )
11162 ( 1 )
UP-Govt Quota
UR-GL
GSVM Medical College, Kanpur GSVM Med Coll, Kanpur
MBBS
5089 ( 17 )
5397 ( 17 )
–
5849 ( 17 )
6561 ( 17 )
12678 ( 2 )
UP-Govt Quota
UR-OP
GSVM Medical College, Kanpur GSVM Med Coll, Kanpur
MBBS
5371 ( 58 )
5535 ( 58 )
15535 ( 4 )
6310 ( 58 )
6599 ( 58 )
11970 ( 4 )
UP-Govt Quota
EW-GL
GSVM Medical College, Kanpur GSVM Med Coll, Kanpur
MBBS
6470 ( 4 )
6470 ( 4 )
–
7156 ( 4 )
7156 ( 4 )
–
UP-Govt Quota
UR-EX
GSVM Medical College, Kanpur GSVM Med Coll, Kanpur
MBBS
8173 ( 2 )
8173 ( 2 )
–
6876 ( 2 )
7202 ( 2 )
–
UP-Govt Quota
BC-GL
GSVM Medical College, Kanpur GSVM Med Coll, Kanpur
MBBS
5992 ( 11 )
6415 ( 11 )
–
7205 ( 11 )
7205 ( 11 )
–
UP-Govt Quota
BC-NC
King George Medical University, Lucknow KGMU, Lucknow
MBBS
53334 ( 1 )
53334 ( 1 )
–
7430 ( 1 )
7430 ( 1 )
–
UP-Govt Quota
BC-OP
GSVM Medical College, Kanpur GSVM Med Coll, Kanpur
MBBS
6341 ( 40 )
6341 ( 40 )
–
7522 ( 42 )
7522 ( 42 )
–
UP-Govt Quota
BC-EX
King George Medical University, Lucknow KGMU, Lucknow
MBBS
4396 ( 1 )
4396 ( 1 )
–
7559 ( 1 )
7559 ( 1 )
–
UP-Govt Quota
EW-OP
GSVM Medical College, Kanpur GSVM Med Coll, Kanpur
MBBS
6725 ( 13 )
6749 ( 13 )
–
7274 ( 14 )
7853 ( 14 )
–
UP-Govt Quota
UR-GL
Moti Lal Nehru Medical College, Allahabad MLN Med Coll, Allahabad
MBBS
5977 ( 13 )
5977 ( 13 )
–
6906 ( 14 )
7932 ( 14 )
–
UP-Govt Quota
UR-OP
Moti Lal Nehru Medical College, Allahabad MLN Med Coll, Allahabad
MBBS
6501 ( 47 )
6525 ( 47 )
15833 ( 1 )
7687 ( 49 )
8032 ( 49 )
13208 ( 7 )
UP-Govt Quota
UR-EX
Moti Lal Nehru Medical College, Allahabad MLN Med Coll, Allahabad
MBBS
9739 ( 2 )
9739 ( 2 )
–
7202 ( 1 )
8091 ( 1 )
–
UP-Govt Quota
UR-OP
Government Institute of Medical Sciences, Kasna, Greater Noida Govt IMS, Kasna
MBBS
7345 ( 25 )
7516 ( 25 )
9386 ( 1 )
8377 ( 22 )
8377 ( 22 )
–
UP-Govt Quota
BC-GL
Moti Lal Nehru Medical College, Allahabad MLN Med Coll, Allahabad
MBBS
7072 ( 9 )
7616 ( 9 )
–
8489 ( 9 )
8489 ( 9 )
–
UP-Govt Quota
BC-EX
Dr. Ram Manohar Lohia Institute of Medical Sciences,Lucknow Dr RML IMS, Lucknow
MBBS
5175 ( 1 )
8622 ( 1 )
–
8504 ( 1 )
8504 ( 1 )
–
UP-Govt Quota
UR-OP
LLRM Medical College, Meerut LLRM Med Coll, Meerut
MBBS
7321 ( 29 )
7392 ( 29 )
11677 ( 1 )
8545 ( 29 )
8545 ( 29 )
10664 ( 1 )
UP-Govt Quota
UR-GL
LLRM Medical College, Meerut LLRM Med Coll, Meerut
MBBS
6518 ( 8 )
6518 ( 8 )
–
7890 ( 8 )
8656 ( 8 )
–
UP-Govt Quota
BC-EX
GSVM Medical College, Kanpur GSVM Med Coll, Kanpur
MBBS
9760 ( 1 )
9760 ( 1 )
–
8749 ( 1 )
8749 ( 1 )
–
UP-Govt Quota
EW-GL
Moti Lal Nehru Medical College, Allahabad MLN Med Coll, Allahabad
MBBS
7019 ( 3 )
7019 ( 3 )
–
8773 ( 3 )
8773 ( 3 )
–
UP-Govt Quota
UR-GL
Government Institute of Medical Sciences, Kasna, Greater Noida Govt IMS, Kasna
MBBS
7399 ( 7 )
7399 ( 7 )
–
7643 ( 7 )
8777 ( 7 )
–
UP-Govt Quota
BC-OP
Moti Lal Nehru Medical College, Allahabad MLN Med Coll, Allahabad
MBBS
7363 ( 31 )
7360 ( 31 )
–
8897 ( 31 )
8897 ( 31 )
–
UP-Govt Quota
EW-OP
Moti Lal Nehru Medical College, Allahabad MLN Med Coll, Allahabad
MBBS
7561 ( 12 )
7842 ( 12 )
18500 ( 1 )
8936 ( 9 )
8936 ( 9 )
–
UP-Govt Quota
UR-EX
BRD Medical College, Gorakhpur BRD Med Coll, Gorakhpur
MBBS
9834 ( 1 )
9834 ( 1 )
–
8969 ( 1 )
8969 ( 1 )
–
UP-Govt Quota
BC-GL
LLRM Medical College, Meerut LLRM Med Coll, Meerut
MBBS
7936 ( 4 )
8267 ( 4 )
–
9202 ( 4 )
9202 ( 4 )
13481 ( 1 )
UP-Govt Quota
UR-OP
BRD Medical College, Gorakhpur BRD Med Coll, Gorakhpur
MBBS
8382 ( 35 )
8382 ( 35 )
–
9206 ( 34 )
9206 ( 34 )
–
UP-Govt Quota
BC-GL
Government Institute of Medical Sciences, Kasna, Greater Noida Govt IMS, Kasna
MBBS
8542 ( 5 )
8542 ( 5 )
–
9488 ( 5 )
9488 ( 5 )
–
UP-Govt Quota
UR-OP
S N Medical College, Agra S N Med Coll, Agra
MBBS
8176 ( 36 )
8662 ( 36 )
16170 ( 3 )
9576 ( 37 )
9576 ( 37 )
10695 ( 1 )
UP-Govt Quota
UR-EX
S N Medical College, Agra S N Med Coll, Agra
MBBS
10433 ( 1 )
10433 ( 1 )
–
9579 ( 1 )
9579 ( 1 )
–
UP-Govt Quota
UR-GL
S N Medical College, Agra S N Med Coll, Agra
MBBS
7392 ( 11 )
7460 ( 11 )
–
9002 ( 10 )
9619 ( 10 )
–
UP-Govt Quota
EW-OP
Government Institute of Medical Sciences, Kasna, Greater Noida Govt IMS, Kasna
MBBS
9260 ( 7 )
9580 ( 7 )
–
9947 ( 5 )
9947 ( 5 )
–
UP-Govt Quota
BC-OP
LLRM Medical College, Meerut LLRM Med Coll, Meerut
MBBS
8048 ( 17 )
8178 ( 17 )
–
9953 ( 17 )
9953 ( 17 )
–
UP-Govt Quota
EW-GL
BRD Medical College, Gorakhpur BRD Med Coll, Gorakhpur
MBBS
8637 ( 2 )
8637 ( 2 )
–
10106 ( 3 )
10106 ( 3 )
–
UP-Govt Quota
UR-EX
LLRM Medical College, Meerut LLRM Med Coll, Meerut
MBBS
6742 ( 1 )
6742 ( 1 )
–
10152 ( 1 )
10152 ( 1 )
–
UP-Govt Quota
UR-GL
BRD Medical College, Gorakhpur BRD Med Coll, Gorakhpur
MBBS
8346 ( 10 )
8346 ( 10 )
–
8777 ( 10 )
10165 ( 10 )
–
UP-Govt Quota
UR-GL
Government Medical College, Kannauj Govt Med Coll, Kannauj
MBBS
10099 ( 1 )
10471 ( 1 )
–
10194 ( 1 )
10194 ( 1 )
–
UP-Govt Quota
UR-OP
Maharani Laxmi Bai Medical College, Jhansi MLB Med Coll, Jhansi
MBBS
9170 ( 36 )
9301 ( 36 )
18147 ( 3 )
10381 ( 33 )
10381 ( 33 )
–
UP-Govt Quota
EW-OP
BRD Medical College, Gorakhpur BRD Med Coll, Gorakhpur
MBBS
8980 ( 9 )
8980 ( 9 )
20612 ( 1 )
10409 ( 8 )
10409 ( 8 )
15668 ( 2 )
UP-Govt Quota
UR-GL
Shaikh-UL-Hind Maulana Mahmood Hasan Medical College, Saharanpur Shaik-ul-Hind, Saharanpur
MBBS
5188 ( 1 )
5188 ( 1 )
–
10447 ( 1 )
10447 ( 1 )
–
UP-Govt Quota
EW-GL
Government Institute of Medical Sciences, Kasna, Greater Noida Govt IMS, Kasna
MBBS
9215 ( 2 )
9215 ( 2 )
–
10280 ( 2 )
10487 ( 2 )
–
UP-Govt Quota
BC-GL
BRD Medical College, Gorakhpur BRD Med Coll, Gorakhpur
MBBS
9141 ( 7 )
9141 ( 7 )
–
10574 ( 7 )
10574 ( 7 )
–
UP-Govt Quota
BC-EX
Moti Lal Nehru Medical College, Allahabad MLN Med Coll, Allahabad
MBBS
9945 ( 1 )
9945 ( 1 )
–
10581 ( 1 )
10581 ( 1 )
–
UP-Govt Quota
UR-GL
Maharani Laxmi Bai Medical College, Jhansi MLB Med Coll, Jhansi
MBBS
8797 ( 10 )
9005 ( 10 )
–
9856 ( 10 )
10598 ( 10 )
–
UP-Govt Quota
BC-OP
Government Institute of Medical Sciences, Kasna, Greater Noida Govt IMS, Kasna
MBBS
9023 ( 17 )
9023 ( 17 )
17641 ( 1 )
10615 ( 16 )
10615 ( 16 )
13173 ( 1 )
UP-Govt Quota
BC-OP
BRD Medical College, Gorakhpur BRD Med Coll, Gorakhpur
MBBS
9705 ( 23 )
9705 ( 23 )
17694 ( 1 )
10929 ( 23 )
10929 ( 23 )
13673 ( 1 )
UP-Govt Quota
UR-GL
Uttar Pradesh University of Medical Sciences, (Prev. UP Rural Inst.of Med.Sc&R) Etawah UP Univ of Med Sci, Etawah
MBBS
9982 ( 14 )
9982 ( 14 )
–
11096 ( 14 )
11096 ( 14 )
–
UP-Govt Quota
BC-OP
S N Medical College, Agra S N Med Coll, Agra
MBBS
9521 ( 20 )
9521 ( 20 )
–
11106 ( 22 )
11106 ( 22 )
13531 ( 2 )
UP-Govt Quota
BC-GL
S N Medical College, Agra S N Med Coll, Agra
MBBS
9220 ( 6 )
9220 ( 6 )
–
11123 ( 6 )
11123 ( 6 )
–
UP-Govt Quota
EW-GL
Maharani Laxmi Bai Medical College, Jhansi MLB Med Coll, Jhansi
MBBS
9956 ( 2 )
9956 ( 2 )
–
11163 ( 2 )
11163 ( 2 )
–
UP-Govt Quota
EW-OP
Maharani Laxmi Bai Medical College, Jhansi MLB Med Coll, Jhansi
MBBS
10044 ( 9 )
10044 ( 9 )
20180 ( 1 )
11406 ( 11 )
11406 ( 11 )
–
UP-Govt Quota
BC-GL
Maharani Laxmi Bai Medical College, Jhansi MLB Med Coll, Jhansi
MBBS
10062 ( 7 )
10062 ( 7 )
–
11553 ( 7 )
11553 ( 7 )
–
UP-Govt Quota
UR-OP
Uttar Pradesh University of Medical Sciences, (Prev. UP Rural Inst.of Med.Sc&R) Etawah UP Univ of Med Sci, Etawah
MBBS
10089 ( 45 )
10089 ( 45 )
18901 ( 4 )
11675 ( 46 )
11675 ( 46 )
–
UP-Govt Quota
BC-OP
Maharani Laxmi Bai Medical College, Jhansi MLB Med Coll, Jhansi
MBBS
10175 ( 22 )
10175 ( 22 )
–
11790 ( 22 )
11790 ( 22 )
–
UP-Govt Quota
EW-GL
Uttar Pradesh University of Medical Sciences, (Prev. UP Rural Inst.of Med.Sc&R) Etawah UP Univ of Med Sci, Etawah
MBBS
10488 ( 3 )
11655 ( 3 )
–
11991 ( 4 )
11991 ( 4 )
–
UP-Govt Quota
UR-OP
Shaikh-UL-Hind Maulana Mahmood Hasan Medical College, Saharanpur Shaik-ul-Hind, Saharanpur
MBBS
10296 ( 5 )
10296 ( 5 )
19072 ( 1 )
12352 ( 5 )
12091 ( 5 )
14443 ( 1 )
UP-Govt Quota
UR-EX
Maharani Laxmi Bai Medical College, Jhansi MLB Med Coll, Jhansi
MBBS
10887 ( 1 )
10887 ( 1 )
–
12212 ( 1 )
12212 ( 1 )
–
UP-Govt Quota
BC-GL
Uttar Pradesh University of Medical Sciences, (Prev. UP Rural Inst.of Med.Sc&R) Etawah UP Univ of Med Sci, Etawah
MBBS
10508 ( 9 )
10508 ( 9 )
–
12469 ( 9 )
12469 ( 9 )
14235 ( 1 )
UP-Govt Quota
BC-EX
Government Institute of Medical Sciences, Kasna, Greater Noida Govt IMS, Kasna
MBBS
–
–
–
12566 ( 1 )
12566 ( 1 )
–
UP-Govt Quota
BC-OP
Uttar Pradesh University of Medical Sciences, (Prev. UP Rural Inst.of Med.Sc&R) Etawah UP Univ of Med Sci, Etawah
MBBS
10948 ( 31 )
10948 ( 31 )
19287 ( 2 )
12621 ( 33 )
12621 ( 33 )
–
UP-Govt Quota
UR-GL
Government Medical College, Faizabad Govt Med Coll, Faizabad
MBBS
10633 ( 7 )
11351 ( 7 )
–
12635 ( 6 )
12635 ( 6 )
–
UP-Govt Quota
EW-OP
Uttar Pradesh University of Medical Sciences, (Prev. UP Rural Inst.of Med.Sc&R) Etawah UP Univ of Med Sci, Etawah
MBBS
11081 ( 11 )
11160 ( 11 )
–
12728 ( 12 )
12728 ( 12 )
–
UP-Govt Quota
BC-EX
BRD Medical College, Gorakhpur BRD Med Coll, Gorakhpur
MBBS
9968 ( 1 )
9968 ( 1 )
–
12874 ( 1 )
12874 ( 1 )
–
UP-Govt Quota
UR-OP
Government Medical College, Kannauj Govt Med Coll, Kannauj
MBBS
10648 ( 6 )
10648 ( 6 )
–
12518 ( 6 )
12888 ( 6 )
14184 ( 1 )
UP-Govt Quota
BC-GL
Shaikh-UL-Hind Maulana Mahmood Hasan Medical College, Saharanpur Shaik-ul-Hind, Saharanpur
MBBS
10446 ( 2 )
10446 ( 2 )
–
12912 ( 2 )
12912 ( 2 )
–
UP-Govt Quota
BC-EX
Maharani Laxmi Bai Medical College, Jhansi MLB Med Coll, Jhansi
MBBS
11870 ( 1 )
11870 ( 1 )
–
13086 ( 1 )
13086 ( 1 )
–
UP-Govt Quota
UR-OP
Government Medical College, Faizabad Govt Med Coll, Faizabad
MBBS
11103 ( 23 )
11103 ( 23 )
19366 ( 1 )
13089 ( 27 )
13089 ( 27 )
15116 ( 2 )
UP-Govt Quota
BC-GL
Government Medical College, Kannauj Govt Med Coll, Kannauj
MBBS
11273 ( 2 )
11762 ( 2 )
–
13639 ( 2 )
13265 ( 2 )
–
UP-Govt Quota
EW-GL
Government Medical College, Faizabad Govt Med Coll, Faizabad
MBBS
11523 ( 1 )
11523 ( 1 )
–
13274 ( 1 )
13274 ( 1 )
–
UP-Govt Quota
BC-GL
Government Medical College, Faizabad Govt Med Coll, Faizabad
MBBS
12202 ( 5 )
12202 ( 5 )
–
13342 ( 4 )
13639 ( 4 )
–
UP-Govt Quota
BC-EX
Uttar Pradesh University of Medical Sciences, (Prev. UP Rural Inst.of Med.Sc&R) Etawah UP Univ of Med Sci, Etawah
MBBS
11890 ( 1 )
11890 ( 1 )
–
13726 ( 1 )
13726 ( 1 )
–
UP-Govt Quota
UR-OP
MRA Medical College, Ambedkarnagar MRA Med Coll, Ambedkarnagar
MBBS
11236 ( 6 )
11236 ( 6 )
19175 ( 1 )
12907 ( 5 )
13816 ( 5 )
–
UP-Govt Quota
UR-OP
Government Medical College & Super facility Hospital, Azamgarh Govt Med Coll, Azamgarh
MBBS
11866 ( 30 )
11866 ( 30 )
19531 ( 2 )
13839 ( 28 )
13839 ( 28 )
–
UP-Govt Quota
BC-OP
Government Medical College, Kannauj Govt Med Coll, Kannauj
MBBS
11380 ( 8 )
11380 ( 8 )
19647 ( 1 )
13859 ( 9 )
13859 ( 9 )
14588 ( 1 )
UP-Govt Quota
UR-GL
Government Medical College & Super facility Hospital, Azamgarh Govt Med Coll, Azamgarh
MBBS
11435 ( 8 )
12042 ( 8 )
–
14010 ( 9 )
14010 ( 9 )
15393 ( 1 )
UP-Govt Quota
UR-OP
Rajkiya Medical College, Jalaun Rajkiya Med Coll, Jalaun
MBBS
11433 ( 5 )
12620 ( 5 )
–
14159 ( 5 )
14085 ( 5 )
15026 ( 1 )
UP-Govt Quota
UR-OP
Govt Medical College, Badaun Govt Med Coll, Badaun
MBBS
12637 ( 24 )
12719 ( 24 )
20099 ( 1 )
14313 ( 24 )
14313 ( 24 )
15307 ( 2 )
UP-Govt Quota
UR-GL
MRA Medical College, Ambedkarnagar MRA Med Coll, Ambedkarnagar
MBBS
10455 ( 1 )
12674 ( 1 )
–
11952 ( 1 )
14333 ( 1 )
–
UP-Govt Quota
BC-OP
Shaikh-UL-Hind Maulana Mahmood Hasan Medical College, Saharanpur Shaik-ul-Hind, Saharanpur
MBBS
11766 ( 9 )
12414 ( 9 )
–
14083 ( 8 )
14463 ( 8 )
–
UP-Govt Quota
EW-EX
GSVM Medical College, Kanpur GSVM Med Coll, Kanpur
MBBS
10255 ( 1 )
10255 ( 1 )
–
14502 ( 1 )
14502 ( 1 )
–
UP-Govt Quota
EW-OP
Government Medical College, Faizabad Govt Med Coll, Faizabad
MBBS
11723 ( 7 )
11738 ( 7 )
–
14607 ( 7 )
14607 ( 7 )
17066 ( 1 )
UP-Govt Quota
BC-OP
Government Medical College, Faizabad Govt Med Coll, Faizabad
MBBS
12346 ( 17 )
12346 ( 17 )
19457 ( 1 )
14662 ( 19 )
14662 ( 19 )
–
UP-Govt Quota
BC-GL
Government Medical College & Super facility Hospital, Azamgarh Govt Med Coll, Azamgarh
MBBS
12618 ( 4 )
12618 ( 4 )
–
14771 ( 5 )
14771 ( 5 )
–
UP-Govt Quota
BC-GL
MRA Medical College, Ambedkarnagar MRA Med Coll, Ambedkarnagar
MBBS
11803 ( 2 )
11803 ( 2 )
–
14862 ( 2 )
14862 ( 2 )
–
UP-Govt Quota
BC-OP
MRA Medical College, Ambedkarnagar MRA Med Coll, Ambedkarnagar
MBBS
12599 ( 9 )
12728 ( 9 )
–
14928 ( 9 )
14928 ( 9 )
–
UP-Govt Quota
UR-GL
Govt Medical College, Badaun Govt Med Coll, Badaun
MBBS
11970 ( 7 )
11970 ( 7 )
–
13489 ( 7 )
15033 ( 7 )
–
UP-Govt Quota
BC-OP
Government Medical College & Super facility Hospital, Azamgarh Govt Med Coll, Azamgarh
MBBS
12676 ( 17 )
12676 ( 17 )
19766 ( 2 )
15110 ( 15 )
15110 ( 15 )
–
UP-Govt Quota
BC-OP
Rajkiya Medical College, Jalaun Rajkiya Med Coll, Jalaun
MBBS
12843 ( 9 )
13094 ( 9 )
–
15143 ( 4 )
15143 ( 4 )
–
UP-Govt Quota
BC-GL
Rajkiya Medical College, Jalaun Rajkiya Med Coll, Jalaun
MBBS
12189 ( 2 )
12948 ( 2 )
–
15163 ( 3 )
15163 ( 3 )
–
UP-Govt Quota
UR-GL
Government Medical College, Firozabad Govt Med Coll, Firozobad
MBBS
11517 ( 7 )
13211 ( 7 )
–
15286 ( 7 )
15286 ( 7 )
–
UP-Govt Quota
UR-EX
Government Institute of Medical Sciences, Kasna, Greater Noida Govt IMS, Kasna
MBBS
–
–
–
7484 ( 1 )
15440 ( 1 )
–
UP-Govt Quota
EW-OP
Govt Medical College, Badaun Govt Med Coll, Badaun
MBBS
13242 ( 6 )
13510 ( 6 )
–
15450 ( 6 )
15450 ( 6 )
17675 ( 1 )
UP-Govt Quota
BC-OP
Govt Medical College, Badaun Govt Med Coll, Badaun
MBBS
14049 ( 16 )
14535 ( 16 )
–
15557 ( 15 )
15493 ( 15 )
15638 ( 1 )
UP-Govt Quota
UR-OP
Government Medical College, Firozabad Govt Med Coll, Firozobad
MBBS
12842 ( 23 )
13310 ( 23 )
20240 ( 2 )
15693 ( 26 )
15693 ( 26 )
15386 ( 2 )
UP-Govt Quota
UR-OP
Government Allopathic Medical College, Banda Govt Allopathic Med Coll,Banda
MBBS
13225 ( 31 )
13155 ( 31 )
20448 ( 3 )
15720 ( 33 )
15720 ( 33 )
15414 ( 1 )
UP-Govt Quota
UR-GL
Rajkiya Medical College, Jalaun Rajkiya Med Coll, Jalaun
MBBS
11350 ( 2 )
12180 ( 2 )
–
14288 ( 2 )
15814 ( 2 )
–
UP-Govt Quota
UR-OP
Government Medical College, Bahraich Govt Med Coll, Bahraich
MBBS
14351 ( 24 )
14351 ( 24 )
20713 ( 2 )
15955 ( 23 )
15955 ( 23 )
–
UP-Govt Quota
BC-GL
Govt Medical College, Badaun Govt Med Coll, Badaun
MBBS
13925 ( 5 )
13889 ( 5 )
–
16001 ( 4 )
16001 ( 4 )
–
UP-Govt Quota
EW-GL
Government Medical College, Firozabad Govt Med Coll, Firozobad
MBBS
13029 ( 2 )
13029 ( 2 )
–
16126 ( 1 )
16126 ( 1 )
–
UP-Govt Quota
UR-GL
Government Medical College, Rampur, Basti Govt Med Coll, Rampur, Basti
MBBS
14275 ( 7 )
14275 ( 7 )
–
16533 ( 7 )
16416 ( 7 )
–
UP-Govt Quota
UR-OP
Government Medical College, Shahjhanpur Govt Med Coll, Shahjhanpur
MBBS
13636 ( 24 )
13636 ( 24 )
21073 ( 2 )
16447 ( 25 )
16447 ( 25 )
17011 ( 2 )
UP-Govt Quota
UR-GL
Government Medical College, Shahjhanpur Govt Med Coll, Shahjhanpur
MBBS
13211 ( 7 )
13613 ( 7 )
–
15824 ( 7 )
16533 ( 7 )
–
UP-Govt Quota
UR-OP
Government Medical College, Rampur, Basti Govt Med Coll, Rampur, Basti
MBBS
14204 ( 25 )
14204 ( 25 )
20851 ( 1 )
16591 ( 22 )
16550 ( 22 )
–
UP-Govt Quota
BC-OP
Government Allopathic Medical College, Banda Govt Allopathic Med Coll,Banda
MBBS
14525 ( 17 )
14525 ( 17 )
20566 ( 1 )
16567 ( 16 )
16567 ( 16 )
–
UP-Govt Quota
UR-GL
Government Medical College, Bahraich Govt Med Coll, Bahraich
MBBS
14372 ( 6 )
14494 ( 6 )
–
16685 ( 7 )
16685 ( 7 )
–
UP-Govt Quota
UR-GL
Government Allopathic Medical College, Banda Govt Allopathic Med Coll,Banda
MBBS
13736 ( 8 )
13736 ( 8 )
–
15509 ( 8 )
16784 ( 8 )
17924 ( 1 )
UP-Govt Quota
BC-GL
Government Allopathic Medical College, Banda Govt Allopathic Med Coll,Banda
MBBS
13941 ( 4 )
13941 ( 4 )
–
16793 ( 5 )
16793 ( 5 )
–
UP-Govt Quota
BC-GL
Government Medical College, Firozabad Govt Med Coll, Firozobad
MBBS
13646 ( 5 )
13646 ( 5 )
–
16803 ( 5 )
16803 ( 5 )
–
UP-Govt Quota
BC-EX
Government Medical College, Firozabad Govt Med Coll, Firozobad
MBBS
–
–
–
16872 ( 1 )
16872 ( 1 )
–
UP-Govt Quota
UR-EX
Uttar Pradesh University of Medical Sciences, (Prev. UP Rural Inst.of Med.Sc&R) Etawah UP Univ of Med Sci, Etawah
MBBS
12576 ( 2 )
12576 ( 2 )
–
16961 ( 2 )
16961 ( 2 )
–
UP-Govt Quota
UR-EX
Government Medical College & Super facility Hospital, Azamgarh Govt Med Coll, Azamgarh
MBBS
13686 ( 1 )
13686 ( 1 )
–
16999 ( 1 )
16999 ( 1 )
–
UP-Govt Quota
BC-OP
Government Medical College, Firozabad Govt Med Coll, Firozobad
MBBS
14446 ( 16 )
14446 ( 16 )
20293 ( 1 )
17060 ( 15 )
17060 ( 15 )
–
UP-Govt Quota
BC-GL
Government Medical College, Bahraich Govt Med Coll, Bahraich
MBBS
15238 ( 4 )
15238 ( 4 )
–
17172 ( 5 )
17172 ( 5 )
–
UP-Govt Quota
BC-GL
Government Medical College, Shahjhanpur Govt Med Coll, Shahjhanpur
MBBS
14508 ( 5 )
14508 ( 5 )
–
17233 ( 4 )
17233 ( 4 )
–
UP-Govt Quota
EW-OP
Government Medical College, Firozabad Govt Med Coll, Firozobad
MBBS
13767 ( 7 )
13767 ( 7 )
–
17352 ( 7 )
17352 ( 7 )
–
UP-Govt Quota
EW-OP
Government Medical College, Rampur, Basti Govt Med Coll, Rampur, Basti
MBBS
14851 ( 7 )
14851 ( 7 )
–
17396 ( 5 )
17396 ( 5 )
–
UP-Govt Quota
EW-GL
Govt Medical College, Badaun Govt Med Coll, Badaun
MBBS
13318 ( 2 )
13318 ( 2 )
–
15373 ( 2 )
17593 ( 2 )
–
UP-Govt Quota
EW-GL
Government Medical College, Bahraich Govt Med Coll, Bahraich
MBBS
15335 ( 2 )
15335 ( 2 )
–
17650 ( 2 )
17650 ( 2 )
–
UP-Govt Quota
EW-GL
Government Medical College, Shahjhanpur Govt Med Coll, Shahjhanpur
MBBS
14150 ( 2 )
14150 ( 2 )
–
17683 ( 2 )
17683 ( 2 )
–
UP-Govt Quota
UR-GL
Autonomous State Medical College, Etah Auton. State Med Coll, Etah
MBBS
14889 ( 7 )
14889 ( 7 )
–
18020 ( 7 )
18020 ( 7 )
–
UP-Govt Quota
EW-EX
Moti Lal Nehru Medical College, Allahabad MLN Med Coll, Allahabad
MBBS
10915 ( 1 )
10915 ( 1 )
–
18029 ( 1 )
18029 ( 1 )
–
UP-Govt Quota
BC-OP
Government Medical College, Shahjhanpur Govt Med Coll, Shahjhanpur
MBBS
15034 ( 17 )
15034 ( 17 )
–
18110 ( 17 )
18110 ( 17 )
–
UP-Govt Quota
UR-EX
Government Medical College, Bahraich Govt Med Coll, Bahraich
MBBS
17172 ( 1 )
17833 ( 1 )
–
18145 ( 1 )
18145 ( 1 )
–
UP-Govt Quota
UR-GL
Autonomous State Medical College, Fatehpur Auton. State Med Coll,Fatehpur
MBBS
16427 ( 7 )
16427 ( 7 )
–
16808 ( 6 )
18157 ( 6 )
–
UP-Govt Quota
EW-OP
Government Medical College, Shahjhanpur Govt Med Coll, Shahjhanpur
MBBS
14895 ( 7 )
14895 ( 7 )
–
18159 ( 6 )
18159 ( 6 )
–
UP-Govt Quota
BC-GL
Government Medical College, Rampur, Basti Govt Med Coll, Rampur, Basti
MBBS
15383 ( 4 )
15383 ( 4 )
–
18178 ( 4 )
18178 ( 4 )
–
UP-Govt Quota
BC-OP
Government Medical College, Bahraich Govt Med Coll, Bahraich
MBBS
15702 ( 17 )
15702 ( 17 )
–
18226 ( 16 )
18226 ( 16 )
15340 ( 1 )
UP-Govt Quota
EW-OP
Government Medical College, Bahraich Govt Med Coll, Bahraich
MBBS
15048 ( 5 )
15048 ( 5 )
22064 ( 1 )
18269 ( 7 )
18269 ( 7 )
–
UP-Govt Quota
BC-OP
Government Medical College, Rampur, Basti Govt Med Coll, Rampur, Basti
MBBS
15400 ( 16 )
15400 ( 16 )
–
18299 ( 16 )
18299 ( 16 )
–
UP-Govt Quota
UR-OP
Autonomous State Medical College, Etah Auton. State Med Coll, Etah
MBBS
15666 ( 25 )
15658 ( 25 )
20623 ( 2 )
18317 ( 23 )
18317 ( 23 )
–
UP-Govt Quota
UR-GL
Maharshi Devraha Baba Autonomous State Medical College, Deoria Auton. State Med Coll, Deoria
MBBS
16315 ( 7 )
16315 ( 7 )
–
18507 ( 7 )
18507 ( 7 )
–
UP-Govt Quota
UR-OP
Maharshi Devraha Baba Autonomous State Medical College, Deoria Auton. State Med Coll, Deoria
MBBS
16051 ( 25 )
16051 ( 25 )
21032 ( 1 )
18610 ( 26 )
18610 ( 26 )
–
UP-Govt Quota
UR-OP
Autonomous State Medical College, Fatehpur Auton. State Med Coll,Fatehpur
MBBS
16835 ( 25 )
16793 ( 25 )
22019 ( 3 )
18648 ( 23 )
18648 ( 23 )
16714 ( 2 )
UP-Govt Quota
EW-OP
Autonomous State Medical College, Etah Auton. State Med Coll, Etah
MBBS
17065 ( 6 )
17065 ( 6 )
–
18743 ( 5 )
18743 ( 5 )
19465 ( 1 )
UP-Govt Quota
UR-GL
Autonomous State Medical College, Hardoi Auton. State Med Coll, Hardoi
MBBS
15371 ( 7 )
15371 ( 7 )
–
18788 ( 7 )
18788 ( 7 )
–
UP-Govt Quota
UR-GL
Autonomous State Medical College, Siddharthnagar Auton. StateMed,Siddharthnagar
MBBS
16258 ( 6 )
16258 ( 6 )
–
18866 ( 7 )
18866 ( 7 )
–
UP-Govt Quota
BC-EX
Government Medical College, Rampur, Basti Govt Med Coll, Rampur, Basti
MBBS
–
–
–
18877 ( 1 )
18877 ( 1 )
–
UP-Govt Quota
UR-OP
Autonomous State Medical College, Hardoi Auton. State Med Coll, Hardoi
MBBS
15897 ( 25 )
15897 ( 25 )
20881 ( 1 )
18962 ( 22 )
18962 ( 22 )
17883 ( 4 )
UP-Govt Quota
UR-EX
Government Medical College, Rampur, Basti Govt Med Coll, Rampur, Basti
MBBS
–
–
–
18992 ( 1 )
18992 ( 1 )
–
UP-Govt Quota
BC-GL
Autonomous State Medical College, Etah Auton. State Med Coll, Etah
MBBS
16285 ( 5 )
16285 ( 5 )
–
19044 ( 5 )
19044 ( 5 )
–
UP-Govt Quota
UR-OP
Autonomous State Medical College, Siddharthnagar Auton. StateMed,Siddharthnagar
MBBS
16076 ( 24 )
16076 ( 24 )
22187 ( 2 )
19055 ( 24 )
19055 ( 24 )
16177 ( 1 )
UP-Govt Quota
UR-GL
Autonomous State Medical College, Pratapgarh Auton.State MedColl,Pratapgarh
MBBS
16551 ( 7 )
16551 ( 7 )
–
19126 ( 7 )
19126 ( 7 )
17972 ( 1 )
UP-Govt Quota
BC-EX
Rajkiya Medical College, Jalaun Rajkiya Med Coll, Jalaun
MBBS
–
–
–
19347 ( 1 )
19347 ( 1 )
–
UP-Govt Quota
BC-OP
Autonomous State Medical College, Etah Auton. State Med Coll, Etah
MBBS
16744 ( 16 )
16744 ( 16 )
20672 ( 1 )
19362 ( 13 )
19362 ( 13 )
–
UP-Govt Quota
UR-OP
Autonomous State Medical College, Pratapgarh Auton.State MedColl,Pratapgarh
MBBS
16945 ( 24 )
16945 ( 24 )
21095 ( 2 )
19525 ( 22 )
19517 ( 22 )
17590 ( 1 )
UP-Govt Quota
EW-GL
Government Medical College, Rampur, Basti Govt Med Coll, Rampur, Basti
MBBS
14659 ( 2 )
14659 ( 2 )
–
19579 ( 2 )
19579 ( 2 )
–
UP-Govt Quota
BC-GL
Autonomous State Medical College, Siddharthnagar Auton. StateMed,Siddharthnagar
MBBS
17751 ( 5 )
17751 ( 5 )
–
19659 ( 5 )
19659 ( 5 )
–
UP-Govt Quota
BC-GL
Autonomous State Medical College, Fatehpur Auton. State Med Coll,Fatehpur
MBBS
17513 ( 5 )
17513 ( 5 )
–
19710 ( 4 )
19710 ( 4 )
–
UP-Govt Quota
EW-GL
Autonomous State Medical College, Fatehpur Auton. State Med Coll,Fatehpur
MBBS
19130 ( 2 )
19130 ( 2 )
–
19738 ( 2 )
19738 ( 2 )
–
UP-Govt Quota
UR-GL
Autonomous State Medical College, Mirzapur Auton. State Med Coll,Mirzapur
MBBS
17242 ( 7 )
17242 ( 7 )
–
19768 ( 6 )
19768 ( 6 )
18814 ( 1 )
UP-Govt Quota
EW-GL
Maharshi Devraha Baba Autonomous State Medical College, Deoria Auton. State Med Coll, Deoria
MBBS
16304 ( 2 )
16304 ( 2 )
–
19936 ( 1 )
19936 ( 1 )
–
UP-Govt Quota
EW-GL
Autonomous State Medical College, Siddharthnagar Auton. StateMed,Siddharthnagar
MBBS
16749 ( 2 )
16749 ( 2 )
–
19985 ( 1 )
19985 ( 1 )
–
UP-Govt Quota
UR-GL
Uma Nath Singh Autonomous State Medical College, Jaunpur Auton. State Med Coll, Jaunpur
MBBS
17486 ( 7 )
17486 ( 7 )
–
19995 ( 7 )
19995 ( 7 )
–
UP-Govt Quota
UR-OP
Autonomous State Medical College, Mirzapur Auton. State Med Coll,Mirzapur
MBBS
17581 ( 24 )
17581 ( 24 )
22278 ( 2 )
20061 ( 25 )
20061 ( 25 )
14506 ( 1 )
UP-Govt Quota
UR-EX
Govt Medical College, Badaun Govt Med Coll, Badaun
MBBS
16319 ( 1 )
16319 ( 1 )
–
20180 ( 1 )
20180 ( 1 )
–
UP-Govt Quota
BC-OP
Autonomous State Medical College, Hardoi Auton. State Med Coll, Hardoi
MBBS
17063 ( 16 )
17063 ( 16 )
22079 ( 1 )
20415 ( 14 )
20415 ( 14 )
–
UP-Govt Quota
UR-GL
Autonomous State Medical College, Ghazipur Auton. State Med Coll,Ghazipur
MBBS
17709 ( 7 )
17709 ( 7 )
–
20435 ( 7 )
20435 ( 7 )
–
UP-Govt Quota
BC-GL
Maharshi Devraha Baba Autonomous State Medical College, Deoria Auton. State Med Coll, Deoria
MBBS
17443 ( 4 )
17443 ( 4 )
–
20444 ( 5 )
20444 ( 5 )
–
UP-Govt Quota
BC-GL
Autonomous State Medical College, Hardoi Auton. State Med Coll, Hardoi
MBBS
16794 ( 5 )
16794 ( 5 )
–
20450 ( 5 )
20450 ( 5 )
–
UP-Govt Quota
ST-OP
Moti Lal Nehru Medical College, Allahabad MLN Med Coll, Allahabad
MBBS
204195 ( 2 )
204195 ( 2 )
–
–
–
377863 ( 2 )
UP-Govt Quota
EW-OP
Maharshi Devraha Baba Autonomous State Medical College, Deoria Auton. State Med Coll, Deoria
MBBS
17403 ( 6 )
17403 ( 6 )
–
20539 ( 8 )
20539 ( 8 )
–
UP-Govt Quota
EW-GL
Autonomous State Medical College, Hardoi Auton. State Med Coll, Hardoi
MBBS
17250 ( 1 )
17250 ( 1 )
–
20569 ( 2 )
20569 ( 2 )
–
UP-Govt Quota
UR-OP
Uma Nath Singh Autonomous State Medical College, Jaunpur Auton. State Med Coll, Jaunpur
MBBS
17979 ( 24 )
17979 ( 24 )
22320 ( 1 )
20608 ( 25 )
20608 ( 25 )
18070 ( 1 )
UP-Govt Quota
BC-OP
Maharshi Devraha Baba Autonomous State Medical College, Deoria Auton. State Med Coll, Deoria
MBBS
17269 ( 17 )
17269 ( 17 )
21804 ( 1 )
20630 ( 18 )
20630 ( 18 )
–
UP-Govt Quota
EW-OP
Autonomous State Medical College, Hardoi Auton. State Med Coll, Hardoi
MBBS
17404 ( 7 )
17404 ( 7 )
–
20704 ( 6 )
20704 ( 6 )
–
UP-Govt Quota
EW-OP
Autonomous State Medical College, Fatehpur Auton. State Med Coll,Fatehpur
MBBS
19019 ( 5 )
19019 ( 5 )
22471 ( 1 )
20718 ( 5 )
20718 ( 5 )
–
UP-Govt Quota
EW-OP
Autonomous State Medical College, Siddharthnagar Auton. StateMed,Siddharthnagar
MBBS
17669 ( 6 )
17669 ( 6 )
23386 ( 1 )
20768 ( 8 )
20768 ( 8 )
18368 ( 1 )
UP-Govt Quota
EW-OP
Autonomous State Medical College, Pratapgarh Auton.State MedColl,Pratapgarh
MBBS
18527 ( 5 )
18527 ( 5 )
–
20863 ( 3 )
20863 ( 3 )
20681 ( 1 )
UP-Govt Quota
UR-OP
Autonomous State Medical College, Ghazipur Auton. State Med Coll,Ghazipur
MBBS
18305 ( 24 )
18305 ( 24 )
21982 ( 3 )
20930 ( 23 )
20930 ( 23 )
17910 ( 1 )
UP-Govt Quota
BC-OP
Autonomous State Medical College, Fatehpur Auton. State Med Coll,Fatehpur
MBBS
17873 ( 16 )
17873 ( 16 )
22110 ( 1 )
20970 ( 18 )
20970 ( 18 )
–
UP-Govt Quota
BC-EX
Govt Medical College, Badaun Govt Med Coll, Badaun
MBBS
–
–
–
20979 ( 1 )
20979 ( 1 )
–
UP-Govt Quota
UR-EX
Autonomous State Medical College, Etah Auton. State Med Coll, Etah
MBBS
–
–
–
21037 ( 1 )
21037 ( 1 )
–
UP-Govt Quota
BC-OP
Autonomous State Medical College, Siddharthnagar Auton. StateMed,Siddharthnagar
MBBS
17413 ( 16 )
17413 ( 16 )
22244 ( 1 )
21058 ( 14 )
21058 ( 14 )
–
UP-Govt Quota
BC-GL
Autonomous State Medical College, Pratapgarh Auton.State MedColl,Pratapgarh
MBBS
17998 ( 4 )
17998 ( 4 )
–
21232 ( 5 )
21232 ( 5 )
–
UP-Govt Quota
EW-GL
Autonomous State Medical College, Etah Auton. State Med Coll, Etah
MBBS
17324 ( 1 )
17324 ( 1 )
–
21334 ( 2 )
21334 ( 2 )
–
UP-Govt Quota
UR-EX
Autonomous State Medical College, Mirzapur Auton. State Med Coll,Mirzapur
MBBS
18152 ( 1 )
18152 ( 1 )
–
21359 ( 1 )
21359 ( 1 )
–
UP-Govt Quota
EW-GL
Autonomous State Medical College, Pratapgarh Auton.State MedColl,Pratapgarh
MBBS
18015 ( 2 )
18015 ( 2 )
–
21667 ( 2 )
21667 ( 2 )
–
UP-Govt Quota
BC-OP
Autonomous State Medical College, Pratapgarh Auton.State MedColl,Pratapgarh
MBBS
18091 ( 16 )
18091 ( 16 )
22256 ( 2 )
22043 ( 17 )
22043 ( 17 )
–
UP-Govt Quota
BC-GL
Autonomous State Medical College, Ghazipur Auton. State Med Coll,Ghazipur
MBBS
18663 ( 5 )
18663 ( 5 )
–
22060 ( 4 )
22060 ( 4 )
–
UP-Govt Quota
ST-OP
Autonomous State Medical College, Pratapgarh Auton.State MedColl,Pratapgarh
MBBS
540964 ( 1 )
540964 ( 1 )
–
–
–
499453 ( 1 )
UP-Govt Quota
EW-GL
Uma Nath Singh Autonomous State Medical College, Jaunpur Auton. State Med Coll, Jaunpur
MBBS
19358 ( 2 )
19358 ( 2 )
–
22308 ( 2 )
22308 ( 2 )
–
UP-Govt Quota
EW-GL
Autonomous State Medical College, Mirzapur Auton. State Med Coll,Mirzapur
MBBS
18708 ( 2 )
18708 ( 2 )
–
22310 ( 1 )
22310 ( 1 )
–
UP-Govt Quota
BC-GL
Autonomous State Medical College, Mirzapur Auton. State Med Coll,Mirzapur
MBBS
18363 ( 5 )
18363 ( 5 )
–
22321 ( 5 )
22321 ( 5 )
–
UP-Govt Quota
EW-OP
Autonomous State Medical College, Mirzapur Auton. State Med Coll,Mirzapur
MBBS
19062 ( 5 )
19062 ( 5 )
23248 ( 1 )
22426 ( 7 )
22426 ( 7 )
–
UP-Govt Quota
EW-OP
Uma Nath Singh Autonomous State Medical College, Jaunpur Auton. State Med Coll, Jaunpur
MBBS
19539 ( 6 )
19539 ( 6 )
–
22483 ( 6 )
22483 ( 6 )
19837 ( 1 )
UP-Govt Quota
EW-OP
Autonomous State Medical College, Ghazipur Auton. State Med Coll,Ghazipur
MBBS
19440 ( 6 )
19440 ( 6 )
23204 ( 1 )
22628 ( 6 )
22628 ( 6 )
19335 ( 1 )
UP-Govt Quota
BC-GL
Uma Nath Singh Autonomous State Medical College, Jaunpur Auton. State Med Coll, Jaunpur
MBBS
18635 ( 4 )
18635 ( 4 )
–
22683 ( 4 )
22683 ( 4 )
–
UP-Govt Quota
EW-GL
Autonomous State Medical College, Ghazipur Auton. State Med Coll,Ghazipur
MBBS
19604 ( 2 )
19604 ( 2 )
–
22716 ( 2 )
22716 ( 2 )
–
UP-Govt Quota
BC-OP
Autonomous State Medical College, Mirzapur Auton. State Med Coll,Mirzapur
MBBS
18382 ( 15 )
18382 ( 15 )
22301 ( 1 )
22738 ( 16 )
22738 ( 16 )
–
UP-Govt Quota
BC-OP
Uma Nath Singh Autonomous State Medical College, Jaunpur Auton. State Med Coll, Jaunpur
MBBS
18801 ( 16 )
18801 ( 16 )
22354 ( 1 )
22745 ( 17 )
22745 ( 17 )
–
UP-Govt Quota
BC-OP
Autonomous State Medical College, Ghazipur Auton. State Med Coll,Ghazipur
MBBS
18888 ( 15 )
18888 ( 15 )
22228 ( 1 )
22843 ( 17 )
22843 ( 17 )
–
UP-Govt Quota
EW-EX
Autonomous State Medical College, Fatehpur Auton. State Med Coll,Fatehpur
MBBS
–
–
–
23437 ( 1 )
23437 ( 1 )
–
UP-Govt Quota
UR-EX
Autonomous State Medical College, Hardoi Auton. State Med Coll, Hardoi
MBBS
–
–
–
23658 ( 1 )
23658 ( 1 )
–
UP-Govt Quota
UR-EX
Autonomous State Medical College, Fatehpur Auton. State Med Coll,Fatehpur
MBBS
17833 ( 1 )
17172 ( 1 )
–
24143 ( 1 )
24143 ( 1 )
–
UP-Govt Quota
BC-EX
Autonomous State Medical College, Hardoi Auton. State Med Coll, Hardoi
MBBS
16385 ( 1 )
16385 ( 1 )
–
25378 ( 1 )
24382 ( 1 )
–
UP-Govt Quota
UR-EX
Autonomous State Medical College, Siddharthnagar Auton. StateMed,Siddharthnagar
MBBS
17971 ( 1 )
17971 ( 1 )
–
24560 ( 1 )
24560 ( 1 )
–
UP-Govt Quota
UR-EX
Autonomous State Medical College, Pratapgarh Auton.State MedColl,Pratapgarh
MBBS
–
–
–
25509 ( 1 )
25509 ( 1 )
–
UP-Govt Quota
BC-EX
Autonomous State Medical College, Etah Auton. State Med Coll, Etah
MBBS
–
–
–
24382 ( 1 )
25822 ( 1 )
–
UP-Govt Quota
BC-EX
Autonomous State Medical College, Mirzapur Auton. State Med Coll,Mirzapur
MBBS
19077 ( 1 )
19077 ( 1 )
–
25997 ( 1 )
25997 ( 1 )
–
UP-Govt Quota
UR-EX
Autonomous State Medical College, Ghazipur Auton. State Med Coll,Ghazipur
MBBS
19176 ( 1 )
19176 ( 1 )
–
27188 ( 1 )
27188 ( 1 )
–
UP-Govt Quota
BC-EX
Autonomous State Medical College, Siddharthnagar Auton. StateMed,Siddharthnagar
MBBS
19639 ( 1 )
19639 ( 1 )
–
27303 ( 1 )
27303 ( 1 )
–
UP-Govt Quota
UR-GL
Faculty of Dental Scienes, KGMU,Lucknow Faculty of Dental Sci, Lucknow
BDS
26347 ( 5 )
26783 ( 5 )
24546 ( 1 )
27487 ( 5 )
27487 ( 5 )
–
UP-Govt Quota
UR-OP
Faculty of Dental Scienes, KGMU,Lucknow Faculty of Dental Sci, Lucknow
BDS
28972 ( 20 )
28832 ( 20 )
30404 ( 5 )
29850 ( 19 )
29850 ( 19 )
26644 ( 4 )
UP-Govt Quota
EW-FF
Moti Lal Nehru Medical College, Allahabad MLN Med Coll, Allahabad
MBBS
–
–
–
–
–
873241 ( 1 )
UP-Govt Quota
BC-GL
Faculty of Dental Scienes, KGMU,Lucknow Faculty of Dental Sci, Lucknow
BDS
29697 ( 2 )
29426 ( 2 )
32941 ( 1 )
32754 ( 2 )
32754 ( 2 )
–
UP-Govt Quota
EW-FF
Autonomous State Medical College, Fatehpur Auton. State Med Coll,Fatehpur
MBBS
–
–
–
–
–
925764 ( 1 )
UP-Govt Quota
UR-PH
Uma Nath Singh Autonomous State Medical College, Jaunpur Auton. State Med Coll, Jaunpur
MBBS
–
–
–
–
–
970714 ( 1 )
UP-Govt Quota
UR-NC
GSVM Medical College, Kanpur GSVM Med Coll, Kanpur
MBBS
35779 ( 1 )
68297 ( 1 )
–
35794 ( 1 )
35794 ( 1 )
–
UP-Govt Quota
BC-OP
Faculty of Dental Scienes, KGMU,Lucknow Faculty of Dental Sci, Lucknow
BDS
33452 ( 12 )
33452 ( 12 )
–
36318 ( 12 )
36318 ( 12 )
–
UP-Govt Quota
SC-PH
Government Medical College & Super facility Hospital, Azamgarh Govt Med Coll, Azamgarh
MBBS
–
–
–
–
–
1193934 ( 1 )
UP-Govt Quota
UR-FF
King George Medical University, Lucknow KGMU, Lucknow
MBBS
108715 ( 2 )
108715 ( 2 )
–
41325 ( 2 )
41325 ( 2 )
–
UP-Govt Quota
SC-OP
King George Medical University, Lucknow KGMU, Lucknow
MBBS
46011 ( 30 )
46011 ( 30 )
–
45305 ( 31 )
46133 ( 31 )
89228 ( 1 )
UP-Govt Quota
SC-GL
King George Medical University, Lucknow KGMU, Lucknow
MBBS
40454 ( 9 )
40454 ( 9 )
–
36767 ( 9 )
47156 ( 9 )
–
UP-Govt Quota
BC-NC
Dr. Ram Manohar Lohia Institute of Medical Sciences,Lucknow Dr RML IMS, Lucknow
MBBS
75513 ( 1 )
75513 ( 1 )
–
52462 ( 1 )
52462 ( 1 )
–
UP-Govt Quota
SC-GL
Dr. Ram Manohar Lohia Institute of Medical Sciences,Lucknow Dr RML IMS, Lucknow
MBBS
51500 ( 7 )
51500 ( 7 )
–
53773 ( 7 )
53773 ( 7 )
–
UP-Govt Quota
SC-OP
Dr. Ram Manohar Lohia Institute of Medical Sciences,Lucknow Dr RML IMS, Lucknow
MBBS
56280 ( 24 )
56280 ( 24 )
114058 ( 3 )
62835 ( 23 )
63184 ( 23 )
–
UP-Govt Quota
SC-EX
King George Medical University, Lucknow KGMU, Lucknow
MBBS
95236 ( 1 )
95236 ( 1 )
–
64133 ( 1 )
64133 ( 1 )
–
UP-Govt Quota
UR-NC
King George Medical University, Lucknow KGMU, Lucknow
MBBS
5012 ( 1 )
16584 ( 1 )
–
65631 ( 1 )
65631 ( 1 )
–
UP-Govt Quota
SC-EX
Dr. Ram Manohar Lohia Institute of Medical Sciences,Lucknow Dr RML IMS, Lucknow
MBBS
152059 ( 1 )
152059 ( 1 )
–
66647 ( 1 )
66647 ( 1 )
–
UP-Govt Quota
SC-GL
GSVM Medical College, Kanpur GSVM Med Coll, Kanpur
MBBS
63325 ( 9 )
63703 ( 9 )
–
68258 ( 9 )
68743 ( 9 )
–
UP-Govt Quota
SC-FF
King George Medical University, Lucknow KGMU, Lucknow
MBBS
937029 ( 1 )
937029 ( 1 )
–
69621 ( 1 )
69621 ( 1 )
–
UP-Govt Quota
SC-GL
LLRM Medical College, Meerut LLRM Med Coll, Meerut
MBBS
68401 ( 3 )
68401 ( 3 )
–
73631 ( 3 )
70990 ( 3 )
–
UP-Govt Quota
SC-OP
GSVM Medical College, Kanpur GSVM Med Coll, Kanpur
MBBS
68819 ( 30 )
68819 ( 30 )
111376 ( 1 )
72325 ( 31 )
72420 ( 31 )
–
UP-Govt Quota
SC-GL
Moti Lal Nehru Medical College, Allahabad MLN Med Coll, Allahabad
MBBS
71323 ( 7 )
71323 ( 7 )
–
75364 ( 7 )
75364 ( 7 )
–
UP-Govt Quota
UR-NC
BRD Medical College, Gorakhpur BRD Med Coll, Gorakhpur
MBBS
83433 ( 1 )
83433 ( 1 )
–
80534 ( 1 )
80534 ( 1 )
–
UP-Govt Quota
SC-OP
Moti Lal Nehru Medical College, Allahabad MLN Med Coll, Allahabad
MBBS
74729 ( 24 )
74729 ( 24 )
122248 ( 3 )
82608 ( 24 )
82608 ( 24 )
–
UP-Govt Quota
SC-OP
LLRM Medical College, Meerut LLRM Med Coll, Meerut
MBBS
72306 ( 13 )
72306 ( 13 )
–
84657 ( 13 )
84657 ( 13 )
104039 ( 1 )
UP-Govt Quota
SC-EX
Moti Lal Nehru Medical College, Allahabad MLN Med Coll, Allahabad
MBBS
169343 ( 1 )
169343 ( 1 )
–
85012 ( 1 )
85012 ( 1 )
–
UP-Govt Quota
SC-GL
Government Institute of Medical Sciences, Kasna, Greater Noida Govt IMS, Kasna
MBBS
70397 ( 3 )
70397 ( 3 )
–
85320 ( 3 )
85320 ( 3 )
–
UP-Govt Quota
BC-NC
Moti Lal Nehru Medical College, Allahabad MLN Med Coll, Allahabad
MBBS
104641 ( 1 )
104641 ( 1 )
–
86398 ( 1 )
86398 ( 1 )
–
UP-Govt Quota
ST-OP
King George Medical University, Lucknow KGMU, Lucknow
MBBS
109841 ( 1 )
109841 ( 1 )
472230 ( 2 )
86431 ( 3 )
86431 ( 3 )
297101 ( 1 )
UP-Govt Quota
SC-GL
S N Medical College, Agra S N Med Coll, Agra
MBBS
73848 ( 4 )
73848 ( 4 )
–
86800 ( 4 )
86800 ( 4 )
–
UP-Govt Quota
ST-GL
Uttar Pradesh University of Medical Sciences, (Prev. UP Rural Inst.of Med.Sc&R) Etawah UP Univ of Med Sci, Etawah
MBBS
296962 ( 1 )
307139 ( 1 )
–
88146 ( 1 )
88146 ( 1 )
–
UP-Govt Quota
SC-OP
Government Institute of Medical Sciences, Kasna, Greater Noida Govt IMS, Kasna
MBBS
75547 ( 13 )
75413 ( 13 )
102548 ( 1 )
89172 ( 14 )
89172 ( 14 )
–
UP-Govt Quota
SC-GL
BRD Medical College, Gorakhpur BRD Med Coll, Gorakhpur
MBBS
81195 ( 5 )
81195 ( 5 )
–
89903 ( 5 )
89903 ( 5 )
–
UP-Govt Quota
SC-OP
S N Medical College, Agra S N Med Coll, Agra
MBBS
77646 ( 17 )
77646 ( 17 )
116155 ( 1 )
90230 ( 18 )
90230 ( 18 )
–
UP-Govt Quota
SC-OP
BRD Medical College, Gorakhpur BRD Med Coll, Gorakhpur
MBBS
82468 ( 18 )
82468 ( 18 )
126433 ( 2 )
93297 ( 21 )
93297 ( 21 )
–
UP-Govt Quota
SC-GL
Maharani Laxmi Bai Medical College, Jhansi MLB Med Coll, Jhansi
MBBS
80423 ( 5 )
80423 ( 5 )
–
95121 ( 6 )
95121 ( 6 )
–
UP-Govt Quota
SC-OP
Maharani Laxmi Bai Medical College, Jhansi MLB Med Coll, Jhansi
MBBS
84964 ( 18 )
84964 ( 18 )
127748 ( 2 )
97438 ( 16 )
97438 ( 16 )
104484 ( 2 )
UP-Govt Quota
SC-GL
Uttar Pradesh University of Medical Sciences, (Prev. UP Rural Inst.of Med.Sc&R) Etawah UP Univ of Med Sci, Etawah
MBBS
85456 ( 7 )
85456 ( 7 )
–
98901 ( 7 )
98901 ( 7 )
–
UP-Govt Quota
SC-OP
Uttar Pradesh University of Medical Sciences, (Prev. UP Rural Inst.of Med.Sc&R) Etawah UP Univ of Med Sci, Etawah
MBBS
90660 ( 24 )
90660 ( 24 )
130645 ( 3 )
101555 ( 23 )
101555 ( 23 )
105479 ( 1 )
UP-Govt Quota
SC-GL
Government Medical College, Faizabad Govt Med Coll, Faizabad
MBBS
103001 ( 4 )
103001 ( 4 )
–
105428 ( 3 )
105428 ( 3 )
–
UP-Govt Quota
SC-GL
Government Medical College & Super facility Hospital, Azamgarh Govt Med Coll, Azamgarh
MBBS
108780 ( 4 )
108780 ( 4 )
–
107043 ( 3 )
107043 ( 3 )
–
UP-Govt Quota
SC-GL
Government Medical College, Kannauj Govt Med Coll, Kannauj
MBBS
91947 ( 12 )
91947 ( 12 )
–
108208 ( 12 )
108208 ( 12 )
–
UP-Govt Quota
SC-GL
Shaikh-UL-Hind Maulana Mahmood Hasan Medical College, Saharanpur Shaik-ul-Hind, Saharanpur
MBBS
101941 ( 12 )
101941 ( 12 )
–
110676 ( 13 )
110676 ( 13 )
–
UP Priv-Quota
UR-OP
School of Medical Sciences & Research,Greater Noida SMSR, Greater Noida
MBBS
109588 ( 250 )
109588 ( 250 )
24872 ( 1 )
110819 ( 250 )
110819 ( 250 )
26228 ( 2 )
UP-Govt Quota
BC-NC
Govt Medical College, Badaun Govt Med Coll, Badaun
MBBS
–
–
–
111438 ( 1 )
111438 ( 1 )
–
UP-Govt Quota
UR-FF
BRD Medical College, Gorakhpur BRD Med Coll, Gorakhpur
MBBS
260779 ( 1 )
260779 ( 1 )
–
111813 ( 1 )
111813 ( 1 )
–
UP-Govt Quota
SC-OP
Government Medical College, Kannauj Govt Med Coll, Kannauj
MBBS
102266 ( 45 )
102266 ( 45 )
135408 ( 4 )
114897 ( 45 )
114897 ( 45 )
119133 ( 5 )
UP-Govt Quota
BC-NC
Rajkiya Medical College, Jalaun Rajkiya Med Coll, Jalaun
MBBS
–
–
–
115374 ( 1 )
115374 ( 1 )
–
UP-Govt Quota
SC-GL
Govt Medical College, Badaun Govt Med Coll, Badaun
MBBS
96339 ( 3 )
96339 ( 3 )
–
117281 ( 4 )
117281 ( 4 )
–
UP-Govt Quota
BC-FF
King George Medical University, Lucknow KGMU, Lucknow
MBBS
13451 ( 1 )
13451 ( 1 )
–
117412 ( 1 )
117412 ( 1 )
–
UP-Govt Quota
SC-OP
Government Medical College, Faizabad Govt Med Coll, Faizabad
MBBS
108281 ( 13 )
108281 ( 13 )
132701 ( 1 )
118315 ( 15 )
118315 ( 15 )
–
UP-Govt Quota
UR-NC
Autonomous State Medical College, Hardoi Auton. State Med Coll, Hardoi
MBBS
100325 ( 1 )
100325 ( 1 )
–
119227 ( 1 )
119227 ( 1 )
–
UP-Govt Quota
SC-EX
GSVM Medical College, Kanpur GSVM Med Coll, Kanpur
MBBS
127855 ( 1 )
127855 ( 1 )
–
120782 ( 1 )
120782 ( 1 )
–
UP-Govt Quota
BC-NC
Autonomous State Medical College, Etah Auton. State Med Coll, Etah
MBBS
139276 ( 1 )
139276 ( 1 )
–
121695 ( 1 )
121695 ( 1 )
–
UP-Govt Quota
SC-GL
MRA Medical College, Ambedkarnagar MRA Med Coll, Ambedkarnagar
MBBS
108556 ( 12 )
108556 ( 12 )
–
121915 ( 13 )
121915 ( 13 )
–
UP-Govt Quota
SC-GL
Government Medical College, Firozabad Govt Med Coll, Firozobad
MBBS
112326 ( 4 )
112326 ( 4 )
–
122646 ( 4 )
122646 ( 4 )
–
UP-Govt Quota
UR-FF
Dr. Ram Manohar Lohia Institute of Medical Sciences,Lucknow Dr RML IMS, Lucknow
MBBS
151187 ( 2 )
221272 ( 2 )
–
123261 ( 1 )
123261 ( 1 )
–
UP-Govt Quota
SC-OP
Shaikh-UL-Hind Maulana Mahmood Hasan Medical College, Saharanpur Shaik-ul-Hind, Saharanpur
MBBS
111107 ( 45 )
111107 ( 45 )
136411 ( 4 )
124250 ( 41 )
124250 ( 41 )
134866 ( 5 )
UP-Govt Quota
SC-OP
Government Medical College & Super facility Hospital, Azamgarh Govt Med Coll, Azamgarh
MBBS
110104 ( 13 )
110104 ( 13 )
132927 ( 1 )
125852 ( 14 )
125852 ( 14 )
–
UP-Govt Quota
BC-FF
GSVM Medical College, Kanpur GSVM Med Coll, Kanpur
MBBS
92347 ( 1 )
92347 ( 1 )
–
127388 ( 1 )
127388 ( 1 )
–
UP-Govt Quota
SC-GL
Government Allopathic Medical College, Banda Govt Allopathic Med Coll,Banda
MBBS
109644 ( 3 )
109644 ( 3 )
–
128718 ( 4 )
128718 ( 4 )
–
UP-Govt Quota
SC-EX
Maharani Laxmi Bai Medical College, Jhansi MLB Med Coll, Jhansi
MBBS
197497 ( 1 )
197497 ( 1 )
–
129059 ( 1 )
129059 ( 1 )
–
UP-Govt Quota
BC-NC
Autonomous State Medical College, Hardoi Auton. State Med Coll, Hardoi
MBBS
–
–
–
129528 ( 1 )
129528 ( 1 )
–
UP-Govt Quota
SC-OP
MRA Medical College, Ambedkarnagar MRA Med Coll, Ambedkarnagar
MBBS
111865 ( 44 )
111865 ( 44 )
135068 ( 4 )
130418 ( 44 )
130418 ( 44 )
140487 ( 3 )
UP-Govt Quota
BC-NC
Autonomous State Medical College, Siddharthnagar Auton. StateMed,Siddharthnagar
MBBS
–
–
–
130553 ( 1 )
130553 ( 1 )
–
UP-Govt Quota
SC-GL
Autonomous State Medical College, Hardoi Auton. State Med Coll, Hardoi
MBBS
126816 ( 4 )
126816 ( 4 )
–
131042 ( 4 )
131042 ( 4 )
–
UP-Govt Quota
SC-EX
Government Medical College, Kannauj Govt Med Coll, Kannauj
MBBS
254893 ( 1 )
254893 ( 1 )
–
131909 ( 1 )
131909 ( 1 )
–
UP-Govt Quota
SC-OP
Govt Medical College, Badaun Govt Med Coll, Badaun
MBBS
113643 ( 12 )
113643 ( 12 )
132171 ( 1 )
132219 ( 13 )
132219 ( 13 )
133484 ( 1 )
UP-Govt Quota
SC-OP
Government Medical College, Firozabad Govt Med Coll, Firozobad
MBBS
116693 ( 13 )
116693 ( 13 )
135729 ( 1 )
132995 ( 13 )
132995 ( 13 )
112582 ( 1 )
UP-Govt Quota
SC-OP
Government Allopathic Medical College, Banda Govt Allopathic Med Coll,Banda
MBBS
120710 ( 13 )
120710 ( 13 )
132969 ( 1 )
133705 ( 10 )
133705 ( 10 )
126858 ( 2 )
UP-Govt Quota
SC-GL
Rajkiya Medical College, Jalaun Rajkiya Med Coll, Jalaun
MBBS
114144 ( 12 )
114144 ( 12 )
–
135450 ( 12 )
135450 ( 12 )
–
UP-Govt Quota
SC-GL
Government Medical College, Shahjhanpur Govt Med Coll, Shahjhanpur
MBBS
119549 ( 3 )
119549 ( 3 )
–
135881 ( 4 )
135881 ( 4 )
–
UP-Govt Quota
SC-GL
Government Medical College, Rampur, Basti Govt Med Coll, Rampur, Basti
MBBS
119609 ( 4 )
119609 ( 4 )
–
136920 ( 3 )
136920 ( 3 )
–
UP-Govt Quota
SC-OP
Rajkiya Medical College, Jalaun Rajkiya Med Coll, Jalaun
MBBS
121034 ( 45 )
121034 ( 45 )
137298 ( 4 )
137359 ( 44 )
137359 ( 44 )
143498 ( 4 )
UP-Govt Quota
SC-GL
Government Medical College, Bahraich Govt Med Coll, Bahraich
MBBS
123440 ( 4 )
123440 ( 4 )
–
138461 ( 4 )
138461 ( 4 )
–
UP-Govt Quota
SC-OP
Government Medical College, Shahjhanpur Govt Med Coll, Shahjhanpur
MBBS
123098 ( 13 )
123098 ( 13 )
135581 ( 1 )
138971 ( 14 )
138971 ( 14 )
143501 ( 1 )
UP-Govt Quota
SC-GL
Autonomous State Medical College, Fatehpur Auton. State Med Coll,Fatehpur
MBBS
131114 ( 3 )
131114 ( 3 )
–
138978 ( 3 )
138978 ( 3 )
–
UP Priv-Quota
UR-OP
Shri Ram Murti Smarak Institute of Medical Sciences, Bareilly SRMS IMS, Bareilly
MBBS
129534 ( 150 )
129534 ( 150 )
57075 ( 3 )
139372 ( 150 )
139372 ( 150 )
–
UP-Govt Quota
SC-OP
Government Medical College, Bahraich Govt Med Coll, Bahraich
MBBS
125911 ( 12 )
125911 ( 12 )
135343 ( 1 )
139745 ( 13 )
139745 ( 13 )
132467 ( 1 )
UP-Govt Quota
SC-GL
Maharshi Devraha Baba Autonomous State Medical College, Deoria Auton. State Med Coll, Deoria
MBBS
131011 ( 4 )
131011 ( 4 )
–
140018 ( 4 )
140018 ( 4 )
–
UP-Govt Quota
SC-OP
Government Medical College, Rampur, Basti Govt Med Coll, Rampur, Basti
MBBS
124518 ( 13 )
124518 ( 13 )
134968 ( 1 )
140428 ( 12 )
140428 ( 12 )
145653 ( 2 )
UP-Govt Quota
SC-OP
Autonomous State Medical College, Etah Auton. State Med Coll, Etah
MBBS
127411 ( 12 )
127411 ( 12 )
134758 ( 1 )
143313 ( 14 )
143313 ( 14 )
148252 ( 1 )
UP-Govt Quota
SC-GL
Autonomous State Medical College, Pratapgarh Auton.State MedColl,Pratapgarh
MBBS
131639 ( 4 )
131639 ( 4 )
–
143610 ( 3 )
143610 ( 3 )
–
UP-Govt Quota
SC-GL
Autonomous State Medical College, Etah Auton. State Med Coll, Etah
MBBS
119372 ( 4 )
119372 ( 4 )
–
144330 ( 4 )
144330 ( 4 )
–
UP-Govt Quota
SC-OP
Autonomous State Medical College, Hardoi Auton. State Med Coll, Hardoi
MBBS
128406 ( 13 )
128406 ( 13 )
136227 ( 1 )
144457 ( 11 )
144457 ( 11 )
149825 ( 2 )
UP Priv-Quota
UR-OP
Hind Institute of Medical Sciences , Barabanki Hind IMS, Barabanki
MBBS
129772 ( 100 )
129772 ( 100 )
–
144680 ( 100 )
144680 ( 100 )
–
UP-Govt Quota
SC-OP
Maharshi Devraha Baba Autonomous State Medical College, Deoria Auton. State Med Coll, Deoria
MBBS
130454 ( 12 )
130454 ( 12 )
135912 ( 2 )
145586 ( 12 )
145586 ( 12 )
144519 ( 1 )
UP-Govt Quota
SC-OP
Autonomous State Medical College, Fatehpur Auton. State Med Coll,Fatehpur
MBBS
131637 ( 13 )
131637 ( 13 )
134467 ( 2 )
145718 ( 10 )
145718 ( 10 )
150536 ( 2 )
UP-Govt Quota
SC-OP
Autonomous State Medical College, Siddharthnagar Auton. StateMed,Siddharthnagar
MBBS
130005 ( 13 )
130005 ( 13 )
128899 ( 1 )
146227 ( 10 )
146227 ( 10 )
152175 ( 2 )
UP-Govt Quota
SC-GL
Autonomous State Medical College, Siddharthnagar Auton. StateMed,Siddharthnagar
MBBS
125922 ( 3 )
125922 ( 3 )
–
147228 ( 4 )
147228 ( 4 )
–
UP-Govt Quota
SC-OP
Autonomous State Medical College, Pratapgarh Auton.State MedColl,Pratapgarh
MBBS
132581 ( 13 )
132581 ( 13 )
136360 ( 1 )
147337 ( 10 )
147337 ( 10 )
152230 ( 3 )
UP-Govt Quota
SC-GL
Uma Nath Singh Autonomous State Medical College, Jaunpur Auton. State Med Coll, Jaunpur
MBBS
134840 ( 4 )
134840 ( 4 )
–
148669 ( 3 )
148669 ( 3 )
–
UP-Govt Quota
SC-GL
Autonomous State Medical College, Mirzapur Auton. State Med Coll,Mirzapur
MBBS
129338 ( 3 )
129338 ( 3 )
–
148694 ( 4 )
148694 ( 4 )
–
UP-Govt Quota
SC-OP
Autonomous State Medical College, Mirzapur Auton. State Med Coll,Mirzapur
MBBS
134501 ( 13 )
134501 ( 13 )
135745 ( 1 )
148726 ( 13 )
148726 ( 13 )
148125 ( 1 )
UP-Govt Quota
SC-GL
Autonomous State Medical College, Ghazipur Auton. State Med Coll,Ghazipur
MBBS
132965 ( 4 )
132965 ( 4 )
–
148945 ( 3 )
148945 ( 3 )
–
UP-Govt Quota
SC-OP
Autonomous State Medical College, Ghazipur Auton. State Med Coll,Ghazipur
MBBS
134535 ( 12 )
134535 ( 12 )
135856 ( 1 )
151822 ( 14 )
151822 ( 14 )
145070 ( 1 )
UP-Govt Quota
SC-OP
Uma Nath Singh Autonomous State Medical College, Jaunpur Auton. State Med Coll, Jaunpur
MBBS
134153 ( 12 )
134153 ( 12 )
136825 ( 2 )
152091 ( 15 )
152091 ( 15 )
–
UP-Govt Quota
SC-GL
Faculty of Dental Scienes, KGMU,Lucknow Faculty of Dental Sci, Lucknow
BDS
139633 ( 2 )
139633 ( 2 )
–
154945 ( 2 )
154945 ( 2 )
–
UP-Govt Quota
SC-OP
Faculty of Dental Scienes, KGMU,Lucknow Faculty of Dental Sci, Lucknow
BDS
145947 ( 8 )
145947 ( 8 )
139652 ( 3 )
162899 ( 9 )
160490 ( 9 )
–
UP-Govt Quota
ST-OP
Dr. Ram Manohar Lohia Institute of Medical Sciences,Lucknow Dr RML IMS, Lucknow
MBBS
195686 ( 2 )
195686 ( 2 )
–
160882 ( 3 )
160882 ( 3 )
–
UP-Govt Quota
SC-EX
Uttar Pradesh University of Medical Sciences, (Prev. UP Rural Inst.of Med.Sc&R) Etawah UP Univ of Med Sci, Etawah
MBBS
200473 ( 1 )
200473 ( 1 )
–
164682 ( 1 )
164682 ( 1 )
–
UP-Govt Quota
ST-GL
GSVM Medical College, Kanpur GSVM Med Coll, Kanpur
MBBS
152549 ( 1 )
152549 ( 1 )
–
167823 ( 1 )
167823 ( 1 )
–
UP-Govt Quota
UR-NC
Uttar Pradesh University of Medical Sciences, (Prev. UP Rural Inst.of Med.Sc&R) Etawah UP Univ of Med Sci, Etawah
MBBS
68297 ( 1 )
74991 ( 1 )
–
169378 ( 1 )
169378 ( 1 )
–
UP-Govt Quota
SC-NC
Dr. Ram Manohar Lohia Institute of Medical Sciences,Lucknow Dr RML IMS, Lucknow
MBBS
248806 ( 1 )
248806 ( 1 )
–
170148 ( 1 )
170148 ( 1 )
–
UP-Govt Quota
ST-GL
Moti Lal Nehru Medical College, Allahabad MLN Med Coll, Allahabad
MBBS
159792 ( 1 )
200603 ( 1 )
–
173188 ( 1 )
173188 ( 1 )
–
UP-Govt Quota
UR-NC
Autonomous State Medical College, Pratapgarh Auton.State MedColl,Pratapgarh
MBBS
–
–
–
–
173614 ( 1 )
–
UP-Govt Quota
ST-OP
GSVM Medical College, Kanpur GSVM Med Coll, Kanpur
MBBS
179189 ( 1 )
179189 ( 1 )
495645 ( 2 )
176363 ( 3 )
176363 ( 3 )
–
UP-Govt Quota
ST-OP
LLRM Medical College, Meerut LLRM Med Coll, Meerut
MBBS
233115 ( 2 )
250121 ( 2 )
–
179391 ( 1 )
179391 ( 1 )
–
UP-Govt Quota
SC-EX
MRA Medical College, Ambedkarnagar MRA Med Coll, Ambedkarnagar
MBBS
205643 ( 1 )
205643 ( 1 )
–
182856 ( 1 )
182856 ( 1 )
–
UP-Govt Quota
ST-GL
Government Institute of Medical Sciences, Kasna, Greater Noida Govt IMS, Kasna
MBBS
233378 ( 1 )
296962 ( 1 )
–
187139 ( 1 )
187139 ( 1 )
–
UP-Govt Quota
ST-OP
S N Medical College, Agra S N Med Coll, Agra
MBBS
250121 ( 2 )
340660 ( 2 )
–
199688 ( 2 )
188720 ( 2 )
–
UP-Govt Quota
UR-NC
Government Institute of Medical Sciences, Kasna, Greater Noida Govt IMS, Kasna
MBBS
–
–
–
194458 ( 1 )
194458 ( 1 )
–
UP Priv-Quota
UR-OP
Muzaffarnagar Medical College, Muzaffarnagar Muzaffarnagar Medical College
MBBS
195391 ( 150 )
195391 ( 150 )
–
196918 ( 200 )
196918 ( 200 )
48512 ( 1 )
UP Priv-Quota
UR-OP
Hind Institute of Medical Sciences, Sitapur Hind IMS, Sitapur
MBBS
170431 ( 150 )
170431 ( 150 )
66494 ( 2 )
199318 ( 150 )
199318 ( 150 )
–
UP-Govt Quota
UR-FF
GSVM Medical College, Kanpur GSVM Med Coll, Kanpur
MBBS
216523 ( 2 )
216523 ( 2 )
–
201064 ( 2 )
201064 ( 2 )
–
UP-Govt Quota
UR-NC
Maharani Laxmi Bai Medical College, Jhansi MLB Med Coll, Jhansi
MBBS
–
–
–
205180 ( 1 )
205180 ( 1 )
–
UP-Govt Quota
ST-GL
BRD Medical College, Gorakhpur BRD Med Coll, Gorakhpur
MBBS
–
–
–
209950 ( 1 )
209950 ( 1 )
–
UP-Govt Quota
SC-EX
Rajkiya Medical College, Jalaun Rajkiya Med Coll, Jalaun
MBBS
254985 ( 1 )
254985 ( 1 )
–
213857 ( 1 )
213857 ( 1 )
–
UP-Govt Quota
SC-EX
Shaikh-UL-Hind Maulana Mahmood Hasan Medical College, Saharanpur Shaik-ul-Hind, Saharanpur
MBBS
240629 ( 1 )
240629 ( 1 )
–
218673 ( 2 )
218673 ( 2 )
–
UP-Govt Quota
ST-GL
LLRM Medical College, Meerut LLRM Med Coll, Meerut
MBBS
–
–
–
228553 ( 1 )
228553 ( 1 )
–
UP-Govt Quota
ST-OP
BRD Medical College, Gorakhpur BRD Med Coll, Gorakhpur
MBBS
218285 ( 2 )
233115 ( 2 )
–
237085 ( 2 )
237085 ( 2 )
–
UP-Govt Quota
SC-EX
Government Allopathic Medical College, Banda Govt Allopathic Med Coll,Banda
MBBS
–
–
–
238083 ( 1 )
238083 ( 1 )
–
UP-Govt Quota
ST-OP
Government Medical College, Rampur, Basti Govt Med Coll, Rampur, Basti
MBBS
346653 ( 1 )
346653 ( 1 )
–
240493 ( 1 )
240493 ( 1 )
–
UP-Govt Quota
UR-NC
Government Medical College, Rampur, Basti Govt Med Coll, Rampur, Basti
MBBS
87496 ( 1 )
87496 ( 1 )
–
240748 ( 1 )
240748 ( 1 )
–
UP-Govt Quota
UR-FF
Moti Lal Nehru Medical College, Allahabad MLN Med Coll, Allahabad
MBBS
172322 ( 1 )
172322 ( 1 )
–
241610 ( 1 )
241610 ( 1 )
–
UP-Govt Quota
UR-PH
King George Medical University, Lucknow KGMU, Lucknow
MBBS
420294 ( 5 )
420294 ( 5 )
–
163909 ( 5 )
243336 ( 5 )
–
UP Priv-Quota
UR-OP
K.D. Medical College Hospital & Research Centre, Mathura KD Med Coll, Mathura
MBBS
274192 ( 150 )
274192 ( 150 )
83274 ( 2 )
243445 ( 150 )
243445 ( 150 )
–
UP-Govt Quota
UR-FF
S N Medical College, Agra S N Med Coll, Agra
MBBS
221272 ( 1 )
454648 ( 1 )
488572 ( 1 )
306220 ( 1 )
38429 ( 1 )
–
UP Priv-Quota
UR-OP
Saraswati Institute of Medical Sciences, Hapur Saraswati IMS, Hapur
MBBS
224781 ( 150 )
224781 ( 150 )
–
249086 ( 150 )
249400 ( 250 )
88030 ( 6 )
UP-Govt Quota
SC-NC
Uttar Pradesh University of Medical Sciences, (Prev. UP Rural Inst.of Med.Sc&R) Etawah UP Univ of Med Sci, Etawah
MBBS
297220 ( 1 )
297220 ( 1 )
–
252474 ( 1 )
252474 ( 1 )
–
UP-Govt Quota
UR-NC
Government Medical College & Super facility Hospital, Azamgarh Govt Med Coll, Azamgarh
MBBS
–
–
–
255746 ( 1 )
255746 ( 1 )
–
UP-Govt Quota
BC-FF
Dr. Ram Manohar Lohia Institute of Medical Sciences,Lucknow Dr RML IMS, Lucknow
MBBS
88026 ( 1 )
88026 ( 1 )
–
256698 ( 1 )
256698 ( 1 )
–
UP-Govt Quota
SC-EX
Autonomous State Medical College, Hardoi Auton. State Med Coll, Hardoi
MBBS
–
–
–
260452 ( 1 )
260452 ( 1 )
–
UP-Govt Quota
ST-OP
Maharani Laxmi Bai Medical College, Jhansi MLB Med Coll, Jhansi
MBBS
262341 ( 2 )
262341 ( 2 )
–
260705 ( 3 )
260705 ( 3 )
–
UP Priv-Quota
UR-OP
Rohilkhand Medical College & Hospital, Bareilly Rohilkhand Med Coll, Bareilly
MBBS
237897 ( 250 )
237897 ( 250 )
85903 ( 1 )
264629 ( 250 )
264629 ( 250 )
64184 ( 4 )
UP-Govt Quota
ST-OP
Uttar Pradesh University of Medical Sciences, (Prev. UP Rural Inst.of Med.Sc&R) Etawah UP Univ of Med Sci, Etawah
MBBS
269928 ( 2 )
269928 ( 2 )
–
241875 ( 2 )
265200 ( 2 )
–
UP-Govt Quota
SC-EX
Autonomous State Medical College, Pratapgarh Auton.State MedColl,Pratapgarh
MBBS
–
–
–
266263 ( 1 )
266263 ( 1 )
–
UP-Govt Quota
EW-NC
Moti Lal Nehru Medical College, Allahabad MLN Med Coll, Allahabad
MBBS
–
–
–
273300 ( 1 )
273300 ( 1 )
–
UP-Govt Quota
UR-FF
Uttar Pradesh University of Medical Sciences, (Prev. UP Rural Inst.of Med.Sc&R) Etawah UP Univ of Med Sci, Etawah
MBBS
320673 ( 2 )
320673 ( 2 )
–
273882 ( 2 )
273882 ( 2 )
–
UP-Govt Quota
ST-GL
Shaikh-UL-Hind Maulana Mahmood Hasan Medical College, Saharanpur Shaik-ul-Hind, Saharanpur
MBBS
302366 ( 1 )
302366 ( 1 )
–
212543 ( 1 )
281746 ( 1 )
–
UP-Govt Quota
EW-NC
Autonomous State Medical College, Pratapgarh Auton.State MedColl,Pratapgarh
MBBS
–
–
–
283797 ( 1 )
283797 ( 1 )
–
UP-Govt Quota
ST-OP
Government Medical College & Super facility Hospital, Azamgarh Govt Med Coll, Azamgarh
MBBS
307139 ( 2 )
248992 ( 2 )
–
288482 ( 1 )
288482 ( 1 )
396359 ( 1 )
UP Priv-Quota
UR-OP
Noida International Institute Of Medical Sciences, Greater Noida Noida International Inst of MS
MBBS
286248 ( 150 )
286248 ( 150 )
50216 ( 1 )
294833 ( 150 )
294833 ( 150 )
49950 ( 1 )
UP-Govt Quota
ST-OP
Government Medical College, Faizabad Govt Med Coll, Faizabad
MBBS
349259 ( 2 )
349259 ( 2 )
–
296904 ( 1 )
296904 ( 1 )
–
UP-Govt Quota
EW-PH
GSVM Medical College, Kanpur GSVM Med Coll, Kanpur
MBBS
868444 ( 1 )
868444 ( 1 )
–
301904 ( 1 )
301904 ( 1 )
–
UP-Govt Quota
ST-GL
Government Medical College, Kannauj Govt Med Coll, Kannauj
MBBS
316359 ( 1 )
316359 ( 1 )
–
304549 ( 1 )
304549 ( 1 )
–
UP Priv-Quota
UR-OP
Rama Medical College and Hospital , Kanpur Rama Med Coll, Kanpur
MBBS
299988 ( 150 )
299988 ( 150 )
101149 ( 2 )
308890 ( 150 )
308890 ( 150 )
96757 ( 2 )
UP-Govt Quota
SC-EX
Autonomous State Medical College, Siddharthnagar Auton. StateMed,Siddharthnagar
MBBS
409824 ( 1 )
409824 ( 1 )
–
308924 ( 1 )
308924 ( 1 )
–
UP Priv-Quota
UR-OP
United Institute of Medical Sciences, Allahabad United InstofMed Sci,Allahabad
MBBS
342946 ( 150 )
342946 ( 150 )
64255 ( 1 )
317867 ( 150 )
317867 ( 150 )
–
UP-Govt Quota
SC-EX
Government Medical College, Rampur, Basti Govt Med Coll, Rampur, Basti
MBBS
–
–
–
317898 ( 1 )
317898 ( 1 )
–
UP-Govt Quota
SC-NC
Maharani Laxmi Bai Medical College, Jhansi MLB Med Coll, Jhansi
MBBS
–
–
–
318310 ( 1 )
318310 ( 1 )
–
UP Priv-Quota
UR-OP
Subharti Medical College, Meerut Subharti Med Coll, Meerut
MBBS
150836 ( 75 )
150836 ( 75 )
67622 ( 2 )
321549 ( 200 )
321272 ( 200 )
119980 ( 5 )
UP-Govt Quota
ST-OP
Government Medical College, Kannauj Govt Med Coll, Kannauj
MBBS
344316 ( 4 )
379019 ( 4 )
–
322057 ( 4 )
322057 ( 4 )
–
UP-Govt Quota
SC-EX
Autonomous State Medical College, Fatehpur Auton. State Med Coll,Fatehpur
MBBS
–
–
–
322726 ( 1 )
322726 ( 1 )
–
UP-Govt Quota
ST-GL
MRA Medical College, Ambedkarnagar MRA Med Coll, Ambedkarnagar
MBBS
327865 ( 1 )
327865 ( 1 )
–
326652 ( 1 )
326652 ( 1 )
–
UP-Govt Quota
BC-FF
Moti Lal Nehru Medical College, Allahabad MLN Med Coll, Allahabad
MBBS
243823 ( 1 )
243823 ( 1 )
–
352580 ( 1 )
352580 ( 1 )
–
UP-Govt Quota
BC-PH
King George Medical University, Lucknow KGMU, Lucknow
MBBS
508315 ( 3 )
508315 ( 3 )
–
348060 ( 3 )
367935 ( 3 )
–
UP Priv-Quota
UR-OP
Heritage Institute of Medical Sciences, Varanasi Heritage IMS, Varanasi
MBBS
303611 ( 150 )
303611 ( 150 )
161081 ( 3 )
370620 ( 200 )
369984 ( 200 )
–
UP-Govt Quota
UR-PH
Dr. Ram Manohar Lohia Institute of Medical Sciences,Lucknow Dr RML IMS, Lucknow
MBBS
873927 ( 4 )
873927 ( 4 )
–
333140 ( 3 )
377457 ( 3 )
–
UP-Govt Quota
ST-OP
Government Medical College, Bahraich Govt Med Coll, Bahraich
MBBS
393122 ( 1 )
393122 ( 1 )
–
378477 ( 2 )
378477 ( 2 )
–
UP-Govt Quota
BC-FF
BRD Medical College, Gorakhpur BRD Med Coll, Gorakhpur
MBBS
414778 ( 1 )
414778 ( 1 )
–
381463 ( 1 )
381463 ( 1 )
–
UP-Govt Quota
UR-FF
Government Institute of Medical Sciences, Kasna, Greater Noida Govt IMS, Kasna
MBBS
–
–
–
382167 ( 1 )
382167 ( 1 )
–
UP-Govt Quota
UR-PH
LLRM Medical College, Meerut LLRM Med Coll, Meerut
MBBS
–
–
741431 ( 1 )
386877 ( 2 )
386877 ( 2 )
–
UP-Govt Quota
ST-OP
MRA Medical College, Ambedkarnagar MRA Med Coll, Ambedkarnagar
MBBS
373306 ( 4 )
373306 ( 4 )
–
387389 ( 3 )
387389 ( 3 )
473482 ( 1 )
UP-Govt Quota
ST-GL
Government Medical College & Super facility Hospital, Azamgarh Govt Med Coll, Azamgarh
MBBS
–
–
–
388229 ( 1 )
388229 ( 1 )
–
UP-Govt Quota
ST-GL
Rajkiya Medical College, Jalaun Rajkiya Med Coll, Jalaun
MBBS
402778 ( 1 )
402778 ( 1 )
–
388403 ( 1 )
388403 ( 1 )
–
UP-Govt Quota
ST-OP
Government Medical College, Shahjhanpur Govt Med Coll, Shahjhanpur
MBBS
416182 ( 2 )
416182 ( 2 )
–
388425 ( 2 )
388425 ( 2 )
–
UP-Govt Quota
BC-PH
Dr. Ram Manohar Lohia Institute of Medical Sciences,Lucknow Dr RML IMS, Lucknow
MBBS
566673 ( 2 )
566673 ( 2 )
–
367935 ( 3 )
388761 ( 3 )
783880 ( 1 )
UP-Govt Quota
ST-OP
Shaikh-UL-Hind Maulana Mahmood Hasan Medical College, Saharanpur Shaik-ul-Hind, Saharanpur
MBBS
376684 ( 3 )
376684 ( 3 )
544267 ( 1 )
390435 ( 4 )
390435 ( 4 )
–
UP Priv-Quota
UR-OP
G.S. Medical College & Hospital, Hapur, UP GS Med Coll Hosp,Hapur
MBBS
495308 ( 150 )
495308 ( 150 )
144996 ( 3 )
391258 ( 150 )
391258 ( 150 )
92247 ( 2 )
UP-Govt Quota
SC-NC
Rajkiya Medical College, Jalaun Rajkiya Med Coll, Jalaun
MBBS
–
–
–
393918 ( 1 )
393918 ( 1 )
–
UP-Govt Quota
ST-OP
Maharshi Devraha Baba Autonomous State Medical College, Deoria Auton. State Med Coll, Deoria
MBBS
446985 ( 2 )
446985 ( 2 )
–
396024 ( 1 )
396024 ( 1 )
–
UP-Govt Quota
BC-FF
Government Institute of Medical Sciences, Kasna, Greater Noida Govt IMS, Kasna
MBBS
–
–
–
396082 ( 1 )
396082 ( 1 )
–
UP Priv-Quota
UR-OP
Rama Medical College Hospital and Research Centre, Hapur Rama Med Coll, Hapur
MBBS
385489 ( 250 )
385489 ( 250 )
176053 ( 6 )
399895 ( 250 )
399895 ( 250 )
59546 ( 1 )
UP-Govt Quota
UR-FF
LLRM Medical College, Meerut LLRM Med Coll, Meerut
MBBS
239182 ( 1 )
239182 ( 1 )
–
402838 ( 1 )
402838 ( 1 )
–
UP-Govt Quota
UR-PH
Government Medical College, Faizabad Govt Med Coll, Faizabad
MBBS
–
–
–
405939 ( 1 )
405939 ( 1 )
–
UP-Govt Quota
ST-OP
Government Medical College, Firozabad Govt Med Coll, Firozobad
MBBS
334179 ( 1 )
334179 ( 1 )
–
408008 ( 1 )
408008 ( 1 )
–
UP-Govt Quota
ST-OP
Rajkiya Medical College, Jalaun Rajkiya Med Coll, Jalaun
MBBS
397755 ( 4 )
440260 ( 4 )
–
414550 ( 4 )
414550 ( 4 )
–
UP-Govt Quota
ST-OP
Autonomous State Medical College, Siddharthnagar Auton. StateMed,Siddharthnagar
MBBS
458527 ( 1 )
458527 ( 1 )
–
417074 ( 1 )
417074 ( 1 )
–
UP-Govt Quota
BC-FF
Uttar Pradesh University of Medical Sciences, (Prev. UP Rural Inst.of Med.Sc&R) Etawah UP Univ of Med Sci, Etawah
MBBS
299102 ( 1 )
299102 ( 1 )
–
424368 ( 1 )
424368 ( 1 )
–
UP Priv-Quota
UR-OP
T S Misra Medical College & Hospital, Amusi, Lucknow TS Misra Med Coll, Lucknow
MBBS
429083 ( 150 )
429083 ( 150 )
200106 ( 4 )
428891 ( 150 )
428891 ( 150 )
145998 ( 4 )
UP Priv-Quota
UR-OP
Mayo Institute of Medical Sciences, Barabanki Mayo IMS, Barabanki
MBBS
332717 ( 150 )
332717 ( 150 )
144030 ( 2 )
429115 ( 250 )
429115 ( 250 )
128943 ( 6 )
UP-Govt Quota
ST-OP
Autonomous State Medical College, Hardoi Auton. State Med Coll, Hardoi
MBBS
507209 ( 2 )
507209 ( 2 )
–
439431 ( 1 )
439431 ( 1 )
–
UP-Govt Quota
BC-PH
GSVM Medical College, Kanpur GSVM Med Coll, Kanpur
MBBS
778283 ( 3 )
778283 ( 3 )
–
389744 ( 2 )
446623 ( 2 )
–
UP Priv-Quota
UR-OP
Era Lucknow Medical College , Lucknow Era Lucknow Med Coll, Lucknow
MBBS
408712 ( 75 )
408712 ( 75 )
201806 ( 2 )
450582 ( 75 )
450582 ( 75 )
277518 ( 3 )
UP-Govt Quota
UR-NC
S N Medical College, Agra S N Med Coll, Agra
MBBS
68100 ( 1 )
68100 ( 1 )
–
451778 ( 1 )
451778 ( 1 )
–
UP-Govt Quota
EW-PH
BRD Medical College, Gorakhpur BRD Med Coll, Gorakhpur
MBBS
–
–
–
556686 ( 1 )
178494 ( 1 )
–
UP-Govt Quota
ST-OP
Government Allopathic Medical College, Banda Govt Allopathic Med Coll,Banda
MBBS
405614 ( 2 )
429183 ( 2 )
–
456262 ( 2 )
456262 ( 2 )
–
UP Priv-Quota
UR-OP
National Capital Region Institute of Medical Sciences, Meerut National Captl Reg IMS, Meerut
MBBS
579601 ( 150 )
579601 ( 150 )
–
456495 ( 150 )
456495 ( 150 )
92786 ( 1 )
UP-Govt Quota
ST-OP
Govt Medical College, Badaun Govt Med Coll, Badaun
MBBS
333276 ( 1 )
397755 ( 1 )
–
466592 ( 2 )
466592 ( 2 )
–
UP Priv-Quota
UR-OP
Prasad Institute of Medical Sciences, Lucknow Prasad Inst of Med Sci,Lucknow
MBBS
508441 ( 150 )
508441 ( 150 )
151542 ( 4 )
471601 ( 150 )
471601 ( 150 )
95010 ( 3 )
UP-Govt Quota
UR-NC
Autonomous State Medical College, Fatehpur Auton. State Med Coll,Fatehpur
MBBS
–
–
–
478612 ( 1 )
478612 ( 1 )
–
UP-Govt Quota
BC-FF
Government Medical College, Firozabad Govt Med Coll, Firozobad
MBBS
522016 ( 1 )
522016 ( 1 )
–
479109 ( 1 )
479109 ( 1 )
–
UP-Govt Quota
UR-FF
Government Medical College & Super facility Hospital, Azamgarh Govt Med Coll, Azamgarh
MBBS
280604 ( 1 )
280604 ( 1 )
–
481884 ( 1 )
481884 ( 1 )
–
UP-Govt Quota
ST-OP
Autonomous State Medical College, Etah Auton. State Med Coll, Etah
MBBS
440066 ( 2 )
440066 ( 2 )
–
482290 ( 2 )
482290 ( 2 )
–
UP Priv-Quota
UR-OP
Teerthanker Mahaveer Medical College, Moradabad Teerthanker Med Coll,Moradabad
MBBS
471951 ( 75 )
471951 ( 75 )
727961 ( 53 )
484607 ( 75 )
484607 ( 75 )
584489 ( 61 )
UP-Govt Quota
ST-OP
Autonomous State Medical College, Fatehpur Auton. State Med Coll,Fatehpur
MBBS
450116 ( 1 )
450116 ( 1 )
–
489063 ( 1 )
489063 ( 1 )
–
UP-Govt Quota
UR-FF
Maharani Laxmi Bai Medical College, Jhansi MLB Med Coll, Jhansi
MBBS
260678 ( 1 )
260678 ( 1 )
–
493766 ( 1 )
493766 ( 1 )
–
UP-Govt Quota
SC-FF
Dr. Ram Manohar Lohia Institute of Medical Sciences,Lucknow Dr RML IMS, Lucknow
MBBS
–
–
–
497675 ( 1 )
497675 ( 1 )
–
UP-Govt Quota
BC-PH
LLRM Medical College, Meerut LLRM Med Coll, Meerut
MBBS
589849 ( 1 )
589849 ( 1 )
–
500570 ( 1 )
500570 ( 1 )
–
UP-Govt Quota
ST-GL
Government Medical College, Rampur, Basti Govt Med Coll, Rampur, Basti
MBBS
398708 ( 1 )
398708 ( 1 )
–
508450 ( 1 )
508450 ( 1 )
–
UP-Govt Quota
BC-FF
Maharani Laxmi Bai Medical College, Jhansi MLB Med Coll, Jhansi
MBBS
298252 ( 1 )
298252 ( 1 )
–
509184 ( 1 )
509184 ( 1 )
–
UP Priv-Quota
UR-OP
Rajshree Medical Research Institute, Bareilly Rajshree MRI, Bareilly
MBBS
446143 ( 150 )
446143 ( 150 )
240971 ( 6 )
509668 ( 250 )
509668 ( 250 )
178426 ( 8 )
UP-Govt Quota
ST-OP
Uma Nath Singh Autonomous State Medical College, Jaunpur Auton. State Med Coll, Jaunpur
MBBS
516197 ( 2 )
516197 ( 2 )
–
515329 ( 2 )
515329 ( 2 )
–
UP-Govt Quota
ST-GL
Autonomous State Medical College, Hardoi Auton. State Med Coll, Hardoi
MBBS
–
–
–
519155 ( 1 )
519155 ( 1 )
–
UP-Govt Quota
ST-OP
Autonomous State Medical College, Ghazipur Auton. State Med Coll,Ghazipur
MBBS
527433 ( 1 )
527433 ( 1 )
–
521449 ( 2 )
521449 ( 2 )
–
UP-Govt Quota
ST-OP
Autonomous State Medical College, Mirzapur Auton. State Med Coll,Mirzapur
MBBS
501356 ( 1 )
501356 ( 1 )
–
521457 ( 1 )
521457 ( 1 )
–
UP-Govt Quota
EW-PH
Moti Lal Nehru Medical College, Allahabad MLN Med Coll, Allahabad
MBBS
–
–
–
522483 ( 1 )
522483 ( 1 )
–
UP-Govt Quota
ST-GL
Autonomous State Medical College, Fatehpur Auton. State Med Coll,Fatehpur
MBBS
–
–
–
524336 ( 1 )
524336 ( 1 )
–
UP Priv-Quota
UR-OP
Venkateshwara Institute of Medical Sciences, Gajraula Venkateshwara IMS, Gajraula
MBBS
713968 ( 150 )
713968 ( 150 )
175085 ( 3 )
525163 ( 150 )
525113 ( 250 )
252438 ( 12 )
UP-Govt Quota
UR-PH
GSVM Medical College, Kanpur GSVM Med Coll, Kanpur
MBBS
949994 ( 1 )
949994 ( 1 )
–
529623 ( 4 )
529623 ( 4 )
–
UP-Govt Quota
BC-FF
Govt Medical College, Badaun Govt Med Coll, Badaun
MBBS
215977 ( 1 )
215977 ( 1 )
–
529787 ( 1 )
529787 ( 1 )
–
UP Priv-Min. Quota
UR-OP
Era Lucknow Medical College , Lucknow Era Lucknow Med Coll, Lucknow
MBBS
567727 ( 75 )
567727 ( 75 )
–
530355 ( 75 )
530355 ( 75 )
–
UP Priv-Quota
UR-OP
Krishna Mohan Medical College & Hospital, Mathura Krishna Mohan Med Coll,Mathura
MBBS
692786 ( 150 )
692786 ( 150 )
221041 ( 7 )
532502 ( 150 )
532502 ( 150 )
188792 ( 7 )
UP-Govt Quota
ST-GL
Autonomous State Medical College, Pratapgarh Auton.State MedColl,Pratapgarh
MBBS
471281 ( 1 )
471281 ( 1 )
–
534141 ( 1 )
534141 ( 1 )
–
UP-Govt Quota
UR-FF
Government Medical College, Bahraich Govt Med Coll, Bahraich
MBBS
481510 ( 1 )
481510 ( 1 )
–
535379 ( 1 )
535379 ( 1 )
–
UP-Govt Quota
BC-PH
Maharani Laxmi Bai Medical College, Jhansi MLB Med Coll, Jhansi
MBBS
956715 ( 2 )
1007935 ( 2 )
–
570840 ( 2 )
536067 ( 2 )
–
UP-Govt Quota
UR-PH
Moti Lal Nehru Medical College, Allahabad MLN Med Coll, Allahabad
MBBS
923743 ( 3 )
923743 ( 3 )
–
536923 ( 3 )
536923 ( 3 )
–
UP-Govt Quota
UR-FF
Autonomous State Medical College, Siddharthnagar Auton. StateMed,Siddharthnagar
MBBS
–
–
–
539262 ( 1 )
539262 ( 1 )
–
UP-Govt Quota
BC-PH
Moti Lal Nehru Medical College, Allahabad MLN Med Coll, Allahabad
MBBS
859042 ( 2 )
859042 ( 2 )
–
485529 ( 2 )
541299 ( 2 )
–
UP-Govt Quota
UR-FF
Autonomous State Medical College, Mirzapur Auton. State Med Coll,Mirzapur
MBBS
–
–
–
546402 ( 1 )
546402 ( 1 )
–
UP-Govt Quota
SC-PH
Dr. Ram Manohar Lohia Institute of Medical Sciences,Lucknow Dr RML IMS, Lucknow
MBBS
1030500 ( 1 )
1030500 ( 1 )
–
546936 ( 2 )
546936 ( 2 )
–
UP-Govt Quota
BC-FF
Government Medical College, Rampur, Basti Govt Med Coll, Rampur, Basti
MBBS
420181 ( 1 )
420181 ( 1 )
–
558866 ( 1 )
558866 ( 1 )
–
UP Priv-Quota
UR-OP
Varun Arjun Medical College, Shahjahanpur Varun Arjun, Shahjahanpur
MBBS
970889 ( 134 )
970889 ( 150 )
289035 ( 2 )
565135 ( 150 )
565135 ( 150 )
202176 ( 1 )
UP-Govt Quota
SC-NC
Shaikh-UL-Hind Maulana Mahmood Hasan Medical College, Saharanpur Shaik-ul-Hind, Saharanpur
MBBS
–
–
–
565539 ( 1 )
565539 ( 1 )
–
UP-Govt Quota
BC-PH
S N Medical College, Agra S N Med Coll, Agra
MBBS
329633 ( 1 )
329633 ( 1 )
–
492838 ( 1 )
570840 ( 1 )
–
UP-Govt Quota
EW-PH
Dr. Ram Manohar Lohia Institute of Medical Sciences,Lucknow Dr RML IMS, Lucknow
MBBS
509259 ( 1 )
509259 ( 1 )
–
323880 ( 1 )
579792 ( 1 )
–
UP-Govt Quota
UR-FF
Government Medical College, Rampur, Basti Govt Med Coll, Rampur, Basti
MBBS
–
–
–
583968 ( 1 )
583968 ( 1 )
–
UP Priv-Quota
UR-OP
Naraina Medical College & Research Centre, Kanpur Naraina Med Coll & RC, Kanpur
MBBS
1042375 ( 122 )
999760 ( 150 )
341294 ( 7 )
586187 ( 150 )
586187 ( 150 )
262264 ( 5 )
UP-Govt Quota
BC-PH
Government Institute of Medical Sciences, Kasna, Greater Noida Govt IMS, Kasna
MBBS
662610 ( 1 )
643674 ( 1 )
–
450968 ( 1 )
586755 ( 1 )
–
UP-Govt Quota
EW-PH
Government Institute of Medical Sciences, Kasna, Greater Noida Govt IMS, Kasna
MBBS
–
–
–
589456 ( 1 )
589456 ( 1 )
–
UP-Govt Quota
UR-FF
Autonomous State Medical College, Hardoi Auton. State Med Coll, Hardoi
MBBS
–
–
–
590508 ( 1 )
590508 ( 1 )
–
UP Priv-Quota
UR-OP
SKS Hospital Medical College & Research Centre SKS Hospital Med Coll, Mathura
MBBS
–
–
–
593061 ( 150 )
592512 ( 150 )
169081 ( 2 )
UP-Govt Quota
UR-PH
Government Institute of Medical Sciences, Kasna, Greater Noida Govt IMS, Kasna
MBBS
724805 ( 1 )
724805 ( 1 )
–
592578 ( 2 )
592578 ( 2 )
–
UP-Govt Quota
BC-PH
BRD Medical College, Gorakhpur BRD Med Coll, Gorakhpur
MBBS
–
767111 ( 1 )
–
595382 ( 1 )
595382 ( 1 )
–
UP Priv-Quota
UR-OP
Saraswati Medical College, Unnao Saraswati Medical Coll, Unnao
MBBS
799221 ( 150 )
785189 ( 150 )
270865 ( 7 )
–
597131 ( 150 )
514917 ( 37 )
UP-Govt Quota
ST-OP
Faculty of Dental Scienes, KGMU,Lucknow Faculty of Dental Sci, Lucknow
BDS
462920 ( 1 )
462920 ( 1 )
–
551543 ( 1 )
598282 ( 1 )
571166 ( 1 )
UP-Govt Quota
UR-PH
S N Medical College, Agra S N Med Coll, Agra
MBBS
–
–
–
606522 ( 3 )
606522 ( 3 )
–
UP-Govt Quota
BC-PH
Govt Medical College, Badaun Govt Med Coll, Badaun
MBBS
–
959797 ( 1 )
–
615343 ( 1 )
615343 ( 1 )
–
UP Priv-Quota
UR-OP
Integral Institute of Medical Sciences & Research, Lucknow IIMSR, Lucknow
MBBS
625410 ( 75 )
625410 ( 75 )
601642 ( 7 )
621424 ( 75 )
621424 ( 75 )
374597 ( 2 )
UP-Govt Quota
BC-PH
Uttar Pradesh University of Medical Sciences, (Prev. UP Rural Inst.of Med.Sc&R) Etawah UP Univ of Med Sci, Etawah
MBBS
–
662610 ( 1 )
–
596260 ( 3 )
628639 ( 3 )
–
UP-Govt Quota
SC-PH
LLRM Medical College, Meerut LLRM Med Coll, Meerut
MBBS
760127 ( 1 )
760127 ( 1 )
–
812143 ( 1 )
–
–
UP Priv-Min. Quota
UR-OP
Integral Institute of Medical Sciences & Research, Lucknow IIMSR, Lucknow
MBBS
690471 ( 75 )
690378 ( 75 )
–
654130 ( 75 )
654130 ( 75 )
–
UP-Govt Quota
UR-PH
Autonomous State Medical College, Mirzapur Auton. State Med Coll,Mirzapur
MBBS
–
–
–
–
655647 ( 1 )
–
UP-Govt Quota
BC-FF
Rajkiya Medical College, Jalaun Rajkiya Med Coll, Jalaun
MBBS
–
–
–
657929 ( 1 )
657929 ( 1 )
–
UP-Govt Quota
UR-FF
Autonomous State Medical College, Fatehpur Auton. State Med Coll,Fatehpur
MBBS
–
–
–
678195 ( 1 )
678195 ( 1 )
–
UP-Govt Quota
BC-PH
Government Medical College, Faizabad Govt Med Coll, Faizabad
MBBS
–
–
–
678277 ( 1 )
678277 ( 1 )
–
UP Priv-Quota
UR-OP
Career Instt. Of Medical Sciences & Hospital, Lucknow Career Instt of MS, Lucknow
MBBS
680828 ( 50 )
670879 ( 50 )
615912 ( 11 )
679035 ( 75 )
679035 ( 75 )
606144 ( 13 )
UP-Govt Quota
EW-EX
Autonomous State Medical College, Pratapgarh Auton.State MedColl,Pratapgarh
MBBS
18090 ( 1 )
18090 ( 1 )
–
694940 ( 1 )
694940 ( 1 )
–
UP-Govt Quota
BC-FF
Autonomous State Medical College, Mirzapur Auton. State Med Coll,Mirzapur
MBBS
533675 ( 1 )
533675 ( 1 )
–
696036 ( 1 )
696036 ( 1 )
–
UP Priv-Quota
UR-OP
F.H. Medical College & Hospital, Etamdapur, Agra FH Med Coll, Agra
MBBS
984162 ( 75 )
940127 ( 75 )
605039 ( 15 )
715506 ( 75 )
715506 ( 75 )
438704 ( 6 )
UP-Govt Quota
SC-NC
Government Allopathic Medical College, Banda Govt Allopathic Med Coll,Banda
MBBS
–
–
–
721292 ( 1 )
721292 ( 1 )
–
UP-Govt Quota
BC-FF
Autonomous State Medical College, Etah Auton. State Med Coll, Etah
MBBS
–
–
–
726674 ( 1 )
726674 ( 1 )
–
UP-Govt Quota
UR-PH
BRD Medical College, Gorakhpur BRD Med Coll, Gorakhpur
MBBS
951563 ( 3 )
951563 ( 3 )
–
730033 ( 3 )
730033 ( 3 )
–
UP-Govt Quota
BC-PH
Government Medical College, Rampur, Basti Govt Med Coll, Rampur, Basti
MBBS
–
977124 ( 1 )
–
737746 ( 1 )
737746 ( 1 )
–
UP-Govt Quota
EW-PH
Government Medical College, Rampur, Basti Govt Med Coll, Rampur, Basti
MBBS
–
–
–
754585 ( 1 )
754585 ( 1 )
–
UP-Govt Quota
EW-PH
Autonomous State Medical College, Pratapgarh Auton.State MedColl,Pratapgarh
MBBS
–
–
–
990836 ( 1 )
–
–
UP-Govt Quota
BC-FF
Autonomous State Medical College, Hardoi Auton. State Med Coll, Hardoi
MBBS
–
–
–
756453 ( 1 )
756453 ( 1 )
–
UP-Govt Quota
BC-FF
Autonomous State Medical College, Siddharthnagar Auton. StateMed,Siddharthnagar
MBBS
–
–
–
760399 ( 1 )
760399 ( 1 )
–
UP-Govt Quota
SC-NC
Autonomous State Medical College, Fatehpur Auton. State Med Coll,Fatehpur
MBBS
–
–
–
–
760625 ( 1 )
–
UP-Govt Quota
UR-PH
Maharshi Devraha Baba Autonomous State Medical College, Deoria Auton. State Med Coll, Deoria
MBBS
–
–
–
773229 ( 1 )
773229 ( 1 )
–
UP-Govt Quota
BC-PH
Autonomous State Medical College, Fatehpur Auton. State Med Coll,Fatehpur
MBBS
–
–
–
773365 ( 1 )
773365 ( 1 )
–
UP-Govt Quota
UR-PH
Autonomous State Medical College, Hardoi Auton. State Med Coll, Hardoi
MBBS
–
–
–
1088074 ( 1 )
–
–
UP-Govt Quota
UR-FF
Govt Medical College, Badaun Govt Med Coll, Badaun
MBBS
334226 ( 1 )
334226 ( 1 )
–
781995 ( 1 )
781995 ( 1 )
–
UP-Govt Quota
SC-PH
Maharani Laxmi Bai Medical College, Jhansi MLB Med Coll, Jhansi
MBBS
–
–
–
1133311 ( 1 )
–
–
UP-Govt Quota
SC-FF
GSVM Medical College, Kanpur GSVM Med Coll, Kanpur
MBBS
–
–
–
784751 ( 1 )
784751 ( 1 )
–
UP-Govt Quota
SC-PH
Moti Lal Nehru Medical College, Allahabad MLN Med Coll, Allahabad
MBBS
–
–
–
790285 ( 2 )
790285 ( 2 )
–
UP-Govt Quota
SC-PH
GSVM Medical College, Kanpur GSVM Med Coll, Kanpur
MBBS
–
947107 ( 2 )
–
794525 ( 2 )
794525 ( 2 )
–
UP-Govt Quota
BC-PH
Government Medical College & Super facility Hospital, Azamgarh Govt Med Coll, Azamgarh
MBBS
–
–
–
795273 ( 2 )
795273 ( 2 )
–
UP-Govt Quota
BC-PH
Government Medical College, Shahjhanpur Govt Med Coll, Shahjhanpur
MBBS
–
971862 ( 1 )
–
796360 ( 1 )
796360 ( 1 )
–
UP-Govt Quota
UR-PH
Maharani Laxmi Bai Medical College, Jhansi MLB Med Coll, Jhansi
MBBS
–
–
–
799615 ( 3 )
799615 ( 3 )
–
UP-Govt Quota
UR-PH
Uttar Pradesh University of Medical Sciences, (Prev. UP Rural Inst.of Med.Sc&R) Etawah UP Univ of Med Sci, Etawah
MBBS
–
–
–
802570 ( 3 )
802570 ( 3 )
–
UP-Govt Quota
UR-FF
Autonomous State Medical College, Ghazipur Auton. State Med Coll,Ghazipur
MBBS
–
–
–
803257 ( 1 )
803257 ( 1 )
–
UP-Govt Quota
UR-FF
Autonomous State Medical College, Etah Auton. State Med Coll, Etah
MBBS
508170 ( 1 )
508170 ( 1 )
–
810607 ( 1 )
810607 ( 1 )
–
UP-Govt Quota
SC-PH
King George Medical University, Lucknow KGMU, Lucknow
MBBS
632710 ( 2 )
632710 ( 2 )
–
261423 ( 2 )
812143 ( 2 )
–
UP-Govt Quota
SC-PH
BRD Medical College, Gorakhpur BRD Med Coll, Gorakhpur
MBBS
–
–
–
813678 ( 1 )
813678 ( 1 )
–
UP-Govt Quota
BC-PH
Autonomous State Medical College, Hardoi Auton. State Med Coll, Hardoi
MBBS
971862 ( 1 )
–
–
829266 ( 1 )
829266 ( 1 )
–
UP-Govt Quota
SC-FF
Moti Lal Nehru Medical College, Allahabad MLN Med Coll, Allahabad
MBBS
–
–
–
838629 ( 1 )
838629 ( 1 )
–
UP-Govt Quota
UR-PH
Government Medical College, Bahraich Govt Med Coll, Bahraich
MBBS
–
–
–
848409 ( 2 )
848409 ( 2 )
–
UP-Govt Quota
EW-FF
Autonomous State Medical College, Pratapgarh Auton.State MedColl,Pratapgarh
MBBS
–
–
–
876050 ( 1 )
876050 ( 1 )
–
UP-Govt Quota
UR-FF
Autonomous State Medical College, Pratapgarh Auton.State MedColl,Pratapgarh
MBBS
525454 ( 1 )
525454 ( 1 )
–
881297 ( 1 )
881297 ( 1 )
–
UP-Govt Quota
BC-PH
Shaikh-UL-Hind Maulana Mahmood Hasan Medical College, Saharanpur Shaik-ul-Hind, Saharanpur
MBBS
–
–
–
887009 ( 1 )
887009 ( 1 )
–
UP-Govt Quota
UR-PH
Autonomous State Medical College, Fatehpur Auton. State Med Coll,Fatehpur
MBBS
–
–
–
902153 ( 1 )
902153 ( 1 )
–
UP Priv-Quota
UR-OP
ITS Centre for Dental Studies & Research, Ghaziabad ITS Center Dental, Ghaziabad
BDS
971067 ( 95 )
971067 ( 100 )
745124 ( 2 )
907924 ( 100 )
907924 ( 100 )
434772 ( 2 )
UP-Govt Quota
UR-PH
Shaikh-UL-Hind Maulana Mahmood Hasan Medical College, Saharanpur Shaik-ul-Hind, Saharanpur
MBBS
–
–
–
916621 ( 1 )
916621 ( 1 )
–
UP-Govt Quota
SC-PH
Government Institute of Medical Sciences, Kasna, Greater Noida Govt IMS, Kasna
MBBS
–
–
–
1011052 ( 1 )
917790 ( 1 )
–
UP Priv-Min. Quota
UR-OP
Teerthanker Mahaveer Dental College & Research Centre, Moradabad TeerthankerMhvrDental,Moradabad
BDS
594815 ( 7 )
594815 ( 8 )
732338 ( 1 )
940006 ( 12 )
940006 ( 11 )
671792 ( 2 )
UP-Govt Quota
BC-PH
Autonomous State Medical College, Mirzapur Auton. State Med Coll,Mirzapur
MBBS
–
–
–
948162 ( 1 )
948162 ( 1 )
–
UP Priv-Min. Quota
UR-OP
Career Instt. Of Medical Sciences & Hospital, Lucknow Career Instt of MS, Lucknow
MBBS
1011037 ( 43 )
988072 ( 50 )
825169 ( 6 )
960136 ( 75 )
960136 ( 75 )
474657 ( 2 )
UP Priv-Quota
UR-OP
ITS Dental College, Hospital & Research Centre, Greater Noida ITS Dental Coll, Greater Noida
BDS
1029510 ( 80 )
978368 ( 90 )
1033853 ( 9 )
964424 ( 100 )
964424 ( 100 )
352687 ( 1 )
UP-Govt Quota
BC-PH
Government Medical College, Bahraich Govt Med Coll, Bahraich
MBBS
770504 ( 1 )
770504 ( 1 )
–
968446 ( 1 )
968446 ( 1 )
–
UP-Govt Quota
UR-PH
Govt Medical College, Badaun Govt Med Coll, Badaun
MBBS
760469 ( 1 )
760469 ( 1 )
–
971136 ( 1 )
971136 ( 1 )
–
UP-Govt Quota
EW-FF
GSVM Medical College, Kanpur GSVM Med Coll, Kanpur
MBBS
58038 ( 1 )
58038 ( 1 )
–
980205 ( 1 )
980205 ( 1 )
–
UP-Govt Quota
BC-PH
Government Medical College, Firozabad Govt Med Coll, Firozobad
MBBS
–
–
–
984536 ( 2 )
984536 ( 2 )
–
UP-Govt Quota
UR-PH
Government Medical College, Rampur, Basti Govt Med Coll, Rampur, Basti
MBBS
–
–
–
985390 ( 1 )
985390 ( 2 )
–
UP Priv-Quota
UR-OP
Subharti Dental College & Hospital, Meerut Subharti Dental College, Meerut
BDS
1006720 ( 70 )
1006720 ( 77 )
773981 ( 7 )
986173 ( 100 )
986173 ( 100 )
214625 ( 1 )
UP-Govt Quota
BC-PH
Rajkiya Medical College, Jalaun Rajkiya Med Coll, Jalaun
MBBS
–
–
–
987221 ( 1 )
987221 ( 1 )
–
UP-Govt Quota
BC-PH
Autonomous State Medical College, Etah Auton. State Med Coll, Etah
MBBS
–
–
–
989172 ( 1 )
989172 ( 1 )
–
UP-Govt Quota
EW-PH
Uttar Pradesh University of Medical Sciences, (Prev. UP Rural Inst.of Med.Sc&R) Etawah UP Univ of Med Sci, Etawah
MBBS
849095 ( 1 )
849095 ( 1 )
–
579792 ( 1 )
990836 ( 1 )
–
UP-Govt Quota
UR-PH
Government Medical College & Super facility Hospital, Azamgarh Govt Med Coll, Azamgarh
MBBS
–
–
–
999174 ( 3 )
999174 ( 3 )
–
UP Priv-Min. Quota
UR-OP
Teerthanker Mahaveer Medical College, Moradabad Teerthanker Med Coll,Moradabad
MBBS
833274 ( 25 )
833274 ( 27 )
–
937742 ( 17 )
1000031 ( 18 )
907285 ( 1 )
UP-Govt Quota
UR-PH
Government Medical College, Firozabad Govt Med Coll, Firozobad
MBBS
–
–
–
1004577 ( 1 )
1004577 ( 1 )
–
UP Priv-Quota
UR-OP
Teerthanker Mahaveer Dental College & Research Centre, Moradabad TeerthankerMhvrDental,Moradabad
BDS
1013470 ( 43 )
1013470 ( 48 )
795168 ( 5 )
1004720 ( 50 )
1004720 ( 50 )
UP-Govt Quota
UR-PH
MRA Medical College, Ambedkarnagar MRA Med Coll, Ambedkarnagar
MBBS
–
–
–
1008908 ( 1 )
1008908 ( 1 )
–
UP-Govt Quota
SC-PH
S N Medical College, Agra S N Med Coll, Agra
MBBS
–
–
–
1034047 ( 1 )
1034047 ( 1 )
–
UP-Govt Quota
BC-PH
Government Allopathic Medical College, Banda Govt Allopathic Med Coll,Banda
MBBS
–
–
–
1040488 ( 1 )
1040488 ( 1 )
–
UP-Govt Quota
BC-PH
Maharshi Devraha Baba Autonomous State Medical College, Deoria Auton. State Med Coll, Deoria
MBBS
–
–
–
1051269 ( 1 )
1051269 ( 1 )
–
UP-Govt Quota
BC-PH
Uma Nath Singh Autonomous State Medical College, Jaunpur Auton. State Med Coll, Jaunpur
MBBS
–
–
–
1059297 ( 1 )
1059297 ( 1 )
–
UP Priv-Quota
UR-OP
Dental College, Azamgarh Dental College, Azamgarh
BDS
838941 ( 6 )
988945 ( 9 )
921780 ( 4 )
1071287 ( 14 )
1071287 ( 21 )
1092148 ( 3 )
UP-Govt Quota
UR-PH
Government Medical College, Shahjhanpur Govt Med Coll, Shahjhanpur
MBBS
–
–
–
1077261 ( 2 )
1077261 ( 1 )
–
UP-Govt Quota
UR-PH
Autonomous State Medical College, Ghazipur Auton. State Med Coll,Ghazipur
MBBS
–
–
–
1082185 ( 1 )
1082185 ( 1 )
–
UP-Govt Quota
BC-PH
Autonomous State Medical College, Siddharthnagar Auton. StateMed,Siddharthnagar
MBBS
–
–
–
1083193 ( 2 )
1083193 ( 2 )
–
UP-Govt Quota
UR-PH
Government Allopathic Medical College, Banda Govt Allopathic Med Coll,Banda
MBBS
–
–
–
–
1085567 ( 2 )
–
UP-Govt Quota
UR-PH
Autonomous State Medical College, Pratapgarh Auton.State MedColl,Pratapgarh
MBBS
–
–
–
880018 ( 1 )
1088074 ( 2 )
–
UP Priv-Quota
UR-OP
DJ College of Dental Sciences & Research, Ghaziabad DJ CollegeofDentalSci,Ghaziabad
BDS
990616 ( 19 )
990616 ( 25 )
936555 ( 9 )
1179609 ( 40 )
1092146 ( 49 )
UP-Govt Quota
SC-PH
Uttar Pradesh University of Medical Sciences, (Prev. UP Rural Inst.of Med.Sc&R) Etawah UP Univ of Med Sci, Etawah
MBBS
–
–
–
1098338 ( 2 )
1098338 ( 2 )
–
UP-Govt Quota
BC-PH
Autonomous State Medical College, Ghazipur Auton. State Med Coll,Ghazipur
MBBS
–
–
–
1103595 ( 1 )
1103595 ( 1 )
–
UP-Govt Quota
UR-PH
Autonomous State Medical College, Etah Auton. State Med Coll, Etah
MBBS
–
–
–
926410 ( 1 )
1105627 ( 2 )
916141 ( 1 )
UP Priv-Quota
UR-OP
BBD College of Dental Sciences, Lucknow BBD Coll of Dental Sci, Lucknow
BDS
932709 ( 35 )
932709 ( 42 )
846536 ( 5 )
1065166 ( 47 )
1110467 ( 63 )
996777 ( 10 )
UP-Govt Quota
BC-PH
Autonomous State Medical College, Pratapgarh Auton.State MedColl,Pratapgarh
MBBS
–
–
–
1121355 ( 1 )
1121355 ( 1 )
–
UP Priv-Quota
UR-OP
Kalka Dental College, Meerut Kalka Dental College, Meerut
BDS
971604 ( 31 )
966113 ( 36 )
881219 ( 3 )
984907 ( 20 )
1122690 ( 35 )
979820 ( 9 )
UP Priv-Quota
UR-OP
Chandra Dental College & Hospital, Barabanki Chandra Dental Coll, Barabanki
BDS
977022 ( 6 )
977022 ( 13 )
359656 ( 1 )
1128481 ( 14 )
1128481 ( 18 )
1077027 ( 4 )
UP Priv-Min. Quota
UR-OP
F.H. Medical College & Hospital, Etamdapur, Agra FH Med Coll, Agra
MBBS
1045082 ( 60 )
1045082 ( 68 )
971091 ( 8 )
1139761 ( 75 )
1139761 ( 75 )
–
UP Priv-Quota
UR-OP
Sardar Patel Post Graduate Institute Of Dental & Medical Sciences, Lucknow SardarPatelInstofDental,Lucknow
BDS
1039759 ( 68 )
1039759 ( 83 )
667266 ( 7 )
1148053 ( 89 )
1148053 ( 100 )
–
UP Priv-Quota
UR-OP
KD Dental College & Hospital, Mathura KD Dental College, Mathura
BDS
1037957 ( 56 )
1034005 ( 59 )
612846 ( 3 )
1146661 ( 60 )
1150974 ( 74 )
UP Priv-Quota
UR-OP
Purvanchal Institute of Dental Science, Gorakhpur Purvanchal InstDental,Gorakhpur
BDS
967351 ( 26 )
967351 ( 34 )
857822 ( 8 )
1044756 ( 26 )
1154855 ( 35 )
1077292 ( 4 )
UP Priv-Quota
UR-OP
Kothiwal Dental College & Research Centre, Moradabad Kothiwal Dental Coll, Moradabad
BDS
1049180 ( 59 )
1049180 ( 61 )
812930 ( 3 )
1115496 ( 43 )
1163811 ( 65 )
UP Priv-Quota
UR-OP
Career Post Graduate Institute of Dental Sciences & Hospital, Lucknow Career InstofDentalSci, Lucknow
BDS
900450 ( 6 )
975511 ( 10 )
–
1168764 ( 17 )
1168764 ( 28 )
826103 ( 4 )
UP Priv-Quota
UR-OP
Shri Bankey Bihari Dental College & Research Centre, Ghaziabad BankeyBihariDentalColl,Ghaziabd
BDS
983497 ( 27 )
983497 ( 33 )
1034372 ( 6 )
1171831 ( 49 )
1171831 ( 68 )
UP Priv-Quota
UR-OP
Institute of Dental Studies & Technologies, Ghaziabad Institute Of Dental, Ghaziabad
BDS
1042390 ( 17 )
875966 ( 27 )
1033133 ( 16 )
1074941 ( 34 )
1182375 ( 45 )
UP Priv-Quota
UR-OP
Rama Dental College Hospital & Research Centre, Kanpur Rama Dental College, Kanpur
BDS
1042845 ( 31 )
1042845 ( 39 )
791465 ( 3 )
1188980 ( 31 )
1188980 ( 38 )
850355 ( 4 )
UP Priv-Quota
UR-OP
Saraswati Dental College, Lucknow Saraswati Dental Coll, Lucknow
BDS
1002304 ( 53 )
1002304 ( 57 )
–
1193328 ( 63 )
1193328 ( 84 )
947357 ( 13 )
UP Priv-Quota
UR-OP
School of Dental Sciences, Sharda University, Greater Noida School ofDentalSci,GreaterNoida
BDS
1042067 ( 85 )
1005532 ( 89 )
1026355 ( 6 )
1194017 ( 100 )
1194017 ( 100 )
45706 ( 1 )
UP-Govt Quota
SC-FF
MRA Medical College, Ambedkarnagar MRA Med Coll, Ambedkarnagar
MBBS
–
–
–
1195528 ( 1 )
1195528 ( 1 )
–
UP-Govt Quota
SC-PH
Government Medical College, Kannauj Govt Med Coll, Kannauj
MBBS
–
–
–
–
1197143 ( 1 )
–
UP Priv-Quota
UR-OP
Inderprastha Dental College & Hospital, Ghaziabad Inderprastha Dental, Ghaziabad
BDS
995794 ( 65 )
995794 ( 69 )
801387 ( 7 )
1197204 ( 80 )
1197204 ( 100 )
–
UP Priv-Min. Quota
UR-OP
Career Post Graduate Institute of Dental Sciences & Hospital, Lucknow Career InstofDentalSci, Lucknow
BDS
690246 ( 14 )
912865 ( 21 )
788721 ( 1 )
1199283 ( 32 )
1199283 ( 42 )
1139906 ( 6 )
UP Priv-Quota
UR-OP
Maharana Pratap Dental College & Hospital, Kanpur Maharana Pratap Dental, Kanpur
BDS
970187 ( 15 )
990952 ( 26 )
922739 ( 19 )
1205853 ( 16 )
1205853 ( 25 )
1178616 ( 9 )
UP Priv-Quota
UR-OP
Institute of Dental Sciences, Bareilly InstituteofDentalSci,Bareilly
BDS
1044824 ( 42 )
1044824 ( 49 )
410704 ( 3 )
1192238 ( 45 )
1207530 ( 53 )
1034786 ( 5 )
UP-Govt Quota
EW-EX
Dr. Ram Manohar Lohia Institute of Medical Sciences,Lucknow Dr RML IMS, Lucknow
MBBS
8517 ( 1 )
8517 ( 1 )
–
–
–
–
UP-Govt Quota
BC-EX
S N Medical College, Agra S N Med Coll, Agra
MBBS
10098 ( 1 )
10098 ( 1 )
–
–
–
–
UP-Govt Quota
UR-EX
Government Medical College, Firozabad Govt Med Coll, Firozobad
MBBS
13602 ( 1 )
13602 ( 1 )
–
–
–
–
UP-Govt Quota
BC-EX
Government Allopathic Medical College, Banda Govt Allopathic Med Coll,Banda
MBBS
14061 ( 1 )
14061 ( 1 )
–
–
–
–
UP-Govt Quota
BC-EX
Government Medical College, Bahraich Govt Med Coll, Bahraich
MBBS
15669 ( 1 )
15669 ( 1 )
–
–
–
–
UP-Govt Quota
UR-EX
Government Medical College, Faizabad Govt Med Coll, Faizabad
MBBS
15732 ( 1 )
15732 ( 1 )
–
–
–
–
UP-Govt Quota
EW-FF
Autonomous State Medical College, Etah Auton. State Med Coll, Etah
MBBS
–
–
641616 ( 1 )
–
–
–
UP-Govt Quota
UR-EX
Government Allopathic Medical College, Banda Govt Allopathic Med Coll,Banda
MBBS
17668 ( 1 )
17668 ( 1 )
–
–
–
–
UP-Govt Quota
BC-EX
Maharshi Devraha Baba Autonomous State Medical College, Deoria Auton. State Med Coll, Deoria
MBBS
20026 ( 1 )
20026 ( 1 )
–
–
–
–
UP-Govt Quota
BC-EX
Autonomous State Medical College, Ghazipur Auton. State Med Coll,Ghazipur
MBBS
20145 ( 1 )
20145 ( 1 )
–
–
–
–
UP-Govt Quota
UR-NC
Dr. Ram Manohar Lohia Institute of Medical Sciences,Lucknow Dr RML IMS, Lucknow
MBBS
16584 ( 1 )
35779 ( 1 )
–
–
–
–
UP-Govt Quota
UR-NC
Moti Lal Nehru Medical College, Allahabad MLN Med Coll, Allahabad
MBBS
56860 ( 1 )
56860 ( 1 )
–
–
–
–
UP-Govt Quota
SC-NC
King George Medical University, Lucknow KGMU, Lucknow
MBBS
71158 ( 1 )
71158 ( 1 )
–
–
–
–
UP-Govt Quota
BC-NC
GSVM Medical College, Kanpur GSVM Med Coll, Kanpur
MBBS
78324 ( 1 )
78324 ( 1 )
–
–
–
–
UP-Govt Quota
ST-GL
King George Medical University, Lucknow KGMU, Lucknow
MBBS
84119 ( 1 )
84119 ( 1 )
–
–
–
–
UP-Govt Quota
UR-NC
Government Medical College, Faizabad Govt Med Coll, Faizabad
MBBS
87423 ( 1 )
87423 ( 1 )
–
–
–
–
UP-Govt Quota
BC-FF
S N Medical College, Agra S N Med Coll, Agra
MBBS
96265 ( 1 )
96265 ( 1 )
–
–
–
–
UP-Govt Quota
UR-NC
Autonomous State Medical College, Siddharthnagar Auton. StateMed,Siddharthnagar
MBBS
121157 ( 1 )
121157 ( 1 )
–
–
–
–
UP-Govt Quota
ST-GL
Dr. Ram Manohar Lohia Institute of Medical Sciences,Lucknow Dr RML IMS, Lucknow
MBBS
125908 ( 1 )
125908 ( 1 )
–
–
–
–
UP-Govt Quota
SC-EX
BRD Medical College, Gorakhpur BRD Med Coll, Gorakhpur
MBBS
128132 ( 1 )
128132 ( 1 )
–
–
–
–
UP-Govt Quota
BC-NC
Uma Nath Singh Autonomous State Medical College, Jaunpur Auton. State Med Coll, Jaunpur
MBBS
158988 ( 1 )
43291 ( 1 )
–
–
–
–
UP-Govt Quota
BC-NC
Uttar Pradesh University of Medical Sciences, (Prev. UP Rural Inst.of Med.Sc&R) Etawah UP Univ of Med Sci, Etawah
MBBS
115603 ( 1 )
158988 ( 1 )
–
–
–
–
UP-Govt Quota
UR-NC
Uma Nath Singh Autonomous State Medical College, Jaunpur Auton. State Med Coll, Jaunpur
MBBS
160104 ( 1 )
160104 ( 1 )
–
–
–
–
UP-Govt Quota
EW-NC
GSVM Medical College, Kanpur GSVM Med Coll, Kanpur
MBBS
200107 ( 1 )
200107 ( 1 )
–
–
–
–
UP-Govt Quota
SC-EX
Government Medical College, Bahraich Govt Med Coll, Bahraich
MBBS
–
221228 ( 1 )
–
–
–
–
UP-Govt Quota
ST-OP
Government Institute of Medical Sciences, Kasna, Greater Noida Govt IMS, Kasna
MBBS
233395 ( 1 )
233395 ( 1 )
–
–
–
–
UP-Govt Quota
ST-GL
Maharani Laxmi Bai Medical College, Jhansi MLB Med Coll, Jhansi
MBBS
260024 ( 1 )
260024 ( 1 )
–
–
–
–
UP-Govt Quota
EW-NC
Uttar Pradesh University of Medical Sciences, (Prev. UP Rural Inst.of Med.Sc&R) Etawah UP Univ of Med Sci, Etawah
MBBS
271344 ( 1 )
271344 ( 1 )
–
–
–
–
UP-Govt Quota
SC-NC
GSVM Medical College, Kanpur GSVM Med Coll, Kanpur
MBBS
294144 ( 1 )
294144 ( 1 )
–
–
–
–
UP-Govt Quota
BC-FF
Autonomous State Medical College, Fatehpur Auton. State Med Coll,Fatehpur
MBBS
308770 ( 1 )
308770 ( 1 )
–
–
–
–
UP-Govt Quota
ST-GL
Government Medical College, Bahraich Govt Med Coll, Bahraich
MBBS
421858 ( 1 )
421858 ( 1 )
–
–
–
–
UP-Govt Quota
SC-NC
Autonomous State Medical College, Ghazipur Auton. State Med Coll,Ghazipur
MBBS
429496 ( 1 )
429496 ( 1 )
–
–
–
–
UP-Govt Quota
SC-EX
Autonomous State Medical College, Mirzapur Auton. State Med Coll,Mirzapur
MBBS
–
429626 ( 1 )
–
–
–
–
UP-Govt Quota
ST-GL
Autonomous State Medical College, Mirzapur Auton. State Med Coll,Mirzapur
MBBS
451643 ( 1 )
451643 ( 1 )
–
–
–
–
UP-Govt Quota
BC-FF
Autonomous State Medical College, Ghazipur Auton. State Med Coll,Ghazipur
MBBS
461059 ( 1 )
461059 ( 1 )
–
–
–
–
UP-Govt Quota
SC-EX
Autonomous State Medical College, Etah Auton. State Med Coll, Etah
MBBS
463786 ( 1 )
463786 ( 1 )
–
–
–
–
UP-Govt Quota
UR-FF
Government Medical College, Faizabad Govt Med Coll, Faizabad
MBBS
475332 ( 1 )
475332 ( 1 )
–
–
–
–
UP-Govt Quota
UR-FF
Government Allopathic Medical College, Banda Govt Allopathic Med Coll,Banda
MBBS
409434 ( 1 )
479035 ( 1 )
–
–
–
–
UP-Govt Quota
UR-FF
Government Medical College, Firozabad Govt Med Coll, Firozobad
MBBS
479035 ( 1 )
481149 ( 1 )
–
–
–
–
UP-Govt Quota
EW-FF
Uttar Pradesh University of Medical Sciences, (Prev. UP Rural Inst.of Med.Sc&R) Etawah UP Univ of Med Sci, Etawah
MBBS
504921 ( 1 )
504921 ( 1 )
–
–
–
–
UP-Govt Quota
SC-NC
MRA Medical College, Ambedkarnagar MRA Med Coll, Ambedkarnagar
MBBS
511847 ( 1 )
511847 ( 1 )
–
–
–
–
UP Priv-Min. Quota
UR-OP
Subharti Medical College, Meerut Subharti Med Coll, Meerut
MBBS
518379 ( 2 )
518379 ( 2 )
996489 ( 1 )
–
–
–
UP-Govt Quota
UR-FF
Government Medical College, Shahjhanpur Govt Med Coll, Shahjhanpur
MBBS
519445 ( 1 )
519445 ( 1 )
–
–
–
–
UP-Govt Quota
BC-FF
Autonomous State Medical College, Pratapgarh Auton.State MedColl,Pratapgarh
MBBS
532802 ( 1 )
532802 ( 1 )
–
–
–
–
UP-Govt Quota
UR-FF
Maharshi Devraha Baba Autonomous State Medical College, Deoria Auton. State Med Coll, Deoria
MBBS
541543 ( 1 )
541543 ( 1 )
–
–
–
–
UP-Govt Quota
UR-FF
Uma Nath Singh Autonomous State Medical College, Jaunpur Auton. State Med Coll, Jaunpur
MBBS
564734 ( 1 )
564734 ( 1 )
–
–
–
–
UP-Govt Quota
SC-NC
Govt Medical College, Badaun Govt Med Coll, Badaun
MBBS
–
640168 ( 1 )
–
–
–
–
UP-Govt Quota
SC-EX
Govt Medical College, Badaun Govt Med Coll, Badaun
MBBS
695941 ( 1 )
695941 ( 1 )
–
–
–
–
UP-Govt Quota
EW-FF
Uma Nath Singh Autonomous State Medical College, Jaunpur Auton. State Med Coll, Jaunpur
MBBS
–
857795 ( 1 )
–
–
–
–
Uttar Pradesh All India Quota MBBS cut off 2023 Vs 2022
 
2022
2023
College
R1
R2
R1
R2
KGMU, Lucknow
1026 ( 14 )
1457 ( 14 )
1097 ( 14 )
1647 ( 14 )
Dr RML IMS, Lucknow
2179 ( 12 )
3280 ( 12 )
2705 ( 11 )
4308 ( 11 )
Greater Noida Govt IMS, Kasna
4176 ( 5 )
5034 ( 5 )
3720 ( 5 )
4955 ( 5 )
LLRM Medical College, Meerut
4369 ( 6 )
5337 ( 6 )
4149 ( 5 )
5065 ( 5 )
GSVM Medical College, Kanpur
3927 ( 14 )
5594 ( 14 )
3776 ( 14 )
5654 ( 14 )
S N Medical College, Agra
4026 ( 6 )
5853 ( 6 )
4713 ( 6 )
6062 ( 6 )
Moti Lal Nehru Medical College, Allahabad
4450 ( 12 )
6444 ( 12 )
4788 ( 13 )
6603 ( 13 )
BRD Medical College, Gorakhpur
5315 ( 8 )
8265 ( 8 )
5284 ( 10 )
8342 ( 10 )
Maharani Laxmi Bai Medical College, Jhansi
5653 ( 9 )
8388 ( 9 )
5638 ( 10 )
8556 ( 10 )
UP Univ of Med Sci, Etawah
6710 ( 12 )
9299 ( 12 )
6695 ( 11 )
9731 ( 11 )
Shaik-ul-Hind, Saharanpur
9005 ( 6 )
10502 ( 6 )
9347 ( 7 )
11602 ( 7 )
Govt Med Coll, Kannauj
8035 ( 6 )
10172 ( 6 )
8771 ( 7 )
11931 ( 7 )
Govt Med Coll, Faizabad
9041 ( 6 )
10917 ( 6 )
9231 ( 7 )
12061 ( 7 )
MRA Med Coll, Ambedkarnagar
8256 ( 6 )
10944 ( 6 )
9212 ( 6 )
12090 ( 6 )
Govt Med Coll, Firozobad
8850 ( 6 )
11712 ( 6 )
9447 ( 5 )
12393 ( 5 )
Govt Med Coll, Badaun
9871 ( 7 )
11658 ( 7 )
10598 ( 6 )
12494 ( 6 )
Govt Med Coll, Azamgarh
8526 ( 6 )
11137 ( 6 )
9648 ( 7 )
12533 ( 7 )
Rajkiya Medical College, Jalaun
10273 ( 6 )
12315 ( 6 )
10871 ( 6 )
13070 ( 6 )
Govt Allopathic Med Coll,Banda
10578 ( 7 )
12629 ( 7 )
10825 ( 5 )
13574 ( 5 )
GMC, Shahjhanpur
9264 ( 4 )
12007 ( 4 )
11048 ( 5 )
14129 ( 5 )
Govt Med Coll, Rampur, Basti
10795 ( 6 )
13035 ( 6 )
11016 ( 5 )
14352 ( 5 )
Govt Med Coll, Bahraich
10944 ( 6 )
13915 ( 6 )
–
14376 ( 6 )
Auton. State Med Coll,Fatehpur
10988 ( 4 )
13855 ( 4 )
11878 ( 6 )
14418 ( 6 )
Auton. State Med Coll, Etah
10525 ( 5 )
13108 ( 5 )
11525 ( 6 )
14723 ( 6 )
Auton. State Med,Siddharthnagar
12418 ( 6 )
15130 ( 6 )
11966 ( 4 )
14795 ( 4 )
Deoria Auton. State Med College
11259 ( 5 )
14678 ( 5 )
11879 ( 4 )
15146 ( 4 )
State Medical College, Hardoi
11377 ( 7 )
14620 ( 7 )
11488 ( 5 )
15528 ( 5 )
State Medical College, Pratapgarh
11949 ( 6 )
14550 ( 6 )
12311 ( 6 )
15808 ( 6 )
Auton. State Med Coll, Jaunpur
12592 ( 6 )
14866 ( 6 )
12678 ( 6 )
15880 ( 6 )
Auton. State Med Coll,Ghazipur
12652 ( 6 )
15434 ( 6 )
13057 ( 6 )
15975 ( 6 )
Auton. State Med Coll,Mirzapur
12620 ( 5 )
14713 ( 5 )
13047 ( 7 )
15998 ( 7 )
Uttar Pradesh MBBS BDS cut off 2023 Vs 2022
 
 
2022
2023
Cat
College
R1
R2
R3
R1
R2
UR-OP
KGMU, Lucknow
2786 ( 74 )
2906 ( 74 )
–
2849 ( 74 )
2948 ( 74 )
UR-GL
KGMU, Lucknow
2255 ( 21 )
2255 ( 21 )
–
2783 ( 21 )
3137 ( 21 )
UR-EX
KGMU, Lucknow
5970 ( 2 )
5970 ( 2 )
–
4180 ( 2 )
4180 ( 2 )
BC-OP
KGMU, Lucknow
3872 ( 40 )
3872 ( 40 )
10132 ( 1 )
4427 ( 40 )
4428 ( 40 )
UR-GL
Dr RML IMS, Lucknow
3542 ( 13 )
3834 ( 13 )
–
3968 ( 13 )
4792 ( 13 )
BC-GL
KGMU, Lucknow
3583 ( 11 )
3969 ( 11 )
–
4010 ( 11 )
4877 ( 11 )
UR-OP
Dr RML IMS, Lucknow
3976 ( 46 )
4094 ( 46 )
–
4323 ( 50 )
4902 ( 50 )
EW-GL
Dr RML IMS, Lucknow
4164 ( 3 )
4164 ( 3 )
–
5468 ( 3 )
5468 ( 3 )
EW-OP
Dr RML IMS, Lucknow
4889 ( 12 )
4902 ( 12 )
–
5653 ( 13 )
5669 ( 13 )
BC-OP
Dr RML IMS, Lucknow
4900 ( 32 )
4900 ( 32 )
–
5876 ( 32 )
5876 ( 32 )
UR-EX
Dr RML IMS, Lucknow
6262 ( 2 )
6262 ( 2 )
–
5430 ( 1 )
6063 ( 1 )
BC-GL
Dr RML IMS, Lucknow
4342 ( 9 )
4487 ( 9 )
–
5424 ( 9 )
6161 ( 9 )
UR-GL
GSVM Med Coll, Kanpur
5089 ( 17 )
5397 ( 17 )
–
5849 ( 17 )
6561 ( 17 )
UR-OP
GSVM Med Coll, Kanpur
5371 ( 58 )
5535 ( 58 )
15535 ( 4 )
6310 ( 58 )
6599 ( 58 )
EW-GL
GSVM Med Coll, Kanpur
6470 ( 4 )
6470 ( 4 )
–
7156 ( 4 )
7156 ( 4 )
UR-EX
GSVM Med Coll, Kanpur
8173 ( 2 )
8173 ( 2 )
–
6876 ( 2 )
7202 ( 2 )
BC-GL
GSVM Med Coll, Kanpur
5992 ( 11 )
6415 ( 11 )
–
7205 ( 11 )
7205 ( 11 )
BC-NC
KGMU, Lucknow
53334 ( 1 )
53334 ( 1 )
–
7430 ( 1 )
7430 ( 1 )
BC-OP
GSVM Med Coll, Kanpur
6341 ( 40 )
6341 ( 40 )
–
7522 ( 42 )
7522 ( 42 )
BC-EX
KGMU, Lucknow
4396 ( 1 )
4396 ( 1 )
–
7559 ( 1 )
7559 ( 1 )
EW-OP
GSVM Med Coll, Kanpur
6725 ( 13 )
6749 ( 13 )
–
7274 ( 14 )
7853 ( 14 )
UR-GL
MLN Med Coll, Allahabad
5977 ( 13 )
5977 ( 13 )
–
6906 ( 14 )
7932 ( 14 )
UR-OP
MLN Med Coll, Allahabad
6501 ( 47 )
6525 ( 47 )
15833 ( 1 )
7687 ( 49 )
8032 ( 49 )
UR-EX
MLN Med Coll, Allahabad
9739 ( 2 )
9739 ( 2 )
–
7202 ( 1 )
8091 ( 1 )
UR-OP
Govt IMS, Kasna
7345 ( 25 )
7516 ( 25 )
9386 ( 1 )
8377 ( 22 )
8377 ( 22 )
BC-GL
MLN Med Coll, Allahabad
7072 ( 9 )
7616 ( 9 )
–
8489 ( 9 )
8489 ( 9 )
BC-EX
Dr RML IMS, Lucknow
5175 ( 1 )
8622 ( 1 )
–
8504 ( 1 )
8504 ( 1 )
UR-OP
LLRM Med Coll, Meerutut
7321 ( 29 )
7392 ( 29 )
11677 ( 1 )
8545 ( 29 )
8545 ( 29 )
UR-GL
LLRM Med Coll, Meerutut
6518 ( 8 )
6518 ( 8 )
–
7890 ( 8 )
8656 ( 8 )
BC-EX
GSVM Med Coll, Kanpur
9760 ( 1 )
9760 ( 1 )
–
8749 ( 1 )
8749 ( 1 )
EW-GL
MLN Med Coll, Allahabad
7019 ( 3 )
7019 ( 3 )
–
8773 ( 3 )
8773 ( 3 )
UR-GL
Govt IMS, Kasna
7399 ( 7 )
7399 ( 7 )
–
7643 ( 7 )
8777 ( 7 )
BC-OP
MLN Med Coll, Allahabad
7363 ( 31 )
7360 ( 31 )
–
8897 ( 31 )
8897 ( 31 )
EW-OP
MLN Med Coll, Allahabad
7561 ( 12 )
7842 ( 12 )
18500 ( 1 )
8936 ( 9 )
8936 ( 9 )
UR-EX
BRD Med Coll, Gorakhpur
9834 ( 1 )
9834 ( 1 )
–
8969 ( 1 )
8969 ( 1 )
BC-GL
LLRM Med Coll, Meerutut
7936 ( 4 )
8267 ( 4 )
–
9202 ( 4 )
9202 ( 4 )
UR-OP
BRD Med Coll, Gorakhpur
8382 ( 35 )
8382 ( 35 )
–
9206 ( 34 )
9206 ( 34 )
BC-GL
Govt IMS, Kasna
8542 ( 5 )
8542 ( 5 )
–
9488 ( 5 )
9488 ( 5 )
UR-OP
S N Med Coll, Agra
8176 ( 36 )
8662 ( 36 )
16170 ( 3 )
9576 ( 37 )
9576 ( 37 )
UR-EX
S N Med Coll, Agra
10433 ( 1 )
10433 ( 1 )
–
9579 ( 1 )
9579 ( 1 )
UR-GL
S N Med Coll, Agra
7392 ( 11 )
7460 ( 11 )
–
9002 ( 10 )
9619 ( 10 )
EW-OP
Govt IMS, Kasna
9260 ( 7 )
9580 ( 7 )
–
9947 ( 5 )
9947 ( 5 )
BC-OP
LLRM Med Coll, Meerutut
8048 ( 17 )
8178 ( 17 )
–
9953 ( 17 )
9953 ( 17 )
EW-GL
BRD Med Coll, Gorakhpur
8637 ( 2 )
8637 ( 2 )
–
10106 ( 3 )
10106 ( 3 )
UR-EX
LLRM Med Coll, Meerutut
6742 ( 1 )
6742 ( 1 )
–
10152 ( 1 )
10152 ( 1 )
UR-GL
BRD Med Coll, Gorakhpur
8346 ( 10 )
8346 ( 10 )
–
8777 ( 10 )
10165 ( 10 )
UR-GL
GMC, Kannauj
10099 ( 1 )
10471 ( 1 )
–
10194 ( 1 )
10194 ( 1 )
UR-OP
MLB Med Coll, Jhansi
9170 ( 36 )
9301 ( 36 )
18147 ( 3 )
10381 ( 33 )
10381 ( 33 )
EW-OP
BRD Med Coll, Gorakhpur
8980 ( 9 )
8980 ( 9 )
20612 ( 1 )
10409 ( 8 )
10409 ( 8 )
UR-GL
Shaik-ul-Hind, Saharanpur
5188 ( 1 )
5188 ( 1 )
–
10447 ( 1 )
10447 ( 1 )
EW-GL
Govt IMS, Kasna
9215 ( 2 )
9215 ( 2 )
–
10280 ( 2 )
10487 ( 2 )
BC-GL
BRD Med Coll, Gorakhpur
9141 ( 7 )
9141 ( 7 )
–
10574 ( 7 )
10574 ( 7 )
BC-EX
MLN Med Coll, Allahabad
9945 ( 1 )
9945 ( 1 )
–
10581 ( 1 )
10581 ( 1 )
UR-GL
MLB Med Coll, Jhansi
8797 ( 10 )
9005 ( 10 )
–
9856 ( 10 )
10598 ( 10 )
BC-OP
Govt IMS, Kasna
9023 ( 17 )
9023 ( 17 )
17641 ( 1 )
10615 ( 16 )
10615 ( 16 )
BC-OP
BRD Med Coll, Gorakhpur
9705 ( 23 )
9705 ( 23 )
17694 ( 1 )
10929 ( 23 )
10929 ( 23 )
UR-GL
UP Univ of Med Sci, Etawah
9982 ( 14 )
9982 ( 14 )
–
11096 ( 14 )
11096 ( 14 )
BC-OP
S N Med Coll, Agra
9521 ( 20 )
9521 ( 20 )
–
11106 ( 22 )
11106 ( 22 )
BC-GL
S N Med Coll, Agra
9220 ( 6 )
9220 ( 6 )
–
11123 ( 6 )
11123 ( 6 )
EW-GL
MLB Med Coll, Jhansi
9956 ( 2 )
9956 ( 2 )
–
11163 ( 2 )
11163 ( 2 )
EW-OP
MLB Med Coll, Jhansi
10044 ( 9 )
10044 ( 9 )
20180 ( 1 )
11406 ( 11 )
11406 ( 11 )
BC-GL
MLB Med Coll, Jhansi
10062 ( 7 )
10062 ( 7 )
–
11553 ( 7 )
11553 ( 7 )
UR-OP
UP Univ of Med Sci, Etawah
10089 ( 45 )
10089 ( 45 )
18901 ( 4 )
11675 ( 46 )
11675 ( 46 )
BC-OP
MLB Med Coll, Jhansi
10175 ( 22 )
10175 ( 22 )
–
11790 ( 22 )
11790 ( 22 )
EW-GL
UP Univ of Med Sci, Etawah
10488 ( 3 )
11655 ( 3 )
–
11991 ( 4 )
11991 ( 4 )
UR-OP
Shaik-ul-Hind, Saharanpur
10296 ( 5 )
10296 ( 5 )
19072 ( 1 )
12352 ( 5 )
12091 ( 5 )
UR-EX
MLB Med Coll, Jhansi
10887 ( 1 )
10887 ( 1 )
–
12212 ( 1 )
12212 ( 1 )
BC-GL
UP Univ of Med Sci, Etawah
10508 ( 9 )
10508 ( 9 )
–
12469 ( 9 )
12469 ( 9 )
BC-EX
Govt IMS, Kasna
–
–
–
12566 ( 1 )
12566 ( 1 )
BC-OP
UP Univ of Med Sci, Etawah
10948 ( 31 )
10948 ( 31 )
19287 ( 2 )
12621 ( 33 )
12621 ( 33 )
UR-GL
GMC, Faizabad
10633 ( 7 )
11351 ( 7 )
–
12635 ( 6 )
12635 ( 6 )
EW-OP
UP Univ of Med Sci, Etawah
11081 ( 11 )
11160 ( 11 )
–
12728 ( 12 )
12728 ( 12 )
BC-EX
BRD Med Coll, Gorakhpur
9968 ( 1 )
9968 ( 1 )
–
12874 ( 1 )
12874 ( 1 )
UR-OP
GMC, Kannauj
10648 ( 6 )
10648 ( 6 )
–
12518 ( 6 )
12888 ( 6 )
BC-GL
Shaik-ul-Hind, Saharanpur
10446 ( 2 )
10446 ( 2 )
–
12912 ( 2 )
12912 ( 2 )
BC-EX
MLB Med Coll, Jhansi
11870 ( 1 )
11870 ( 1 )
–
13086 ( 1 )
13086 ( 1 )
UR-OP
GMC, Faizabad
11103 ( 23 )
11103 ( 23 )
19366 ( 1 )
13089 ( 27 )
13089 ( 27 )
BC-GL
GMC, Kannauj
11273 ( 2 )
11762 ( 2 )
–
13639 ( 2 )
13265 ( 2 )
EW-GL
GMC, Faizabad
11523 ( 1 )
11523 ( 1 )
–
13274 ( 1 )
13274 ( 1 )
BC-GL
GMC, Faizabad
12202 ( 5 )
12202 ( 5 )
–
13342 ( 4 )
13639 ( 4 )
BC-EX
UP Univ of Med Sci, Etawah
11890 ( 1 )
11890 ( 1 )
–
13726 ( 1 )
13726 ( 1 )
UR-OP
MRA Med Coll, Ambedkarnagar
11236 ( 6 )
11236 ( 6 )
19175 ( 1 )
12907 ( 5 )
13816 ( 5 )
UR-OP
GMC, Azamgarh
11866 ( 30 )
11866 ( 30 )
19531 ( 2 )
13839 ( 28 )
13839 ( 28 )
BC-OP
GMC, Kannauj
11380 ( 8 )
11380 ( 8 )
19647 ( 1 )
13859 ( 9 )
13859 ( 9 )
UR-GL
GMC, Azamgarh
11435 ( 8 )
12042 ( 8 )
–
14010 ( 9 )
14010 ( 9 )
UR-OP
Rajkiya Med Coll, Jalaun
11433 ( 5 )
12620 ( 5 )
–
14159 ( 5 )
14085 ( 5 )
UR-OP
GMC, Badaun
12637 ( 24 )
12719 ( 24 )
20099 ( 1 )
14313 ( 24 )
14313 ( 24 )
UR-GL
MRA Med Coll, Ambedkarnagar
10455 ( 1 )
12674 ( 1 )
–
11952 ( 1 )
14333 ( 1 )
BC-OP
Shaik-ul-Hind, Saharanpur
11766 ( 9 )
12414 ( 9 )
–
14083 ( 8 )
14463 ( 8 )
EW-EX
GSVM Med Coll, Kanpur
10255 ( 1 )
10255 ( 1 )
–
14502 ( 1 )
14502 ( 1 )
EW-OP
GMC, Faizabad
11723 ( 7 )
11738 ( 7 )
–
14607 ( 7 )
14607 ( 7 )
BC-OP
GMC, Faizabad
12346 ( 17 )
12346 ( 17 )
19457 ( 1 )
14662 ( 19 )
14662 ( 19 )
BC-GL
GMC, Azamgarh
12618 ( 4 )
12618 ( 4 )
–
14771 ( 5 )
14771 ( 5 )
BC-GL
MRA Med Coll, Ambedkarnagar
11803 ( 2 )
11803 ( 2 )
–
14862 ( 2 )
14862 ( 2 )
BC-OP
MRA Med Coll, Ambedkarnagar
12599 ( 9 )
12728 ( 9 )
–
14928 ( 9 )
14928 ( 9 )
UR-GL
GMC, Badaun
11970 ( 7 )
11970 ( 7 )
–
13489 ( 7 )
15033 ( 7 )
BC-OP
GMC, Azamgarh
12676 ( 17 )
12676 ( 17 )
19766 ( 2 )
15110 ( 15 )
15110 ( 15 )
BC-OP
Rajkiya Med Coll, Jalaun
12843 ( 9 )
13094 ( 9 )
–
15143 ( 4 )
15143 ( 4 )
BC-GL
Rajkiya Med Coll, Jalaun
12189 ( 2 )
12948 ( 2 )
–
15163 ( 3 )
15163 ( 3 )
UR-GL
GMC, Firozobad
11517 ( 7 )
13211 ( 7 )
–
15286 ( 7 )
15286 ( 7 )
UR-EX
Govt IMS, Kasna
–
–
–
7484 ( 1 )
15440 ( 1 )
EW-OP
GMC, Badaun
13242 ( 6 )
13510 ( 6 )
–
15450 ( 6 )
15450 ( 6 )
BC-OP
GMC, Badaun
14049 ( 16 )
14535 ( 16 )
–
15557 ( 15 )
15493 ( 15 )
UR-OP
GMC, Firozobad
12842 ( 23 )
13310 ( 23 )
20240 ( 2 )
15693 ( 26 )
15693 ( 26 )
UR-OP
GMC ,Banda
13225 ( 31 )
13155 ( 31 )
20448 ( 3 )
15720 ( 33 )
15720 ( 33 )
UR-GL
Rajkiya Med Coll, Jalaun
11350 ( 2 )
12180 ( 2 )
–
14288 ( 2 )
15814 ( 2 )
UR-OP
GMC, Bahraich
14351 ( 24 )
14351 ( 24 )
20713 ( 2 )
15955 ( 23 )
15955 ( 23 )
BC-GL
GMC, Badaun
13925 ( 5 )
13889 ( 5 )
–
16001 ( 4 )
16001 ( 4 )
EW-GL
GMC, Firozobad
13029 ( 2 )
13029 ( 2 )
–
16126 ( 1 )
16126 ( 1 )
UR-GL
GMC, Basti
14275 ( 7 )
14275 ( 7 )
–
16533 ( 7 )
16416 ( 7 )
UR-OP
GMC, Shahjhanpur
13636 ( 24 )
13636 ( 24 )
21073 ( 2 )
16447 ( 25 )
16447 ( 25 )
UR-GL
GMC, Shahjhanpur
13211 ( 7 )
13613 ( 7 )
–
15824 ( 7 )
16533 ( 7 )
UR-OP
GMC, Basti
14204 ( 25 )
14204 ( 25 )
20851 ( 1 )
16591 ( 22 )
16550 ( 22 )
BC-OP
GMC ,Banda
14525 ( 17 )
14525 ( 17 )
20566 ( 1 )
16567 ( 16 )
16567 ( 16 )
UR-GL
GMC, Bahraich
14372 ( 6 )
14494 ( 6 )
–
16685 ( 7 )
16685 ( 7 )
UR-GL
GMC ,Banda
13736 ( 8 )
13736 ( 8 )
–
15509 ( 8 )
16784 ( 8 )
BC-GL
GMC ,Banda
13941 ( 4 )
13941 ( 4 )
–
16793 ( 5 )
16793 ( 5 )
BC-GL
GMC, Firozobad
13646 ( 5 )
13646 ( 5 )
–
16803 ( 5 )
16803 ( 5 )
BC-EX
GMC, Firozobad
–
–
–
16872 ( 1 )
16872 ( 1 )
UR-EX
UP Univ of Med Sci, Etawah
12576 ( 2 )
12576 ( 2 )
–
16961 ( 2 )
16961 ( 2 )
UR-EX
GMC, Azamgarh
13686 ( 1 )
13686 ( 1 )
–
16999 ( 1 )
16999 ( 1 )
BC-OP
GMC, Firozobad
14446 ( 16 )
14446 ( 16 )
20293 ( 1 )
17060 ( 15 )
17060 ( 15 )
BC-GL
GMC, Bahraich
15238 ( 4 )
15238 ( 4 )
–
17172 ( 5 )
17172 ( 5 )
BC-GL
GMC, Shahjhanpur
14508 ( 5 )
14508 ( 5 )
–
17233 ( 4 )
17233 ( 4 )
EW-OP
GMC, Firozobad
13767 ( 7 )
13767 ( 7 )
–
17352 ( 7 )
17352 ( 7 )
EW-OP
GMC, Basti
14851 ( 7 )
14851 ( 7 )
–
17396 ( 5 )
17396 ( 5 )
EW-GL
GMC, Badaun
13318 ( 2 )
13318 ( 2 )
–
15373 ( 2 )
17593 ( 2 )
EW-GL
GMC, Bahraich
15335 ( 2 )
15335 ( 2 )
–
17650 ( 2 )
17650 ( 2 )
EW-GL
GMC, Shahjhanpur
14150 ( 2 )
14150 ( 2 )
–
17683 ( 2 )
17683 ( 2 )
UR-GL
State Med Coll, Etah
14889 ( 7 )
14889 ( 7 )
–
18020 ( 7 )
18020 ( 7 )
EW-EX
MLN Med Coll, Allahabad
10915 ( 1 )
10915 ( 1 )
–
18029 ( 1 )
18029 ( 1 )
BC-OP
GMC, Shahjhanpur
15034 ( 17 )
15034 ( 17 )
–
18110 ( 17 )
18110 ( 17 )
UR-EX
GMC, Bahraich
17172 ( 1 )
17833 ( 1 )
–
18145 ( 1 )
18145 ( 1 )
UR-GL
GMC ,Fatehpur
16427 ( 7 )
16427 ( 7 )
–
16808 ( 6 )
18157 ( 6 )
EW-OP
GMC, Shahjhanpur
14895 ( 7 )
14895 ( 7 )
–
18159 ( 6 )
18159 ( 6 )
BC-GL
GMC, Basti
15383 ( 4 )
15383 ( 4 )
–
18178 ( 4 )
18178 ( 4 )
BC-OP
GMC, Bahraich
15702 ( 17 )
15702 ( 17 )
–
18226 ( 16 )
18226 ( 16 )
EW-OP
GMC, Bahraich
15048 ( 5 )
15048 ( 5 )
22064 ( 1 )
18269 ( 7 )
18269 ( 7 )
BC-OP
GMC, Basti
15400 ( 16 )
15400 ( 16 )
–
18299 ( 16 )
18299 ( 16 )
UR-OP
State Med Coll, Etah
15666 ( 25 )
15658 ( 25 )
20623 ( 2 )
18317 ( 23 )
18317 ( 23 )
UR-GL
GMC, Deoria
16315 ( 7 )
16315 ( 7 )
–
18507 ( 7 )
18507 ( 7 )
UR-OP
GMC, Deoria
16051 ( 25 )
16051 ( 25 )
21032 ( 1 )
18610 ( 26 )
18610 ( 26 )
UR-OP
GMC ,Fatehpur
16835 ( 25 )
16793 ( 25 )
22019 ( 3 )
18648 ( 23 )
18648 ( 23 )
EW-OP
State Med Coll, Etah
17065 ( 6 )
17065 ( 6 )
–
18743 ( 5 )
18743 ( 5 )
UR-GL
GMC, Hardoi
15371 ( 7 )
15371 ( 7 )
–
18788 ( 7 )
18788 ( 7 )
UR-GL
GMC, Siddharth Nagar
16258 ( 6 )
16258 ( 6 )
–
18866 ( 7 )
18866 ( 7 )
BC-EX
GMC, Basti
–
–
–
18877 ( 1 )
18877 ( 1 )
UR-OP
GMC, Hardoi
15897 ( 25 )
15897 ( 25 )
20881 ( 1 )
18962 ( 22 )
18962 ( 22 )
UR-EX
GMC, Basti
–
–
–
18992 ( 1 )
18992 ( 1 )
BC-GL
State Med Coll, Etah
16285 ( 5 )
16285 ( 5 )
–
19044 ( 5 )
19044 ( 5 )
UR-OP
GMC, Siddharth Nagar
16076 ( 24 )
16076 ( 24 )
22187 ( 2 )
19055 ( 24 )
19055 ( 24 )
UR-GL
GMC, Pratap Nagarh
16551 ( 7 )
16551 ( 7 )
–
19126 ( 7 )
19126 ( 7 )
BC-EX
Rajkiya Med Coll, Jalaun
–
–
–
19347 ( 1 )
19347 ( 1 )
BC-OP
State Med Coll, Etah
16744 ( 16 )
16744 ( 16 )
20672 ( 1 )
19362 ( 13 )
19362 ( 13 )
UR-OP
GMC, Pratap Nagarh
16945 ( 24 )
16945 ( 24 )
21095 ( 2 )
19525 ( 22 )
19517 ( 22 )
EW-GL
GMC, Basti
14659 ( 2 )
14659 ( 2 )
–
19579 ( 2 )
19579 ( 2 )
BC-GL
GMC, Siddharth Nagar
17751 ( 5 )
17751 ( 5 )
–
19659 ( 5 )
19659 ( 5 )
BC-GL
GMC ,Fatehpur
17513 ( 5 )
17513 ( 5 )
–
19710 ( 4 )
19710 ( 4 )
EW-GL
GMC ,Fatehpur
19130 ( 2 )
19130 ( 2 )
–
19738 ( 2 )
19738 ( 2 )
UR-GL
State Med Coll, Mirzapur
17242 ( 7 )
17242 ( 7 )
–
19768 ( 6 )
19768 ( 6 )
EW-GL
GMC, Deoria
16304 ( 2 )
16304 ( 2 )
–
19936 ( 1 )
19936 ( 1 )
EW-GL
GMC, Siddharth Nagar
16749 ( 2 )
16749 ( 2 )
–
19985 ( 1 )
19985 ( 1 )
UR-GL
State Med Coll, Jaunpur
17486 ( 7 )
17486 ( 7 )
–
19995 ( 7 )
19995 ( 7 )
UR-OP
State Med Coll, Mirzapur
17581 ( 24 )
17581 ( 24 )
22278 ( 2 )
20061 ( 25 )
20061 ( 25 )
UR-EX
GMC, Badaun
16319 ( 1 )
16319 ( 1 )
–
20180 ( 1 )
20180 ( 1 )
BC-OP
GMC, Hardoi
17063 ( 16 )
17063 ( 16 )
22079 ( 1 )
20415 ( 14 )
20415 ( 14 )
UR-GL
State Med Coll,Ghazipur
17709 ( 7 )
17709 ( 7 )
–
20435 ( 7 )
20435 ( 7 )
BC-GL
GMC, Deoria
17443 ( 4 )
17443 ( 4 )
–
20444 ( 5 )
20444 ( 5 )
BC-GL
GMC, Hardoi
16794 ( 5 )
16794 ( 5 )
–
20450 ( 5 )
20450 ( 5 )
EW-OP
GMC, Deoria
17403 ( 6 )
17403 ( 6 )
–
20539 ( 8 )
20539 ( 8 )
EW-GL
GMC, Hardoi
17250 ( 1 )
17250 ( 1 )
–
20569 ( 2 )
20569 ( 2 )
UR-OP
State Med Coll, Jaunpur
17979 ( 24 )
17979 ( 24 )
22320 ( 1 )
20608 ( 25 )
20608 ( 25 )
BC-OP
GMC, Deoria
17269 ( 17 )
17269 ( 17 )
21804 ( 1 )
20630 ( 18 )
20630 ( 18 )
EW-OP
GMC, Hardoi
17404 ( 7 )
17404 ( 7 )
–
20704 ( 6 )
20704 ( 6 )
EW-OP
GMC ,Fatehpur
19019 ( 5 )
19019 ( 5 )
22471 ( 1 )
20718 ( 5 )
20718 ( 5 )
EW-OP
GMC, Siddharth Nagar
17669 ( 6 )
17669 ( 6 )
23386 ( 1 )
20768 ( 8 )
20768 ( 8 )
EW-OP
GMC, Pratap Nagarh
18527 ( 5 )
18527 ( 5 )
–
20863 ( 3 )
20863 ( 3 )
UR-OP
State Med Coll,Ghazipur
18305 ( 24 )
18305 ( 24 )
21982 ( 3 )
20930 ( 23 )
20930 ( 23 )
BC-OP
GMC ,Fatehpur
17873 ( 16 )
17873 ( 16 )
22110 ( 1 )
20970 ( 18 )
20970 ( 18 )
BC-EX
GMC, Badaun
–
–
–
20979 ( 1 )
20979 ( 1 )
UR-EX
State Med Coll, Etah
–
–
–
21037 ( 1 )
21037 ( 1 )
BC-OP
GMC, Siddharth Nagar
17413 ( 16 )
17413 ( 16 )
22244 ( 1 )
21058 ( 14 )
21058 ( 14 )
BC-GL
GMC, Pratap Nagarh
17998 ( 4 )
17998 ( 4 )
–
21232 ( 5 )
21232 ( 5 )
EW-GL
State Med Coll, Etah
17324 ( 1 )
17324 ( 1 )
–
21334 ( 2 )
21334 ( 2 )
UR-EX
State Med Coll, Mirzapur
18152 ( 1 )
18152 ( 1 )
–
21359 ( 1 )
21359 ( 1 )
EW-GL
GMC, Pratap Nagarh
18015 ( 2 )
18015 ( 2 )
–
21667 ( 2 )
21667 ( 2 )
BC-OP
GMC, Pratap Nagarh
18091 ( 16 )
18091 ( 16 )
22256 ( 2 )
22043 ( 17 )
22043 ( 17 )
BC-GL
State Med Coll,Ghazipur
18663 ( 5 )
18663 ( 5 )
–
22060 ( 4 )
22060 ( 4 )
EW-GL
State Med Coll, Jaunpur
19358 ( 2 )
19358 ( 2 )
–
22308 ( 2 )
22308 ( 2 )
EW-GL
State Med Coll, Mirzapur
18708 ( 2 )
18708 ( 2 )
–
22310 ( 1 )
22310 ( 1 )
BC-GL
State Med Coll, Mirzapur
18363 ( 5 )
18363 ( 5 )
–
22321 ( 5 )
22321 ( 5 )
EW-OP
State Med Coll, Mirzapur
19062 ( 5 )
19062 ( 5 )
23248 ( 1 )
22426 ( 7 )
22426 ( 7 )
EW-OP
State Med Coll, Jaunpur
19539 ( 6 )
19539 ( 6 )
–
22483 ( 6 )
22483 ( 6 )
EW-OP
State Med Coll,Ghazipur
19440 ( 6 )
19440 ( 6 )
23204 ( 1 )
22628 ( 6 )
22628 ( 6 )
BC-GL
State Med Coll, Jaunpur
18635 ( 4 )
18635 ( 4 )
–
22683 ( 4 )
22683 ( 4 )
EW-GL
State Med Coll,Ghazipur
19604 ( 2 )
19604 ( 2 )
–
22716 ( 2 )
22716 ( 2 )
BC-OP
State Med Coll, Mirzapur
18382 ( 15 )
18382 ( 15 )
22301 ( 1 )
22738 ( 16 )
22738 ( 16 )
BC-OP
State Med Coll, Jaunpur
18801 ( 16 )
18801 ( 16 )
22354 ( 1 )
22745 ( 17 )
22745 ( 17 )
BC-OP
State Med Coll,Ghazipur
18888 ( 15 )
18888 ( 15 )
22228 ( 1 )
22843 ( 17 )
22843 ( 17 )
EW-EX
GMC ,Fatehpur
–
–
–
23437 ( 1 )
23437 ( 1 )
UR-EX
GMC, Hardoi
–
–
–
23658 ( 1 )
23658 ( 1 )
UR-EX
GMC ,Fatehpur
17833 ( 1 )
17172 ( 1 )
–
24143 ( 1 )
24143 ( 1 )
BC-EX
GMC, Hardoi
16385 ( 1 )
16385 ( 1 )
–
25378 ( 1 )
24382 ( 1 )
UR-EX
GMC, Siddharth Nagar
17971 ( 1 )
17971 ( 1 )
–
24560 ( 1 )
24560 ( 1 )
UR-EX
GMC, Pratap Nagarh
–
–
–
25509 ( 1 )
25509 ( 1 )
BC-EX
State Med Coll, Etah
–
–
–
24382 ( 1 )
25822 ( 1 )
BC-EX
State Med Coll, Mirzapur
19077 ( 1 )
19077 ( 1 )
–
25997 ( 1 )
25997 ( 1 )
UR-EX
State Med Coll,Ghazipur
19176 ( 1 )
19176 ( 1 )
–
27188 ( 1 )
27188 ( 1 )
BC-EX
GMC, Siddharth Nagar
19639 ( 1 )
19639 ( 1 )
–
27303 ( 1 )
27303 ( 1 )
UR-GL
KGMU, Dental Sci, Lucknow
26347 ( 5 )
26783 ( 5 )
24546 ( 1 )
27487 ( 5 )
27487 ( 5 )
UR-OP
KGMU, Dental Sci, Lucknow
28972 ( 20 )
28832 ( 20 )
30404 ( 5 )
29850 ( 19 )
29850 ( 19 )
BC-GL
KGMU, Dental Sci, Lucknow
29697 ( 2 )
29426 ( 2 )
32941 ( 1 )
32754 ( 2 )
32754 ( 2 )
UR-NC
GSVM Med Coll, Kanpur
35779 ( 1 )
68297 ( 1 )
–
35794 ( 1 )
35794 ( 1 )
BC-OP
KGMU, Dental Sci, Lucknow
33452 ( 12 )
33452 ( 12 )
–
36318 ( 12 )
36318 ( 12 )
UR-FF
KGMU, Lucknow
108715 ( 2 )
108715 ( 2 )
–
41325 ( 2 )
41325 ( 2 )
SC-OP
KGMU, Lucknow
46011 ( 30 )
46011 ( 30 )
–
45305 ( 31 )
46133 ( 31 )
SC-GL
KGMU, Lucknow
40454 ( 9 )
40454 ( 9 )
–
36767 ( 9 )
47156 ( 9 )
BC-NC
Dr RML IMS, Lucknow
75513 ( 1 )
75513 ( 1 )
–
52462 ( 1 )
52462 ( 1 )
SC-GL
Dr RML IMS, Lucknow
51500 ( 7 )
51500 ( 7 )
–
53773 ( 7 )
53773 ( 7 )
SC-OP
Dr RML IMS, Lucknow
56280 ( 24 )
56280 ( 24 )
114058 ( 3 )
62835 ( 23 )
63184 ( 23 )
SC-EX
KGMU, Lucknow
95236 ( 1 )
95236 ( 1 )
–
64133 ( 1 )
64133 ( 1 )
UR-NC
KGMU, Lucknow
5012 ( 1 )
16584 ( 1 )
–
65631 ( 1 )
65631 ( 1 )
SC-EX
Dr RML IMS, Lucknow
152059 ( 1 )
152059 ( 1 )
–
66647 ( 1 )
66647 ( 1 )
SC-GL
GSVM Med Coll, Kanpur
63325 ( 9 )
63703 ( 9 )
–
68258 ( 9 )
68743 ( 9 )
SC-FF
KGMU, Lucknow
937029 ( 1 )
937029 ( 1 )
–
69621 ( 1 )
69621 ( 1 )
SC-GL
LLRM Med Coll, Meerutut
68401 ( 3 )
68401 ( 3 )
–
73631 ( 3 )
70990 ( 3 )
SC-OP
GSVM Med Coll, Kanpur
68819 ( 30 )
68819 ( 30 )
111376 ( 1 )
72325 ( 31 )
72420 ( 31 )
SC-GL
MLN Med Coll, Allahabad
71323 ( 7 )
71323 ( 7 )
–
75364 ( 7 )
75364 ( 7 )
UR-NC
BRD Med Coll, Gorakhpur
83433 ( 1 )
83433 ( 1 )
–
80534 ( 1 )
80534 ( 1 )
SC-OP
MLN Med Coll, Allahabad
74729 ( 24 )
74729 ( 24 )
122248 ( 3 )
82608 ( 24 )
82608 ( 24 )
SC-OP
LLRM Med Coll, Meerutut
72306 ( 13 )
72306 ( 13 )
–
84657 ( 13 )
84657 ( 13 )
SC-EX
MLN Med Coll, Allahabad
169343 ( 1 )
169343 ( 1 )
–
85012 ( 1 )
85012 ( 1 )
SC-GL
Govt IMS, Kasna
70397 ( 3 )
70397 ( 3 )
–
85320 ( 3 )
85320 ( 3 )
BC-NC
MLN Med Coll, Allahabad
104641 ( 1 )
104641 ( 1 )
–
86398 ( 1 )
86398 ( 1 )
ST-OP
KGMU, Lucknow
109841 ( 1 )
109841 ( 1 )
472230 ( 2 )
86431 ( 3 )
86431 ( 3 )
SC-GL
S N Med Coll, Agra
73848 ( 4 )
73848 ( 4 )
–
86800 ( 4 )
86800 ( 4 )
ST-GL
UP Univ of Med Sci, Etawah
296962 ( 1 )
307139 ( 1 )
–
88146 ( 1 )
88146 ( 1 )
SC-OP
Govt IMS, Kasna
75547 ( 13 )
75413 ( 13 )
102548 ( 1 )
89172 ( 14 )
89172 ( 14 )
SC-GL
BRD Med Coll, Gorakhpur
81195 ( 5 )
81195 ( 5 )
–
89903 ( 5 )
89903 ( 5 )
SC-OP
S N Med Coll, Agra
77646 ( 17 )
77646 ( 17 )
116155 ( 1 )
90230 ( 18 )
90230 ( 18 )
SC-OP
BRD Med Coll, Gorakhpur
82468 ( 18 )
82468 ( 18 )
126433 ( 2 )
93297 ( 21 )
93297 ( 21 )
SC-GL
MLB Med Coll, Jhansi
80423 ( 5 )
80423 ( 5 )
–
95121 ( 6 )
95121 ( 6 )
SC-OP
MLB Med Coll, Jhansi
84964 ( 18 )
84964 ( 18 )
127748 ( 2 )
97438 ( 16 )
97438 ( 16 )
SC-GL
UP Univ of Med Sci, Etawah
85456 ( 7 )
85456 ( 7 )
–
98901 ( 7 )
98901 ( 7 )
SC-OP
UP Univ of Med Sci, Etawah
90660 ( 24 )
90660 ( 24 )
130645 ( 3 )
101555 ( 23 )
101555 ( 23 )
SC-GL
GMC, Faizabad
103001 ( 4 )
103001 ( 4 )
–
105428 ( 3 )
105428 ( 3 )
SC-GL
GMC, Azamgarh
108780 ( 4 )
108780 ( 4 )
–
107043 ( 3 )
107043 ( 3 )
SC-GL
GMC, Kannauj
91947 ( 12 )
91947 ( 12 )
–
108208 ( 12 )
108208 ( 12 )
SC-GL
Shaik-ul-Hind, Saharanpur
101941 ( 12 )
101941 ( 12 )
–
110676 ( 13 )
110676 ( 13 )
UR-OP
SMSR, Greater Noida
109588 ( 250 )
109588 ( 250 )
24872 ( 1 )
110819 ( 250 )
110819 ( 250 )
BC-NC
GMC, Badaun
–
–
–
111438 ( 1 )
111438 ( 1 )
UR-FF
BRD Med Coll, Gorakhpur
260779 ( 1 )
260779 ( 1 )
–
111813 ( 1 )
111813 ( 1 )
SC-OP
GMC, Kannauj
102266 ( 45 )
102266 ( 45 )
135408 ( 4 )
114897 ( 45 )
114897 ( 45 )
BC-NC
Rajkiya Med Coll, Jalaun
–
–
–
115374 ( 1 )
115374 ( 1 )
SC-GL
GMC, Badaun
96339 ( 3 )
96339 ( 3 )
–
117281 ( 4 )
117281 ( 4 )
BC-FF
KGMU, Lucknow
13451 ( 1 )
13451 ( 1 )
–
117412 ( 1 )
117412 ( 1 )
SC-OP
GMC, Faizabad
108281 ( 13 )
108281 ( 13 )
132701 ( 1 )
118315 ( 15 )
118315 ( 15 )
UR-NC
GMC, Hardoi
100325 ( 1 )
100325 ( 1 )
–
119227 ( 1 )
119227 ( 1 )
SC-EX
GSVM Med Coll, Kanpur
127855 ( 1 )
127855 ( 1 )
–
120782 ( 1 )
120782 ( 1 )
BC-NC
State Med Coll, Etah
139276 ( 1 )
139276 ( 1 )
–
121695 ( 1 )
121695 ( 1 )
SC-GL
MRA Med Coll, Ambedkarnagar
108556 ( 12 )
108556 ( 12 )
–
121915 ( 13 )
121915 ( 13 )
SC-GL
GMC, Firozobad
112326 ( 4 )
112326 ( 4 )
–
122646 ( 4 )
122646 ( 4 )
UR-FF
Dr RML IMS, Lucknow
151187 ( 2 )
221272 ( 2 )
–
123261 ( 1 )
123261 ( 1 )
SC-OP
Shaik-ul-Hind, Saharanpur
111107 ( 45 )
111107 ( 45 )
136411 ( 4 )
124250 ( 41 )
124250 ( 41 )
SC-OP
GMC, Azamgarh
110104 ( 13 )
110104 ( 13 )
132927 ( 1 )
125852 ( 14 )
125852 ( 14 )
BC-FF
GSVM Med Coll, Kanpur
92347 ( 1 )
92347 ( 1 )
–
127388 ( 1 )
127388 ( 1 )
SC-GL
GMC ,Banda
109644 ( 3 )
109644 ( 3 )
–
128718 ( 4 )
128718 ( 4 )
SC-EX
MLB Med Coll, Jhansi
197497 ( 1 )
197497 ( 1 )
–
129059 ( 1 )
129059 ( 1 )
BC-NC
GMC, Hardoi
–
–
–
129528 ( 1 )
129528 ( 1 )
SC-OP
MRA Med Coll, Ambedkarnagar
111865 ( 44 )
111865 ( 44 )
135068 ( 4 )
130418 ( 44 )
130418 ( 44 )
BC-NC
GMC, Siddharth Nagar
–
–
–
130553 ( 1 )
130553 ( 1 )
SC-GL
GMC, Hardoi
126816 ( 4 )
126816 ( 4 )
–
131042 ( 4 )
131042 ( 4 )
SC-EX
GMC, Kannauj
254893 ( 1 )
254893 ( 1 )
–
131909 ( 1 )
131909 ( 1 )
SC-OP
GMC, Badaun
113643 ( 12 )
113643 ( 12 )
132171 ( 1 )
132219 ( 13 )
132219 ( 13 )
SC-OP
GMC, Firozobad
116693 ( 13 )
116693 ( 13 )
135729 ( 1 )
132995 ( 13 )
132995 ( 13 )
SC-OP
GMC ,Banda
120710 ( 13 )
120710 ( 13 )
132969 ( 1 )
133705 ( 10 )
133705 ( 10 )
SC-GL
Rajkiya Med Coll, Jalaun
114144 ( 12 )
114144 ( 12 )
–
135450 ( 12 )
135450 ( 12 )
SC-GL
GMC, Shahjhanpur
119549 ( 3 )
119549 ( 3 )
–
135881 ( 4 )
135881 ( 4 )
SC-GL
GMC, Basti
119609 ( 4 )
119609 ( 4 )
–
136920 ( 3 )
136920 ( 3 )
SC-OP
Rajkiya Med Coll, Jalaun
121034 ( 45 )
121034 ( 45 )
137298 ( 4 )
137359 ( 44 )
137359 ( 44 )
SC-GL
GMC, Bahraich
123440 ( 4 )
123440 ( 4 )
–
138461 ( 4 )
138461 ( 4 )
SC-OP
GMC, Shahjhanpur
123098 ( 13 )
123098 ( 13 )
135581 ( 1 )
138971 ( 14 )
138971 ( 14 )
SC-GL
GMC ,Fatehpur
131114 ( 3 )
131114 ( 3 )
–
138978 ( 3 )
138978 ( 3 )
UR-OP
SRMS IMS, Bareilly
129534 ( 150 )
129534 ( 150 )
57075 ( 3 )
139372 ( 150 )
139372 ( 150 )
SC-OP
GMC, Bahraich
125911 ( 12 )
125911 ( 12 )
135343 ( 1 )
139745 ( 13 )
139745 ( 13 )
SC-GL
GMC, Deoria
131011 ( 4 )
131011 ( 4 )
–
140018 ( 4 )
140018 ( 4 )
SC-OP
GMC, Basti
124518 ( 13 )
124518 ( 13 )
134968 ( 1 )
140428 ( 12 )
140428 ( 12 )
SC-OP
State Med Coll, Etah
127411 ( 12 )
127411 ( 12 )
134758 ( 1 )
143313 ( 14 )
143313 ( 14 )
SC-GL
GMC, Pratap Nagarh
131639 ( 4 )
131639 ( 4 )
–
143610 ( 3 )
143610 ( 3 )
SC-GL
State Med Coll, Etah
119372 ( 4 )
119372 ( 4 )
–
144330 ( 4 )
144330 ( 4 )
SC-OP
GMC, Hardoi
128406 ( 13 )
128406 ( 13 )
136227 ( 1 )
144457 ( 11 )
144457 ( 11 )
UR-OP
Hind IMS, Barabanki
129772 ( 100 )
129772 ( 100 )
–
144680 ( 100 )
144680 ( 100 )
SC-OP
GMC, Deoria
130454 ( 12 )
130454 ( 12 )
135912 ( 2 )
145586 ( 12 )
145586 ( 12 )
SC-OP
GMC ,Fatehpur
131637 ( 13 )
131637 ( 13 )
134467 ( 2 )
145718 ( 10 )
145718 ( 10 )
SC-OP
GMC, Siddharth Nagar
130005 ( 13 )
130005 ( 13 )
128899 ( 1 )
146227 ( 10 )
146227 ( 10 )
SC-GL
GMC, Siddharth Nagar
125922 ( 3 )
125922 ( 3 )
–
147228 ( 4 )
147228 ( 4 )
SC-OP
GMC, Pratap Nagarh
132581 ( 13 )
132581 ( 13 )
136360 ( 1 )
147337 ( 10 )
147337 ( 10 )
SC-GL
State Med Coll, Jaunpur
134840 ( 4 )
134840 ( 4 )
–
148669 ( 3 )
148669 ( 3 )
SC-GL
State Med Coll, Mirzapur
129338 ( 3 )
129338 ( 3 )
–
148694 ( 4 )
148694 ( 4 )
SC-OP
State Med Coll, Mirzapur
134501 ( 13 )
134501 ( 13 )
135745 ( 1 )
148726 ( 13 )
148726 ( 13 )
SC-GL
State Med Coll,Ghazipur
132965 ( 4 )
132965 ( 4 )
–
148945 ( 3 )
148945 ( 3 )
SC-OP
State Med Coll,Ghazipur
134535 ( 12 )
134535 ( 12 )
135856 ( 1 )
151822 ( 14 )
151822 ( 14 )
SC-OP
State Med Coll, Jaunpur
134153 ( 12 )
134153 ( 12 )
136825 ( 2 )
152091 ( 15 )
152091 ( 15 )
SC-GL
KGMU, Dental Sci, Lucknow
139633 ( 2 )
139633 ( 2 )
–
154945 ( 2 )
154945 ( 2 )
SC-OP
KGMU, Dental Sci, Lucknow
145947 ( 8 )
145947 ( 8 )
139652 ( 3 )
162899 ( 9 )
160490 ( 9 )
ST-OP
Dr RML IMS, Lucknow
195686 ( 2 )
195686 ( 2 )
–
160882 ( 3 )
160882 ( 3 )
SC-EX
UP Univ of Med Sci, Etawah
200473 ( 1 )
200473 ( 1 )
–
164682 ( 1 )
164682 ( 1 )
ST-GL
GSVM Med Coll, Kanpur
152549 ( 1 )
152549 ( 1 )
–
167823 ( 1 )
167823 ( 1 )
UR-NC
UP Univ of Med Sci, Etawah
68297 ( 1 )
74991 ( 1 )
–
169378 ( 1 )
169378 ( 1 )
SC-NC
Dr RML IMS, Lucknow
248806 ( 1 )
248806 ( 1 )
–
170148 ( 1 )
170148 ( 1 )
ST-GL
MLN Med Coll, Allahabad
159792 ( 1 )
200603 ( 1 )
–
173188 ( 1 )
173188 ( 1 )
UR-NC
GMC, Pratap Nagarh
–
–
–
–
173614 ( 1 )
ST-OP
GSVM Med Coll, Kanpur
179189 ( 1 )
179189 ( 1 )
495645 ( 2 )
176363 ( 3 )
176363 ( 3 )
ST-OP
LLRM Med Coll, Meerutut
233115 ( 2 )
250121 ( 2 )
–
179391 ( 1 )
179391 ( 1 )
SC-EX
MRA Med Coll, Ambedkarnagar
205643 ( 1 )
205643 ( 1 )
–
182856 ( 1 )
182856 ( 1 )
ST-GL
Govt IMS, Kasna
233378 ( 1 )
296962 ( 1 )
–
187139 ( 1 )
187139 ( 1 )
ST-OP
S N Med Coll, Agra
250121 ( 2 )
340660 ( 2 )
–
199688 ( 2 )
188720 ( 2 )
UR-NC
Govt IMS, Kasna
–
–
–
194458 ( 1 )
194458 ( 1 )
UR-OP
Muzaffarnagar Medical College
195391 ( 150 )
195391 ( 150 )
–
196918 ( 200 )
196918 ( 200 )
UR-OP
Hind IMS, Sitapur
170431 ( 150 )
170431 ( 150 )
66494 ( 2 )
199318 ( 150 )
199318 ( 150 )
UR-FF
GSVM Med Coll, Kanpur
216523 ( 2 )
216523 ( 2 )
–
201064 ( 2 )
201064 ( 2 )
UR-NC
MLB Med Coll, Jhansi
–
–
–
205180 ( 1 )
205180 ( 1 )
ST-GL
BRD Med Coll, Gorakhpur
–
–
–
209950 ( 1 )
209950 ( 1 )
SC-EX
Rajkiya Med Coll, Jalaun
254985 ( 1 )
254985 ( 1 )
–
213857 ( 1 )
213857 ( 1 )
SC-EX
Shaik-ul-Hind, Saharanpur
240629 ( 1 )
240629 ( 1 )
–
218673 ( 2 )
218673 ( 2 )
ST-GL
LLRM Med Coll, Meerutut
–
–
–
228553 ( 1 )
228553 ( 1 )
ST-OP
BRD Med Coll, Gorakhpur
218285 ( 2 )
233115 ( 2 )
–
237085 ( 2 )
237085 ( 2 )
SC-EX
GMC ,Banda
–
–
–
238083 ( 1 )
238083 ( 1 )
ST-OP
GMC, Basti
346653 ( 1 )
346653 ( 1 )
–
240493 ( 1 )
240493 ( 1 )
UR-NC
GMC, Basti
87496 ( 1 )
87496 ( 1 )
–
240748 ( 1 )
240748 ( 1 )
UR-FF
MLN Med Coll, Allahabad
172322 ( 1 )
172322 ( 1 )
–
241610 ( 1 )
241610 ( 1 )
UR-PH
KGMU, Lucknow
420294 ( 5 )
420294 ( 5 )
–
163909 ( 5 )
243336 ( 5 )
UR-OP
KD Med Coll, Mathura
274192 ( 150 )
274192 ( 150 )
83274 ( 2 )
243445 ( 150 )
243445 ( 150 )
UR-FF
S N Med Coll, Agra
221272 ( 1 )
454648 ( 1 )
488572 ( 1 )
306220 ( 1 )
38429 ( 1 )
UR-OP
Saraswati IMS, Hapur
224781 ( 150 )
224781 ( 150 )
–
249086 ( 150 )
249400 ( 250 )
SC-NC
UP Univ of Med Sci, Etawah
297220 ( 1 )
297220 ( 1 )
–
252474 ( 1 )
252474 ( 1 )
UR-NC
GMC, Azamgarh
–
–
–
255746 ( 1 )
255746 ( 1 )
BC-FF
Dr RML IMS, Lucknow
88026 ( 1 )
88026 ( 1 )
–
256698 ( 1 )
256698 ( 1 )
SC-EX
GMC, Hardoi
–
–
–
260452 ( 1 )
260452 ( 1 )
ST-OP
MLB Med Coll, Jhansi
262341 ( 2 )
262341 ( 2 )
–
260705 ( 3 )
260705 ( 3 )
UR-OP
Rohilkhand Med Coll, Bareilly
237897 ( 250 )
237897 ( 250 )
85903 ( 1 )
264629 ( 250 )
264629 ( 250 )
ST-OP
UP Univ of Med Sci, Etawah
269928 ( 2 )
269928 ( 2 )
–
241875 ( 2 )
265200 ( 2 )
SC-EX
GMC, Pratap Nagarh
–
–
–
266263 ( 1 )
266263 ( 1 )
EW-NC
MLN Med Coll, Allahabad
–
–
–
273300 ( 1 )
273300 ( 1 )
UR-FF
UP Univ of Med Sci, Etawah
320673 ( 2 )
320673 ( 2 )
–
273882 ( 2 )
273882 ( 2 )
ST-GL
Shaik-ul-Hind, Saharanpur
302366 ( 1 )
302366 ( 1 )
–
212543 ( 1 )
281746 ( 1 )
EW-NC
GMC, Pratap Nagarh
–
–
–
283797 ( 1 )
283797 ( 1 )
ST-OP
GMC, Azamgarh
307139 ( 2 )
248992 ( 2 )
–
288482 ( 1 )
288482 ( 1 )
UR-OP
Noida International Inst of MS
286248 ( 150 )
286248 ( 150 )
50216 ( 1 )
294833 ( 150 )
294833 ( 150 )
ST-OP
GMC, Faizabad
349259 ( 2 )
349259 ( 2 )
–
296904 ( 1 )
296904 ( 1 )
EW-PH
GSVM Med Coll, Kanpur
868444 ( 1 )
868444 ( 1 )
–
301904 ( 1 )
301904 ( 1 )
ST-GL
GMC, Kannauj
316359 ( 1 )
316359 ( 1 )
–
304549 ( 1 )
304549 ( 1 )
UR-OP
Rama Med Coll, Kanpur
299988 ( 150 )
299988 ( 150 )
101149 ( 2 )
308890 ( 150 )
308890 ( 150 )
SC-EX
GMC, Siddharth Nagar
409824 ( 1 )
409824 ( 1 )
–
308924 ( 1 )
308924 ( 1 )
UR-OP
United InstofMed Sci,Allahabad
342946 ( 150 )
342946 ( 150 )
64255 ( 1 )
317867 ( 150 )
317867 ( 150 )
SC-EX
GMC, Basti
–
–
–
317898 ( 1 )
317898 ( 1 )
SC-NC
MLB Med Coll, Jhansi
–
–
–
318310 ( 1 )
318310 ( 1 )
UR-OP
Subharti Med Coll, Meerut
150836 ( 75 )
150836 ( 75 )
67622 ( 2 )
321549 ( 200 )
321272 ( 200 )
ST-OP
GMC, Kannauj
344316 ( 4 )
379019 ( 4 )
–
322057 ( 4 )
322057 ( 4 )
SC-EX
GMC ,Fatehpur
–
–
–
322726 ( 1 )
322726 ( 1 )
ST-GL
MRA Med Coll, Ambedkarnagar
327865 ( 1 )
327865 ( 1 )
–
326652 ( 1 )
326652 ( 1 )
BC-FF
MLN Med Coll, Allahabad
243823 ( 1 )
243823 ( 1 )
–
352580 ( 1 )
352580 ( 1 )
BC-PH
KGMU, Lucknow
508315 ( 3 )
508315 ( 3 )
–
348060 ( 3 )
367935 ( 3 )
UR-OP
Heritage IMS, Varanasi
303611 ( 150 )
303611 ( 150 )
161081 ( 3 )
370620 ( 200 )
369984 ( 200 )
UR-PH
Dr RML IMS, Lucknow
873927 ( 4 )
873927 ( 4 )
–
333140 ( 3 )
377457 ( 3 )
ST-OP
GMC, Bahraich
393122 ( 1 )
393122 ( 1 )
–
378477 ( 2 )
378477 ( 2 )
BC-FF
BRD Med Coll, Gorakhpur
414778 ( 1 )
414778 ( 1 )
–
381463 ( 1 )
381463 ( 1 )
UR-FF
Govt IMS, Kasna
–
–
–
382167 ( 1 )
382167 ( 1 )
UR-PH
LLRM Med Coll, Meerutut
–
–
741431 ( 1 )
386877 ( 2 )
386877 ( 2 )
ST-OP
MRA Med Coll, Ambedkarnagar
373306 ( 4 )
373306 ( 4 )
–
387389 ( 3 )
387389 ( 3 )
ST-GL
GMC, Azamgarh
–
–
–
388229 ( 1 )
388229 ( 1 )
ST-GL
Rajkiya Med Coll, Jalaun
402778 ( 1 )
402778 ( 1 )
–
388403 ( 1 )
388403 ( 1 )
ST-OP
GMC, Shahjhanpur
416182 ( 2 )
416182 ( 2 )
–
388425 ( 2 )
388425 ( 2 )
BC-PH
Dr RML IMS, Lucknow
566673 ( 2 )
566673 ( 2 )
–
367935 ( 3 )
388761 ( 3 )
ST-OP
Shaik-ul-Hind, Saharanpur
376684 ( 3 )
376684 ( 3 )
544267 ( 1 )
390435 ( 4 )
390435 ( 4 )
UR-OP
GS Med Coll Hosp,Hapur
495308 ( 150 )
495308 ( 150 )
144996 ( 3 )
391258 ( 150 )
391258 ( 150 )
SC-NC
Rajkiya Med Coll, Jalaun
–
–
–
393918 ( 1 )
393918 ( 1 )
ST-OP
GMC, Deoria
446985 ( 2 )
446985 ( 2 )
–
396024 ( 1 )
396024 ( 1 )
BC-FF
Govt IMS, Kasna
–
–
–
396082 ( 1 )
396082 ( 1 )
UR-OP
Rama Med Coll, Hapur
385489 ( 250 )
385489 ( 250 )
176053 ( 6 )
399895 ( 250 )
399895 ( 250 )
UR-FF
LLRM Med Coll, Meerutut
239182 ( 1 )
239182 ( 1 )
–
402838 ( 1 )
402838 ( 1 )
UR-PH
GMC, Faizabad
–
–
–
405939 ( 1 )
405939 ( 1 )
ST-OP
GMC, Firozobad
334179 ( 1 )
334179 ( 1 )
–
408008 ( 1 )
408008 ( 1 )
ST-OP
Rajkiya Med Coll, Jalaun
397755 ( 4 )
440260 ( 4 )
–
414550 ( 4 )
414550 ( 4 )
ST-OP
GMC, Siddharth Nagar
458527 ( 1 )
458527 ( 1 )
–
417074 ( 1 )
417074 ( 1 )
BC-FF
UP Univ of Med Sci, Etawah
299102 ( 1 )
299102 ( 1 )
–
424368 ( 1 )
424368 ( 1 )
UR-OP
TS Misra Med Coll, Lucknow
429083 ( 150 )
429083 ( 150 )
200106 ( 4 )
428891 ( 150 )
428891 ( 150 )
UR-OP
Mayo IMS, Barabanki
332717 ( 150 )
332717 ( 150 )
144030 ( 2 )
429115 ( 250 )
429115 ( 250 )
ST-OP
GMC, Hardoi
507209 ( 2 )
507209 ( 2 )
–
439431 ( 1 )
439431 ( 1 )
BC-PH
GSVM Med Coll, Kanpur
778283 ( 3 )
778283 ( 3 )
–
389744 ( 2 )
446623 ( 2 )
UR-OP
Era Lucknow Med Coll, Lucknow
408712 ( 75 )
408712 ( 75 )
201806 ( 2 )
450582 ( 75 )
450582 ( 75 )
UR-NC
S N Med Coll, Agra
68100 ( 1 )
68100 ( 1 )
–
451778 ( 1 )
451778 ( 1 )
EW-PH
BRD Med Coll, Gorakhpur
–
–
–
556686 ( 1 )
178494 ( 1 )
ST-OP
GMC ,Banda
405614 ( 2 )
429183 ( 2 )
–
456262 ( 2 )
456262 ( 2 )
UR-OP
National Captl Reg IMS, Meerut
579601 ( 150 )
579601 ( 150 )
–
456495 ( 150 )
456495 ( 150 )
ST-OP
GMC, Badaun
333276 ( 1 )
397755 ( 1 )
–
466592 ( 2 )
466592 ( 2 )
UR-OP
Prasad Inst of Med Sci,Lucknow
508441 ( 150 )
508441 ( 150 )
151542 ( 4 )
471601 ( 150 )
471601 ( 150 )
UR-NC
GMC ,Fatehpur
–
–
–
478612 ( 1 )
478612 ( 1 )
BC-FF
GMC, Firozobad
522016 ( 1 )
522016 ( 1 )
–
479109 ( 1 )
479109 ( 1 )
UR-FF
GMC, Azamgarh
280604 ( 1 )
280604 ( 1 )
–
481884 ( 1 )
481884 ( 1 )
ST-OP
State Med Coll, Etah
440066 ( 2 )
440066 ( 2 )
–
482290 ( 2 )
482290 ( 2 )
UR-OP
Teerthanker Med Coll,Moradabad
471951 ( 75 )
471951 ( 75 )
727961 ( 53 )
484607 ( 75 )
484607 ( 75 )
ST-OP
GMC ,Fatehpur
450116 ( 1 )
450116 ( 1 )
–
489063 ( 1 )
489063 ( 1 )
UR-FF
MLB Med Coll, Jhansi
260678 ( 1 )
260678 ( 1 )
–
493766 ( 1 )
493766 ( 1 )
SC-FF
Dr RML IMS, Lucknow
–
–
–
497675 ( 1 )
497675 ( 1 )
BC-PH
LLRM Med Coll, Meerutut
589849 ( 1 )
589849 ( 1 )
–
500570 ( 1 )
500570 ( 1 )
ST-GL
GMC, Basti
398708 ( 1 )
398708 ( 1 )
–
508450 ( 1 )
508450 ( 1 )
BC-FF
MLB Med Coll, Jhansi
298252 ( 1 )
298252 ( 1 )
–
509184 ( 1 )
509184 ( 1 )
UR-OP
Rajshree MRI, Bareilly
446143 ( 150 )
446143 ( 150 )
240971 ( 6 )
509668 ( 250 )
509668 ( 250 )
ST-OP
State Med Coll, Jaunpur
516197 ( 2 )
516197 ( 2 )
–
515329 ( 2 )
515329 ( 2 )
ST-GL
GMC, Hardoi
–
–
–
519155 ( 1 )
519155 ( 1 )
ST-OP
State Med Coll,Ghazipur
527433 ( 1 )
527433 ( 1 )
–
521449 ( 2 )
521449 ( 2 )
ST-OP
State Med Coll, Mirzapur
501356 ( 1 )
501356 ( 1 )
–
521457 ( 1 )
521457 ( 1 )
EW-PH
MLN Med Coll, Allahabad
–
–
–
522483 ( 1 )
522483 ( 1 )
ST-GL
GMC ,Fatehpur
–
–
–
524336 ( 1 )
524336 ( 1 )
UR-OP
Venkateshwara IMS, Gajraula
713968 ( 150 )
713968 ( 150 )
175085 ( 3 )
525163 ( 150 )
525113 ( 250 )
UR-PH
GSVM Med Coll, Kanpur
949994 ( 1 )
949994 ( 1 )
–
529623 ( 4 )
529623 ( 4 )
BC-FF
GMC, Badaun
215977 ( 1 )
215977 ( 1 )
–
529787 ( 1 )
529787 ( 1 )
UR-OP
Era Lucknow Med Coll, Lucknow
567727 ( 75 )
567727 ( 75 )
–
530355 ( 75 )
530355 ( 75 )
UR-OP
Krishna Mohan Med Coll,Mathura
692786 ( 150 )
692786 ( 150 )
221041 ( 7 )
532502 ( 150 )
532502 ( 150 )
ST-GL
GMC, Pratap Nagarh
471281 ( 1 )
471281 ( 1 )
–
534141 ( 1 )
534141 ( 1 )
UR-FF
GMC, Bahraich
481510 ( 1 )
481510 ( 1 )
–
535379 ( 1 )
535379 ( 1 )
BC-PH
MLB Med Coll, Jhansi
956715 ( 2 )
1007935 ( 2 )
–
570840 ( 2 )
536067 ( 2 )
UR-PH
MLN Med Coll, Allahabad
923743 ( 3 )
923743 ( 3 )
–
536923 ( 3 )
536923 ( 3 )
UR-FF
GMC, Siddharth Nagar
–
–
–
539262 ( 1 )
539262 ( 1 )
BC-PH
MLN Med Coll, Allahabad
859042 ( 2 )
859042 ( 2 )
–
485529 ( 2 )
541299 ( 2 )
UR-FF
State Med Coll, Mirzapur
–
–
–
546402 ( 1 )
546402 ( 1 )
SC-PH
Dr RML IMS, Lucknow
1030500 ( 1 )
1030500 ( 1 )
–
546936 ( 2 )
546936 ( 2 )
BC-FF
GMC, Basti
420181 ( 1 )
420181 ( 1 )
–
558866 ( 1 )
558866 ( 1 )
UR-OP
Varun Arjun, Shahjahanpur
970889 ( 134 )
970889 ( 150 )
289035 ( 2 )
565135 ( 150 )
565135 ( 150 )
SC-NC
Shaik-ul-Hind, Saharanpur
–
–
–
565539 ( 1 )
565539 ( 1 )
BC-PH
S N Med Coll, Agra
329633 ( 1 )
329633 ( 1 )
–
492838 ( 1 )
570840 ( 1 )
EW-PH
Dr RML IMS, Lucknow
509259 ( 1 )
509259 ( 1 )
–
323880 ( 1 )
579792 ( 1 )
UR-FF
GMC, Basti
–
–
–
583968 ( 1 )
583968 ( 1 )
UR-OP
Naraina Med Coll & RC, Kanpur
1042375 ( 122 )
999760 ( 150 )
341294 ( 7 )
586187 ( 150 )
586187 ( 150 )
BC-PH
Govt IMS, Kasna
662610 ( 1 )
643674 ( 1 )
–
450968 ( 1 )
586755 ( 1 )
EW-PH
Govt IMS, Kasna
–
–
–
589456 ( 1 )
589456 ( 1 )
UR-FF
GMC, Hardoi
–
–
–
590508 ( 1 )
590508 ( 1 )
UR-OP
SKS Hospital Med Coll, Mathura
–
–
–
593061 ( 150 )
592512 ( 150 )
UR-PH
Govt IMS, Kasna
724805 ( 1 )
724805 ( 1 )
–
592578 ( 2 )
592578 ( 2 )
BC-PH
BRD Med Coll, Gorakhpur
–
767111 ( 1 )
–
595382 ( 1 )
595382 ( 1 )
UR-OP
Saraswati Medical Coll, Unnao
799221 ( 150 )
785189 ( 150 )
270865 ( 7 )
–
597131 ( 150 )
ST-OP
KGMU, Dental Sci, Lucknow
462920 ( 1 )
462920 ( 1 )
–
551543 ( 1 )
598282 ( 1 )
UR-PH
S N Med Coll, Agra
–
–
–
606522 ( 3 )
606522 ( 3 )
BC-PH
GMC, Badaun
–
959797 ( 1 )
–
615343 ( 1 )
615343 ( 1 )
UR-OP
IIMSR, Lucknow
625410 ( 75 )
625410 ( 75 )
601642 ( 7 )
621424 ( 75 )
621424 ( 75 )
BC-PH
UP Univ of Med Sci, Etawah
–
662610 ( 1 )
–
596260 ( 3 )
628639 ( 3 )
SC-PH
LLRM Med Coll, Meerutut
760127 ( 1 )
760127 ( 1 )
–
812143 ( 1 )
–
UR-OP
IIMSR, Lucknow
690471 ( 75 )