Today we will discuss about "MCC AIQ NEET UG Counselling latest updates 2023". Read this article till end to know AIQ & State wise counselling Schedule 2023. Visit this page regularly for latest update.
MCC AIQ NEET UG Counselling latest updates 2023
Basically ,counselling is at two level.
MCC AIQ counselling Admission Rule 
In All India counselling ,15% seats of All the Govt. colleges and 100 % seats of all Deemed ,,central universities ,ESI are covered.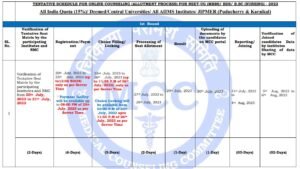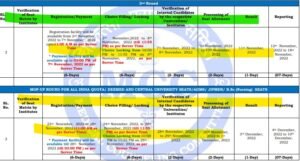 State Level Counselling last year
If we talked about state level counselling, remaining 85% seats of All the Govt. colleges and 100 % seats of all private colleges and private universities are covered.
S/No.

State

Type
First Round
 
Registration
Document Verification
State Merit List
Choice Fillng
Result
 
MCC
Open

20-07-2023 to 25-07-2023

 
NA
22-07-2023 to 26-07-2023
29-07-2023
1
Rajasthan
Open
Not Yet Started
 
 
 
 
2
Haryana
Open
Not Yet Started
 
 
 
 
3
Uttar Pradesh
Open
Not Yet Started
 
 
 
 
4
Bihar
Open
Not Yet Started
 
 
 
 
5
Chandigarh
Closed state
Not Yet Started
 
 
 
 
6
Maharashtra
only Institutional Quota
Not Yet Started
 
 
 
 
7
Delhi (IPU)
11th & 12th from Delhi
28-06-2023 to 13-07-2023
 
 
 
 
8
Madhya Pradesh
Open but admission against NRI seats
 
 
 
 
 
9
Odisha
Closed state
12-07-2023 to 16-07-2023
 
 
 
 
10
Punjab
Open for minority Colleges
13-07-2023 to 20-07-2023
 
 
 
 
11
Jammu Kashmir
Closed state
 
 
 
 
 
12
Himachal Pradesh
Open
 
 
 
 
 
13
Gujarat
Open for NRI
15-07-2023 to 24-07-2023
 
 
 
 
14
Chhattishgarh
Open
Not Yet Started
 
 
 
 
15
Tripura
Open
 
 
List released
 
 
16
Uttarakhand
Open
Not Yet Started
 
 
 
 
17
West Bengal
Open
Not Yet Started
 
 
 
 
18
Jharkhand
Open
 
 
 
 
 
19
Assam
Closed state
Not Yet Started
 
 
 
 
20
Karnataka
Open
14-07-2023 to 21-07-2023
 
 
 
 
21
Kerala
Open 
13-07-2023
 
 
 
 
22
Tamil Nadu
Open
07-07-2023 to 12-07-2023
 
 
 
 
23
Telangana
Open
07-07-2023 to 14-07-2023
 
 
 
 
24
Andhra Pradesh
Open
 
 
 
 
 
25
Pondicherry
Open
12-07-2023 to 18-07-2023
 
 
 
 
26
Andaman Nicobar
 
Not Yet Started
 
 
 
 
27
Arunachal Pradesh
 
 
 
 
 
 
28
Dadar Nagar Haveli
 
Not Yet Started
 
 
 
 
29
Goa
Closed state
offline
 
 
 
 
30
Manipur
 
 
 
 
 
 
31
Meghalaya
 
20-06-2023 to 14-07-2023
 
 
 
 
32
Mizoram
 
 
 
 
 
 
33
Sikkim
Open
 
 
 
 
 
Counselling Process
Counselling Process as per Medical  Regulations is :
All India Round one followed by State Round one followed by All India Round 2 followed by State Round 2 (timelines defined clearly by MCI). Every state is supposed to legally comply with these timelines.
Original certificates will be required to be submitted for all joining (AIQ, Deemed or State).
After All India Round one, a candidate may get a better seat Allotted in State Round one. In this case the candidate would choose the State Round one seat.  A candidate may hold two seats but eventually, he/she can be Admitted only in one seat at a point in time as originals are required for joining.
a) If you end up being a good ranker, you would want this option to choose between State and All India.
b) Also, note that that if a candidate had already joined the All India Round 1 seat, they will have to resign, and get their originals from AI Round 1 institute for joining the State Round 1 seat. And the AI Round 1 seat is reverted back to AI Round 2 (resulting in no loss of seat, provided their state counselling was on time – see next point)
15 % All India Quota (AIQ),Central University, Deemed University counselling 
The Directorate General of Health Services (DGHS), Government of India  conducts the Counselling for 15% All India Quota Govt. colleges Seats.
 100 % seats of all Deemed ,central universities ,ESI,AFMC
All deemed, central, state universities comes under AIQ counselling.
Similarly Seats of all ESIC and AFMC, BHU, Delhi University  & Jawaharlal Nehru Medical College, Aligarh will also take part in this counselling.
Although some seat reservation is there in all Central Universities
If you are looking to get admission under 15% All India Quota seats you have to apply for the same as per the directions of DGHS
Counselling fee is also mentioned to get admission in Government or Deemed medical colleges
Although all those applicants who take part in All India Counselling can also participate in State Counselling of their respective states.
Click here to visit offiicial website of MCC for registration .
15 % All India Quota cut off  2020 Government Medical colleges
S.No.
AIQ Govt. Medical colleges  MBBS cut off 2020
 
Category
All India Rank
Marks
1
UR-Open
15038
611
2
OBC
13423
615
3
EWS
14389
613
4
SC
81121
507
5
ST
96759
488
6
PwD
696928
142
 NEET UG counselling Schedule -for 85% State Quota Seats
As we have told earlier in this article that state counselling authority will do counselling for remaining 85 %  State quota and 100 % seats of all private colleges as well as state private universities.
State quota and reservation is also applicable in these seats
This may be good options for all those applicants who are looking for Govt. medical college in low score or for all those candidates who are having any type of reservation like SC/ST/OBC/EWS
other seats falling under the ambit of States, candidates may apply to their domicile states and a merit list as per State rules and based on All India Rank will be prepared by concerned Counselling Authorities.
The counselling for Private Medical Colleges will also be conducted by the concerned State Counselling Authority.
It is mandatory to do qualify the NEET UG 2022 Exam to take part in counselling
This is applicable for both AIQ as well as state counselling
It is mandatory to do registration need to register on their concerned state's counselling websites.
admission will be given purely on the basis of NEET UG score 2022
Click here to visit official website of any state counseling .
NEET UG Counselling Procedure 2023
Candidates can check the procedure of NEET 2023 counselling –
Step I: Registration for Counselling
MCI conducts the counselling to fill 15% All India Quota Seats in three rounds including of  mop-up round. The steps involved in NEET Counselling Registration are as follows:
Click here to visit official website of MCC UG counselling 2023.
Step 1: Visit the official website of MCC and click on 'New Registration'.
Enter NEET UG 2023 Roll Number, Application Number, Applicant's name, Mother name, Date of Birth, working Mobile number, valid Email ID and password as per your admit card. After entering all the required information, a new Id and Password will be generated. Use these credentials to register for NEET UG Counselling 2023.
Step 2: Log on to the MCC website and click on 'Candidate login'.
3rd Step III: Enter your Roll Number and Password.
Step 4: Applicant  will be redirected to a new page where he/she  have to enter details like Name, Roll No., Registration No., Mother's Name, Contact No., etc. When you're done, click on 'Submit'.
Step 5: After this, you will be shown all your details as per the NTA database. Verify the information and click on 'Confirm Registration'. A Registration Slip will be generated. Applicants are advised to save this page for future use.
Step II: NEET UG Counselling 2023 Fee Payment
After successful registration, applicants  are asked to deposit refundable and non-refundable NEET UG 2023 counselling fee. The fee can be paid through an online medium like Credit Card/ Debit Card/ Net Banking. Kindly make sure that your debit card have sufficient limit.
Avoid Credit card ,because in case of refund ,it's process is little bit complex.
We are providing you counselling fee details for 2023-24 session –
NEET  UG 2023 Counselling Fees
Category
Non-Refundable Registration Fee
Refundable Tuition Fee
–
15% AIQ/ Central Universities
Deemed Universities
15% AIQ/ Central Universities
Deemed Universities
UR
INR 1,000
INR 5,000
Rs 10,000
INR 2,00,000
SC/ST/OBC/PwD
INR 500
Rs 5,000
INR 5,000
INR 2,00,000
Step III: Exercising Option Entry and Locking
Choice Locking facility is available for a specific time period ,which can be noticed from official website.
In this step, applicants are supposed to fill choices of colleges as per your interest
although admission will be allotted purely on the basis of NEET UG 2023 score
required to submit preferences. you should fill the choices keeping in mind your scores as admission is granted on the basis of merit i.e. NEET score and preferences submitted during the counselling process.
You can view the list of colleges on the screen and fill as many choices as you want.
Post filling the choices in the list, candidates can arrange them in order of their preference by moving them up or down, interchange choices and delete choices.
Once you're done, enter your password and click on 'Lock Choices'.
Candidates are not allowed to make any changes after locking their choices so be very careful in your selection.
After locking, they can take a printout of the locked choices which will include locking date and time, IP Address of computer and system generated Unique no.
Step IV: Release of Seat Allotment Result
After successful choice filling and locking , the process of seat allocation will be done .MCC  will publish  seat allotment result after each round of counselling. It is released in the form of a list followed by issue of seat allotment letter to the selected candidates. All successful candidates who have be allotted a seat through counselling is supposed to report to the allotted colleges with the allotment letter and other original documents to finish admission process. Admission will not be confirmed until and unless applicant will not deposit the fee in respective college.
Documents required for NEET UG Counselling 2023
The following documents will be required at the time of admission in any of the allocated college through the NEET UG Counselling 2023. Applicants are supposed to carry original documents along with attested photocopies to the college or document verification venue(in case of state counselling ).
NEET UG 2023 Admit Card
NEET UG 2023 Score card
Class 10th Certificate and Marksheet
Class 12th  Certificate and Marksheet
8 passport sized photographs (Same as the one affixed on the application form)
MBBS Seat Allotment letter
 Identity Proof (Aadhar card/PAN card/Passport/ Driving License)
Reservation Certificate (if applicable)
Transfer of Non reporting & Non Joining vacant seats to state
Till year 2020 , Non reporting & Non Joining vacant seats after second round of All India Counselling reverted back to respective states but from 2021 all seats will be filled by MCC, for that MCC will conduct mop up round of counselling as well as stray vacancy round of counselling(if needed).
Feel free to contact us @ 8826-86-11-47/93-50-990-408 for counselling and admission related inquiry in MD/MS/PG Diploma/DNB and MBBS.
You can call us for any query and questions related to  NEET UG/PG examination .We are ready to assist you anytime.
You can also visit our You Tube channel by clicking here.
NEET UG counselling Latest news/updates 2023
NEET UG score is valid for how many years ?
Ans. NEET UG scores is valid for getting admission in MBBS/ BDS for current session only .
When will be admit card of NEET UG 2021 released ?
Ans: NEET UG 2021 admit card will be released at least before the date of  NEET UG 2021 which is scheduled on August 1,2021.
What are the minimum qualifying marks for the NEET UG exam 2021?
Ans. The minimum qualifying marks for NEET UG 2021 exam is 50% for general, 45% of general-PH, and 40% marks for reserved categories.
Can an applicant who  join Second Round of Counseling of 15% AIQ can leave/ Resign to join State Quota/ Private College seat?
Ans: Although there is option of free exit after first counselling but of any candidate join second round seat from 15% All India Quota will not be allowed to leave the seat. However, if you are allotted a seat in Second Round in AIQ/ Deemed you can Exit with Forfeiture of security amount.
When will be All India Level counselling will be started for NEET UG 2021 qualified candidates ?
As per the latest developments All India Level counselling may start in 1st week of January 2021.
When will be State Level counselling will be started for NEET UG 2021 qualified candidates ?
As discussed above in details some of states have started state level counselling but all the major states are waiting for All India Quota counselling notification.
Is it possible to conduct state level counselling before All India Quota ?
Although states can conduct 1st round of counselling before All India Quota but it is not possible to conduct 2nd round of counselling .
Share this post?