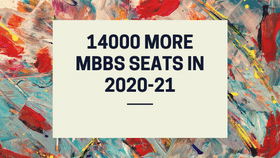 Today we will discuss about New MBBS seats added.
We are happy to inform you that 14000 more MBBS seats will be added in 2020-2021.Please verify the same from official website.
This is really a very good news for all those medical aspirants who have applied for NEET UG 2020.
If you have not applied yet ,do it immediately because only few days are left now.
The New Year has dawned on a record note for India's medical education sector with 2019 witnessing the highest ever addition of new MBBS seats in any given year over the past 63 years.
Increase of 14,863 MBBS seats in 2019
The increase of 14,863 MBBS seats in 2019 is the highest ever in the history of the Medical Council of India (MCI) which was created under the Indian Medical Council Act, 1956.
At the start of this session,there are 80,205 MBBS seats in 542 medical colleges in India.
Between 2018 and 2019 academic sessions alone, there was 24.5 per cent increase in the sanctioned intake of MBBS students — from 60,680 in 2018-2019 to 75,543 in 2019-2020.
The number of new medical colleges to be set up also increased at a record rate with the MCI Board of Governors taking control of the medical education sector last year after the government dissolved the MCI and set in motion the process of setting up a new medical education regulator, the National Medical Commission (NMC).
In the interim, MCI BOG was tasked with medical education regulation.
The Tribune has accessed government documents that show the BOG granted permission to whopping 37 new medical colleges for the 2019-2020 academic session. Corresponding number of new colleges to get permissions was 14 in 2017-2018 and 21 a year later.
India now has 529 medical colleges, up from 456 in 2016-2017 when the MCI was conducting medical education. Of these, 269 are government colleges and 260 are private.
Health Ministry sources confirmed that additions to numbers of postgraduate and super specialty seats have also been the highest in the 2019 academic year.
The BOG added 1,720 PG seats in 2019 academic session, up from 30,438 in 2018-2019 to 32,158 in the 2019 academic calendar.
At present 204 medical colleges offer PG courses.
The super specialty seats (Doctorate of Medicine and MCH) increased by 407 in 2019. The numbers rose from 2,797 in 2018 session to 3,204 in 2019, signaling a massive push to the creation of human resources in health.
India's current doctor-patient ratio stands at a dismal 1:1456 as against the WHO mandated 1:1000. Last year was all about medical education reforms and steps to create the NMC that will replace the MCI.
Further, the BOG fast-tracked permissions to facilitate higher intake.
Feel free to contact us @ 8826-86-11-47/93-50-990-408 for counselling and admission related inquiry in MD/MS/PG Diploma/DNB and MBBS.You can call us for any query and questions related to  NEET UG/PG examination .We are ready to assist you anytime.
You can also visit our You Tube channel by clicking here.
Share this post?