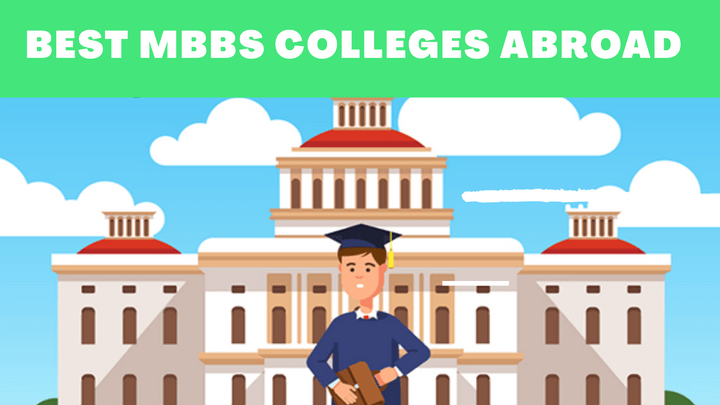 Today we will discuss about Best MBBS colleges abroad for Indian students. Read this artilce till end to know the complete details about these medical colleges.
MBBS course is one of the most demanding career options in India. Every year not thousands of students but lakhs of students appeared the NEET UG entrance exam to get selected .
Every year only 5 to 10% of students get admission in India.
And students that do not get their name in cut-offs seek other options to study MBBS like retake the NEET next year or choose foreign medical colleges.
The same student who didn't get in the cut-off of Indian medical colleges can get admission in Abroad medical colleges to pursue their MBBS study.
Every year the number of students who are issuing eligibility certificates to study MBBS abroad is rising constantly.
And in this post, we are going to share the Best MBBS colleges abroad for Indian students.
Let's get into the list,
Best MBBS Colleges Abroad for Indian Students
Ulyanovsk State University, Russia
Ulyanovsk State University is one of the best universities in Russia that also securing top rankings in the education world every single year.
This university was built in 1988 and is an excellent learning place not for students from Russia but also for international students.
Ulyanovsk State University offers a wide course range in every education prospect field like engineering, law, IT, science, business as well as the medical field.
Every year, University offers 16,000 admissions for all courses. In which 200 enroll seats are secured for international students and one of the advantages of this university is that it offers a hassle-free admission process for international students.
Altai State Medical University, Russia
Altai State University is also one of the top universities from Russia and was built in 1972. Every year there is high competition among students to get admission to this university.
It offers various courses from all education streams and is also favored by Indian students for Mbbs.
University building and infrastructure also one of top-class with modern equipment and facilities.
Hostels are also well built for students of every need. Students have to fill another form to avail the hotel facility.
Their sports academic is also top class and equivalent to study courses.
Getting any program degree from this university is well known and valid on a global level.
Kyrgyzstan State Medical Academy,  MBBS Kyrgyzstan
Kyrgyzstan State Medical Academy also is known as I.K. Akhunbaev Kyrgyz State Medical Academy (KSMA) is one of the oldest medical colleges in the country as it was built on 1st september 1939. 
KSMA is recognized by WHO, FAIMER, IMED as well as Medical Council of India (MCI).
So, getting a degree from this college is acclaimed and recognized at the global level.
The college has its own selection committee team for the student's selection who filled for this college.
The study material in KSMA is offered in languages Kyrgyz, Russian, and English due to the high numbers of international students that apply every year.
Asian Medical Institute, Kyrgyzstan
Asian Medical Institute is also called as S.Tentisheva Asian Medical Institute (SAMI).
The institute was built in 2004 and located in the Kant city 58 of Gagarin Street, Kyrgyzstan.
SAMI is listed by FAIMER- Foundation for Advancement of International Medical Education and Research and recognized by the world health organization for its work in both – applied and fundamental research problems on medicine priority.
Institute is well recognized on a global level and students who get a degree from this college are able to participate in any screening test all over the world.
Asian Medical Institute is a favorite destination by international students as well as Indian students for pursuing medical courses like Mbbs, BDs, and MD.
AMA School Of Medicine, MBBS Philippines
AMA School of Medicine (AMASOM) is a part of AMA Education System.
The institute is situated in the capital of the Philippines, Makati with modern facilities to study.
The MD program offered by AMASOM is even recognized by the Medical Council of India (MCI) and equal to the Mbbs degree in all commonwealth countries.
AMASOM has premium 4 years program for all the international students from India, Pakistan, Nepal, Bangladesh, Sri Lanka, and all the aspirants who want to study bachelor in medicine.
Bogomolets National Medical University, MBBS Ukraine
Ukraine is the country that is known as a medical education hub for international students and Ukraine's Bogomolets National Medical University is a well known Medicine study.
In Fact, the university comes under the top 10 universities of Ukraine.
Bogomolets National Medical University was built in 1841 and named in respect of Ukrainian physiologist Alexander A. Bogomolets.
This university is also recognized by MCI as well as top organizations like  UNESCO, WHO, and IMED.
University offers various Bachelor's and Master's degrees that are valid on a global level.
If we talk about the campus and infrastructure of the University then it has more than 70 departments in the field of medical and science with the latest technologies and trained teams which also teach students.
It has 8 academic buildings where students study and also can work.
Budget cost is also very affordable to study at this university with a hassle-free admission process.
Uzhhorod National University, Ukraine
Uzhhorod National University was built in October 1945 by the Ministry of Education and Science of Ukraine. And the first batch began their study in February 1946.
At first, on the establishment of the University didn't have any teachers so primary studies were done by scientists and medical specialists but now Uzhhorod National University world-class teachers are making this university one of the top in Ukraine for studying medicine.
Vinnitsa National Medical University, Ukraine
Vinnitsa National Medical University was built in 1921 and one of the most famous medical universities to study abroad among the students.
If anyone is searching for colleges to study abroad then this college is always on their list.
Despite the establishment in 1921, it got the title of University in 1994.
Vinnitsa National Medical University recognized by all global organizations like UNESCO, WHO, and MCI.
Students can study here in two languages English and Russia.
Qingdao University, China
Qingdao university comes under the top 3 medical universities in China which is located in Shandong province. 
Because there are no private medical universities in China, the ranking of universities depends on how well they care for their international students, what study material they provide, and the number of students that graduated from the university.
Every year hundreds of students enroll in Qingdao University from India, Singapore, Malaysia, and other countries to pursue their medical journey.
The cost of studying at this university is also very affordable.
Government medical colleges or either top private medical colleges to pursue MBBS in India.
But in comparison of  the high number of students who apply for the NEET UG  Exam, the number of seats in colleges offering MBBS are very low. All this because of high competition.
Conclusion
These are the best MBBS colleges abroad for Indian students for studying. All the colleges and universities are in top ranking in their respective countries which are recognized on a global level.
If you found any University or college name missing that must be in the list then feel free to comment below.
You can even contact us, if you are facing any confusion, issue or need consultation.
Just call or WhatsApp at +91-88-26-86-11-47 or 93-50-990-408.
You can also visit our YouTube channel to watch NEET UG Expected cut off in 2023 ,fee structure of all medical colleges.
Share this post?