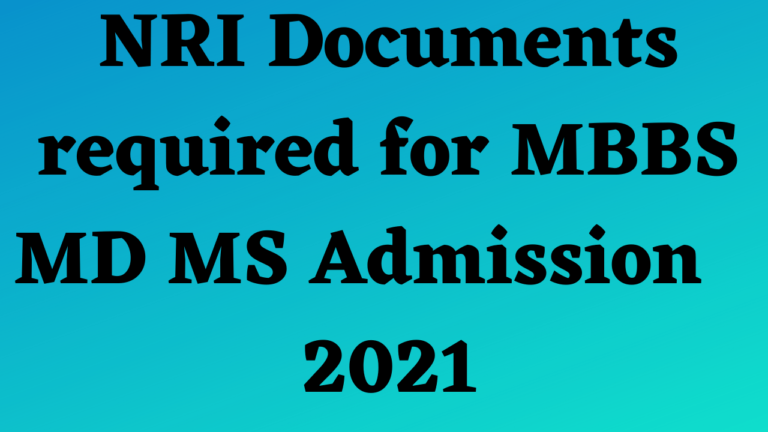 Today we will discuss Documents required for NRI Documents MBBS MS MD Admission 2021 in India .
List of NRI Documents MBBS MS MD Admission 2021
The following conditions are required to be met by the candidates applying for change of their category (Indian/Others to NRI):-
1) Documents claiming that the person who is going to sponsor is an NRI (Passport, Visa of the sponsorer)
2) Relationship of NRI with the candidate as per the court orders of The Hon'ble Supreme Court of India in case W.P.(c) No. 689/2017 (CODEUNIK) & Ans. Vs Union of
3) Affidavit from the sponsorer that he/ she will sponsor the entire course fee of the candidate duly notarized.
4) Embassy Certificate of the Sponsorer (Certificate from the Consulate)
5) Valid NEET Score Card of the candidate.
For Expert admission guidance call us @8 8 -2 6 -8 6- 1 1- 4 7.
For more information on NRI /Management /other quota MBBS admission 2021-22 Click here.
Hope this article "Documents required for NRI quota admission in MBBS MD MS 2021-22 in India" will be helpful for getting admission in Top Govt. colleges like JIPMER ,AMU .
Feel free to contact us @ 8826-86-11-47/93-50-990-408 for counselling and admission related inquiry in MD/MS/PG Diploma/DNB and MBBS.You can call us for any query and questions related to  NEET UG/PG examination .We are ready to assist you anytime.
You can also visit our You Tube channel by clicking here.
Frequently asked questions for NRI quota MBBS MS MD admissions in India 2021
Q Is it possible to get admission in any medical college without NEET UG/PG ?
Ans: No, it is not possible to get admission without NEET UG/PG score.
Q Will there be a separate NEET UG/PG exam for NRI quota students ?
Ans: No,NEET UG/PG is common for all including of NRI/PIO/OCI.
Q Can an NRI student get a general seat in a private medical college in India?
Q Are NRI students eligible for seats in Government medical college through NEET UG/PG ?
Q What is the current status of NRI quota in NEET?
Ans: NRI quota is available in JIPMER,AMU,Government medical colleges of Puducherry ,Punjab,Haryana,Himachal Pradesh,Gujarat,Rajasthan ,In addition to this NRI quota seats are there in All deemed medical colleges and even some private medical colleges also have NRI quota seats.
Q What is the procedure for getting an NRI seat in a government medical college?
Ans: Procedure is exactly same as Indian National , in addition to that above mentioned documents must be there.
Q What are the NRI quota fees in Government medical colleges of India?
Ans: Minimum fee in Govt. colleges medical colleges is $ 75000 for whole course.
Q What is the NRI quota in the NEET exam, and what is the fee structure for Indians and foreign students?
Ans: Fee structure for NRI candidates varies from state to state.
Q Can NRI/OCI get admission in Government medical colleges in Puducherry ?
 Ans: Yes, Non Resident Indians (NRIs), Overseas Citizen of India (OCIs) are eligible to get or admission in Govt. Medical/Dental Colleges subject to rules and regulations framed by the respective State Governments.
Q 4 What is difference between NRI,OCI and PIO ?
Ans: To see the difference between Non Resident Indians (NRIs), Oversees Citizen of India (OCIs), Persons of Indian Origin (PIOs   click here.
Q3 Can NRI/OCI candidate is eligible for 85 % Govt. quota seats through state Quota counselling?
Ans: No ,NRI/OCI candidate are eligible only for 15 % Govt. quota seats through All India Quota counselling and 15% seats reserved for NRI in state counselling(if any).Please verify the same from official website.
Q What are the best medical colleges with any NRI quota?
Ans: There is no all doubt that all the Govt. colleges are very good. In addition to this various deemed and private medical colleges  which are as follows:
JIPMER
AMU
All Govt. medical colleges
AIIMS
Kasturba Medical college
Amrita Medical College
Sri Rama Chandra Medical college
Dy Patil Medical college
MGM Medical College
PIMS ,Loni
SRM Medical college
JLN,Wardha
Bharti Vidyapeeth
Q Is there any NRI quota in government medical colleges?
Ans: Yes there is NRI quota in Govt. ,semi Govt. medical colleges in India
Q What are state /UT which are having NRI quota in Government & semi Government medical colleges in India?
Ans: As of now there are only few states/UT which are having NRI quota in Government medical colleges in India. These are as follows:
Rajasthan
Puducherry/Pondicherry
Haryana
Punjab
Himachal Pradesh
Gujarat
Chandigarh
New Delhi
Goa
and if we talked about most popular medical colleges in India having NRI quota are as follows:
AIIMS(not for NRI's but for foreign Nationals)
JIPMER
AMU, Uttar Pradesh
Jamia Hamdard , New Delhi
Share this post?