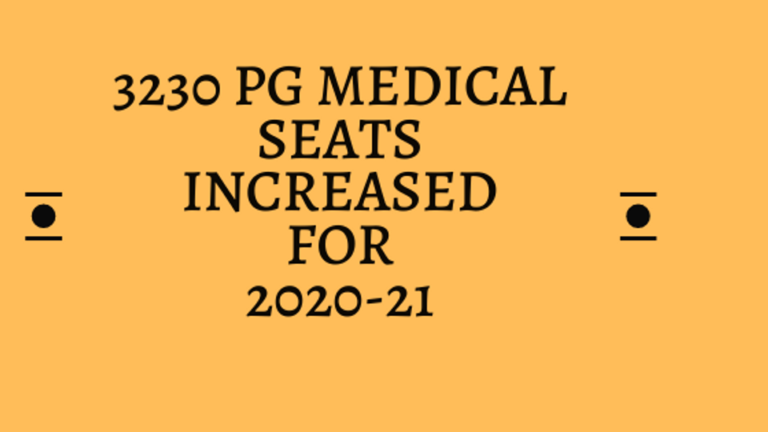 This is in continuation with earlier article PG medical seats increase.
As we have informed you earlier that center Govt. is planning to increase more PG seats .
In last article we have told you that about 2450 seats are increased but now the tally is 3229.
Last year in 2019-20  also 2,153 seats were increased.
In addition to this diploma seats were also upgraded to MD and MS seats.
As per the latest update about 2450 PG Medical seats increased till now .According to news this year around 8000 seats will be increased in total.
For latest information and updates you may visit official website.
If we talk about number of MD/MS seats available till now in Govt. and private medical colleges is as follows:
Total number of PG seats=33245
Number of PG SEATS in Govt. colleges=18988
MD/MS seats in private medical colleges=14257
It is good to see that number of PG seats are more in Govt. colleges than private college.
There is no doubt that fees of Govt. medical colleges is very nominal and affordable .
Although most of the Govt. medical college offering PG medical courses charges fee in between 10k to 1Lakh.
Yet Rajah Muthiah Medical College Annamalainagar is one of the leading Medical Institute, is popularly known as RMMC Annamalainagar charges fee around 10 Lakhs per annum.
That why all the medical PG aspirants first of all try for govt colleges and some times due to budget their choose a branch in which they have no interest or less interest.
But it is our suggestion that while choosing a branch you must keep in mind your whole career.
Feel free to contact us @ 88-26-86-11-47 or 72-177-11-392 for counselling  and admission guidance in MS/MD/DNB/PG diploma/MBBS.
Share this post?