OCI MBBS Admission: OCI citizens are of Indian origin but they are having foreign passport and are not citizen of India. As per the latest notification MHA(Ministry of Home Affairs) has informed through gazette notification that OCI card holders can claim only NRI quota seats reserved in Medical colleges.
OCI MBBS Admission
Note: As per today's (September 30,2021) order of Hon'ble Supreme court of India now OCI candidate are eligible for both Government and NRI seats for 2021-22 Session.
Here is the copy of Court order: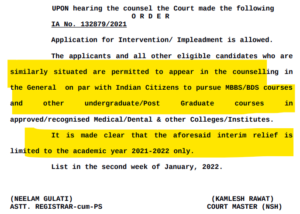 We want to make it clear that it is mandatory to qualify NEET UG examination .
In fact, OCI cardholders will have parity with NRIs in the matter of appearing of respective entrance examination like NEET for Medical, JEE Mains, JEE Advance.
They are eligible only for seats reserved for NRI quota or any supernumerary seats.
According to the fresh circular, India does not allow dual citizenship but provides certain benefits under Section 7B(I) of the citizen act.
This fresh notification replaces earlier three notifications issued in 2005,2007 and 2009.
 Click here to know in details about NRI Reservation Quota .
Note :Please verify the same from official website.
On top of that, Medical admission for Maharashtra, Government mandates a 10-year domicile + 11th and 12th standard Maharashtra education requirement. 
On the other hand TamilNadu, Kerala, Gujarat and NCR have different rules. 
There is a huge problem of lack of uniformity and standardization in India.
So. we decided to write a brief article on this topic to enlighten students like you. In which we are going to talk about everything about OCI category students.
In our today's article, you are going to  know,
What and Everything about OCI Mbbs admission

Process of mbbs admission via OCI quota

Cases and changed rules for OCI Students

Different rules, regulations and policies for state government for OCI admission in that state

Documents required for students to participate in OCI quota admission
Let's start with the first knowing about who is eligible for OCI Quota.
Which candidates comes under for OCI Quota
In most simple words OCI students are Overseas Citizen of India, whose parents or Grandparents live in another country and have citizen of that county but originally belongs to India.
So these students are eligible to apply as OCI if he/she is granted with Overseas Citizenship of India and has an OCI card.
And as per Karnataka High Court, Students holding Overseas Citizens of India (OCI) cards must be treated as Indian citizens for the purpose of admission to professional courses and they are entitled to admission under the state quota.
OCI Quota Eligibility to Get Mbbs Admission
Students must fulfil OCI quota criteria

Applicants must be holding a valid passport

The seats offered under NRI Quota will only be allocated to the students have minimum Neet scores

Candidates must have qualified NEET exam

Candidates applying under NRI sponsorship must have a real blood relation to the financial supporter, be it the mother, sister, father, brother, aunt or uncle.
OCI Quota MBBS Admission Process
MBBS admission process for OCI candidates starts with the NEET entrance exam, where they have to score minimum qualifying marks for admission. As far as NEET UG 2021 is concerned , it is scheduled on August 1,2021 and result will be declared by the August month end.
After the results are announced, candidates need to register themselves on MCI official website for the counselling process.
Then students who ranked higher got their seats allocated first based on NEET scores and category.
Each state has a separate MBBS admission process, rule and regulations for admission in OCI quota, that we are going to discuss below.
Cases and changed rules for OCI Students
There are so many conflicts happening for OCI quota students who applied for Neet.
And many petitions filed in various state high Courts to make the admission process conflicts free.
One of the cases was Vasta Shah petition, 17-year-old Vatsa Shah, who was born in Gujarat and holds a British passport. She was denied participation in the admission process for medical courses after she scored 534 marks in National Entrance cum Eligibility Test (NEET) this year. She also passed her Class 10 and 12 exams from Gujarat.
But in the end, she wins.
As per results, In 2019, the Gujarat high court said that a student, who is an Overseas Citizen of India (OCI), would be treated at par with Non-Resident Indians (NRI) for admission to MBBS course.
And many more states like Karnataka also accept NRI.
But still, other states have their own rules of OCI quota candidates.
Let's discuss that next section of this article.
Different rules, regulations and policies for state government for Oci admission in that state
Maharashtra: Maharashtra Government asks for a 10 year domicile with 11th and 12th marksheet for OCI quota students to take admission in professional courses.
TamilNadu: Whereas In some states,OCI is recognised as equal to Indian citizens by respective state governments. Tamilnadu is one example where OCI are the same as Indian citizens.
Karnataka & Gujrat: Both states consider OCI students as NRI.
Uttar Pradesh: In Up state governments also treat OCI category students as NRI, but If the candidate is applying under OCI category, an OCI card issued by the embassy is required.
Other States: All remaining state colleges ask for different documents for this quota so it will be required to check first and confirm with respective medical councils.
Things to remember by OCI Candidates
Now, those who apply for an OCI card or PIO card would be able to appear in this exam like NRIs.  But they also have to bear in mind these points:
A Valid Identity proof
They must have a valid Aadhaar card as their identity proof. It has been made compulsory for all natives of India. But yes, there are a few exceptions. The citizens of Assam, Meghalaya and Jammu & Kashmir are barred from this mandate.
In case they don't have this card, the passport would be accepted as the authentic ID proof. The applicant must mention his/her passport number on the application form. 
And later also, they must take the same along while appearing in the exam.
NEET mandatory for admission in medical
Taking admission before 2016 in Indian medical colleges was based on the scores for non-residents, persons of Indian origin and overseas citizens. 
But with the interception of the Supreme Court, the foreign residents have to compete with the indigenous aspirants in the NEET exam. 
They can't skip it for getting admission as stated in the old law books.
15% institutional/management quota in private colleges
As told above, the aspirants can utilize the opportunity of claiming seats as per quota. But OCIs and PIOs shall be eligible to claim one out of 15% seats for which they have to sit in the NEET exams.
As far as the state's reservation quota is concerned, the state would be a sole authority to provide quota or not. 
Kashmir government rejects entertaining any such request for quota. On the other hand, the Maharashtra government has nodded to provide quota seats for admission in private or government medical colleges.
Choose the city for the exam wisely
it would be a wise idea to take an exam in the state wherein maximum numbers of sears are offered. 
Uttar Pradesh and Maharashtra are the two main venues which maximize seat offering to take admission in medical college post entrance exam successfully. CBSE has validated around 80 cities of India to conduct this exam. While filling the form, the foreign students can mark three centres in a city for participating.
Documents required for students to participate in OCI quota admission
It will be advisable to curate all documents before participating in quota category counsellings.
OCI card is a must document for this quota candidates.

Passport

10th & 12th mark sheets

Domicile

Valid Address proof

Online application form printout with passport size photographs

Neet scorecard

NOC from the Ministry of External Affairs, GOI (Government of India), New Delhi

Non-Objection Certificate (NOC) issued by the Ambassador/ competent authority of the candidate's country to allow their stay and study in India

Health Certificate

Migration Certificate
OCI Admission Uncertain
As per news published in "The Hindu" in May 2021.
Final Words
Hope, you find all the information that you are looking for in this post but still you think something is missing or inappropriate, please comment below and tell me your thoughts.
And if you have any question or need premium consultation for admission in top medical colleges, feel free to contact and whatsapp at +918826861147.
Share this post?