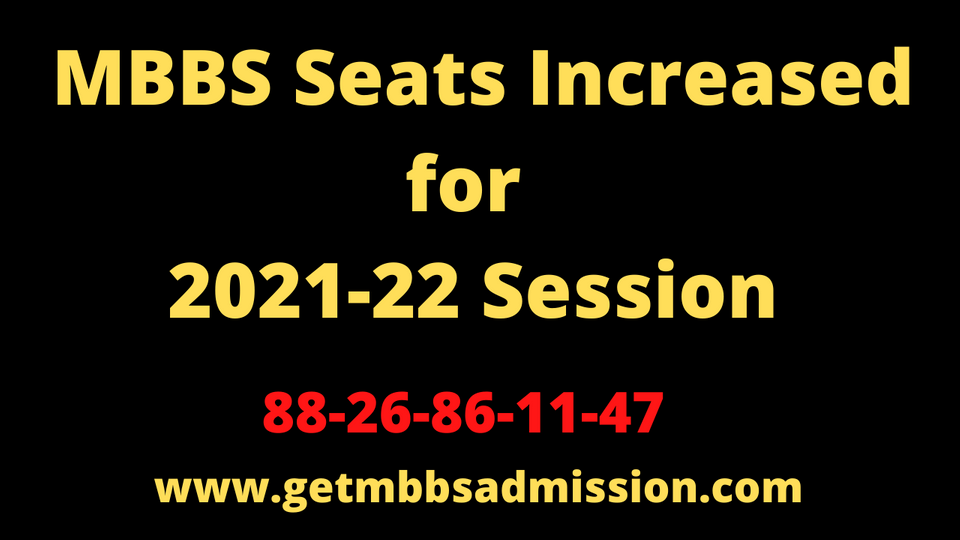 Today we will discuss about MBBS  seats increased in 2021.As number of medical colleges are increasing every year. So we  are going to provide complete details about MBBS seats in India.
MBBS seats increased in 2021
If we go through the official website data we can check till now more than 5170 MBBS seats have been added for coming session 2021-22.
As far as new medical colleges are concerned till now (24/11/2021) around 41 new medical colleges get approval for MBBS Admission in 2021.
Similarly last year (2020) around 3205 MBBS seats were added.
These seats will be available for admission for all those candidates who have successfully qualify NEET UG 2021.
Now we would like to tell you that what is latest update related to state wise MBBS seats increase  in 2021.
One Government medical college (Lakhimpur Medical College) is get approval for 100 MBBS seats in Assam.
Two private medical college with 150 MBBS Seats each and one ESIC medical college get approval in Bihar. Name of these medical colleges are:
Shree Narayan Medical Institute & Hospital
Radha Devi Jageshwari Memorial Medical college & Hospital
As per latest update 10 (Ten ) New medical colleges have been added in Uttar Pradesh. Out of these nine(09) are Government medical colleges and one is private medical college.
Click here to see complete counselling and admission process Uttar Pradesh 2021.
As far as number of MBBS seats are concerned there will be 900 seats in Government medical colleges and 150 seats in private medical colleges.
Similarly in Tamil Nadu around 12 new medical colleges get approval for session 2021-22.Out of 12 there are o5 private medical colleges and 07 Government medical colleges. As of now there are total 64 medical colleges in Tamil Nadu state.
As far as number of MBBS seats are concerned there will be 850 seats in Government medical colleges and 750 seats in private medical colleges are going to be added for 2021-22 in Tamil Nadu.
Click here to see complete counselling and admission process Tamil Nadu 2021.
Third state in this category is Maharashtra.  In 2021 till now following MBBS Medical colleges get approval for new colleges or there seats has been increased
 Government Medical College Satara (New) -100 seats
Government Medical College) Alibag (New )-100
Dr. N Y Tasgaongar Institute of Medical Sc -Karjat 100 seats
50 MBBS Seats in Somaiya Medical College (Private Medical College)
MBBS Seats in PDMC Amravati (Private Medical College)-50
50 MBBS Seats in IMSR Jalna (Muslim Minority Private Medical College)
Click here to see complete counselling and admission process Maharashtra 2021.
Similarly one Private medical college (Dr S. S. Tantia  Medical College & Research Hospital )get approval in Ganga Nagar -Rajasthan having 150 MBBS seats. In addition to this one Employees State Insurance Corporation Medical College, get approval in Alwar for 100 MBBS seats.
As far as Chhattisgarh is concerned ,two medical colleges get approval for MBBS admission in 2021-22 session.
Out of these two medical colleges one  is private medical college (Shri Balaji Institute of Medical Science situated in Raipur) having 150 MBBS seats and another one is Government (Government Medical College, Kanker) having 100 MBBS seats.
One Deemed University(Jagadguru Gangadhar M M Medial college) get approval for 150 MBBS Seats in Karnataka. This college of KLE Academy of Higher Education & Research ,Belgaum group.
In addition to this one private college (Shija Academy of Health Sciences, Manipur ) with 150 MBBS seats get approval for admission 2021-22 in Manipur  .
From this year(2021) one more Government medical college(Dr B R Ambedkar State Institute of Medical Sciences, SAS Nagar , Mohali,Punjab ) get approval for 100 MBBS seats.
Sikkim Manipal University get approval of 50 more MBBS seats for State domicile candidates from year 2021-22.
Now, figure have changed and new medical colleges in 2020 is 07.
Name of the newly opened medical colleges  in Maharashtra are:
1.Datta Meghe Medical college Nagpur
Number of seats =150
Click here to visit college website.
DMMC has world class infrastructure with campus spread over 20 acres in Wanadongri Hingna Nagpur.
It houses unique and modern facilities such as digital library, Anatomy labs, Physiology labs, and Biochemistry lab.
DMMC has Shalinitai Meghe Hospital and Research centre with 350 beds. It offers service in sub specialty services in specialties like Urology, cardiology and sub-specialty services ranging from endoscopy, minimal access surgery, Dialysis Joint Replacement, Arthroscopy and wound care clinic locked with patients and catering with low cost and quality health care services.
The DMMC has highly qualified and trained faculty having decades of teaching experience and scores of publications.
The SSPM Medical College is affiliated to the Maharashtra University of Health Sciences, Nashik (MUHS).
SSPM Medical College and Lifetime Hospital is a multi-speciality hospital with cutting-edge technology and expert doctors to provide people with the required care and specialized treatments. With the state-of-art technology SSPM Lifetime hospital excels at providing medical treatments in various fields. SSPM Medical College and Lifetime Hospital was established in 2017. World-class facilities are integrated into the hospital which makes it one of its kind.
SSPM Medical College and Lifetime Hospital offers care and support to the patients and extends their support to the patient's family to make them feel comfortable with the environment. SSPM Medical College and Lifetime Hospital is known to treat its patients with utmost care and compassion. Hospital, till date, has carried out many successful complex surgeries. Patients have easy access to the hospital. Patients and their families are being offered many medical facilities as well as amenities at the hospital.
The hospital aims to meet all the health needs of our society by providing high quality and compassionate care. Its vision is to be the unmatched leader in improving quality and reducing the cost of health care for its patients.
About SMCW
The Symbiosis Medical College for Women is the brainchild of Prof. Dr. S.B.Mujumda.He is Founder and Chancellor of the Symbiosis International (Deemed University). After seeing the biographic movie about India's first lady doctor, Ms. Anandibai Joshi, the idea of creating a medical college exclusively for women was born. With an objective of women empowerment and contributing to nation building by increasing the number of female doctors, Symbiosis has established this exclusive Medical college for Women under the Faculty of Health Sciences.
The medical college is located in the scenic campus of the Symbiosis International (Deemed University) at Lavale, Pune. The annual intake will be 150 students. The medical college and its attached Symbiosis University Hospital and Research Centre have state-of-the-art infrastructure and facilities. Sister Institutes in the Lavale campus like the Symbiosis Institute of Business Management, Pune, Symbiosis Institute of Digital and Telecom Management, Symbiosis Institute of Media & Communication, Symbiosis School of Biological Sciences, Symbiosis School of Photography, Symbiosis School of Culinary Arts, Symbiosis School of Sports Sciences, Symbiosis Institute of Technology, Symbiosis School of Banking and Finance & research centers like Symbiosis Centre for Waste Resource Management, Symbiosis Centre for Stem Cell Research, Symbiosis Centre for Behavioural Studies, Symbiosis Centre for Nanoscience and Nanotechnology and Symbiosis Centre for Medical Image Analysis will assist in the strong focus on academics and research.
In addition to the academic infrastructure, excellent residential facilities for residents and staff are available within the campus. The college has a fully air-conditioned library with the requisite array of national and international textbooks and medical journals which form a vital part of the college facilities. Our highly experienced and senior staff will ensure the best of training to produce skilled women doctors who are empathetic, ethical and compassionate. As has been the culture of Symbiosis, we believe it is our responsibility to contribute to nation building by providing excellent training and creating the next generation as qualified and ethical human beings.
Click here to visit website of Symbiosis Medical College.
One college is added in Karnataka.
Number of seats  in MBBS is 150.
Dr. Chandramma Dayananda Sagar Institute of Medical Education & Research (CDSIMER) will boast of 1350 bedded hospital, along with super specialty services, commissioned in phases, the hospital and college will serve the health care needs of people in the surrounding area catering about 1.2 million populations, in over 200 villages.
Core purpose of establishing CDSIMER is to Educate and Empower the youngsters to serve the humanity with the Ethics, Empathy and Excellence and to produce citizens with exceptional leadership qualities to fulfill the National & Global needs with a Vision to build the finest medical teaching institutes and a state of the art hospital, recognized world over.
The 125 acres smart campus of global standards will create an environment that enhances creativity, innovation and scholarly pursuits.
Click here to see the total no. of seats available in India for MBBS in 2020.
5. Panimalar Medical College Hospital & Research Institute, Chennai,Tamil Nadu (Seats 150 )
Panimalar Medical College Hospital & Research Institute is a Christian Minority Institution of Higher Education established and governed by the "Jaisakthi Educational Trust", Chennai. Jaisakthi Educational Trust aims at imparting quality engineering, medical, nursing and other health professions education for the aspiring youth. The college is located at Varardharajapuram near Poonamallee, Chennai and is well connected by road covering Chennai, Kancheepuram and Thiruvallur districts.
The Jaisakthi Educational Trust started Panimalar Medical College Hospital & Research Institute in the year 2017 in accordance with the general policy of the Government of Tamilnadu. The College is well-equipped with the state of the art infrastructure, technology-enabled smart classrooms, advanced laboratories and continually focuses on teaching, clinical practice, and research.
This sprawling campus provides a holistic education in an ambiance that makes no compromise on discipline, dedication, and commitment. It strives to inculcate the spirit of learning in the campus offering state of the art facilities and learning environment to the students. The college ensures that the students who pass out of the college, turn out to be academically brilliant, morally upright, and empowered individuals.
6. Diphu Medical College & Hospital, Diphu, Assam (Seats 100 )
Diphu Medical College is a medical college located in Diphu, Assam. It started functioning from 25 November 2019. This is the 7th medical college of the state. The college operates under the State Ministry of Health and Family Welfare, Assam. It is recognized by Medical Council of India and affiliated with Srimanta Sankaradeva University of Health Sciences, Guwahati.
The college has a current intake of 100 undergraduate students from academic year 2020-21.
The construction was initiated by laying the foundation stone by Himanta Biswa Sarma at 19 January 2011. In 2017, The existing work of the college was enhanced from 156.55 crores to 209 Crores. The construction began from 2012, but the final plan for the college was received on 28 April 2018 as the architecture had changed three times.
The Brahmaputra Infrastructures is involved in the construction of Assam Hills Medical College and Research Institute. The college will have the facilities like 300 beds, a modern library, an air-conditioned Lecture hall. There will be 100 numbers of intake students, with 1,500 employees including nurses and grade IV staff.
Source : Wiki pedia
7. Netaji Subhas Medical College & Hospital, Amhara, Bihta, Patna (Seats 100 )
The Netaji Subhas Medical College and hospital is a new venture of Sitwanto Devi Mahila Kalyan Sansthan under the able leadership of Shri Madan Mohan Singh is being developed in Amhara, Bihta, Patna as per the guidelines of Medical Council of India. Once operational the medical college & hospital willmeet recognized standard of excellence in health practices & medicaleducation.
The medical college & hospital will house modern facilities toexplore, practice, and achieve the highest standards in healthcare and medicaleducation industry . The highly qualified and trained teaching faculty,technician and nurses will be part of the Medical College and Hospital as perthe requirements of Medical Council of India.
Click here to visit official website to check MBBS seats increased in 2020.
In addition to this some of the colleges which were debarred last year get approval this time.One of the famous name is Mulayam Singh Medical College, Uttar Pradesh.In 2018 , this college was having lowest fee for MBBS course in Uttar Pradesh.
To see the minimum marks required to admission in MBBS in 2020,click here.
More than 12000 MBBS Seats increased in 2019
Our team just wants to bring in to kind notice of all MBBS 2019 aspirants and their parents ,that in session 2019-20 more than 12000 MBBS Seats are likely to be increased .
According to the official website of MCI India Out of this 12000 ,more than 5000 is already added in Government medical colleges in more than 15 states of India.
In addition of this more than 2000 MBBS seats in private is increased for  2019-20 session.
Apart from this 10% EWS quota seats in Govt. colleges is also expected.
According to the official website of MCI India, there is about 7000 increase in MBBS seats since January 2019.
One important thing we want to share that affiliation procedure in medical colleges is still going on.
We hope some more medical colleges will also get affiliation and permission for MBBS 2019 ADMISSION for session 2019-20.
Feel free to contact us @ 8826-86-11-47/93-50-990-408 for counselling and admission related inquiry in MD/MS/PG Diploma/DNB and MBBS.You can call us for any query and questions related to  NEET UG/PG examination .We are ready to assist you anytime.
Click here to download free Android App from Google play store for all your queries related to MBBS,BDS,BAMS,B.V.Sc. Admissions 2020.
You can also visit our You tube channel by clicking here.
Share this post?