Minimum Marks Required in NEET for MBBS: This is the major question that arises in student's mind while they are preparing to crack NEET. Because these marks will decide either they get admission in private medical college or in a government medical college.
It is observed that most students want to take admission in government medical colleges to pursue their MBBS. As we all know how much private and deemed medical colleges are expensive.
There are total of 272 government medical colleges in India. These offers 41,388 seats.
For more information about Government medical colleges, you can read Total Government medical seats in NEET
But for getting admission into these government colleges you have to face tough competition.
So, today's article is all about these marks and what are minimum marks/rank require in NEET 2020 for students in different categories.
Minimum marks required in NEET for MBBS in Government college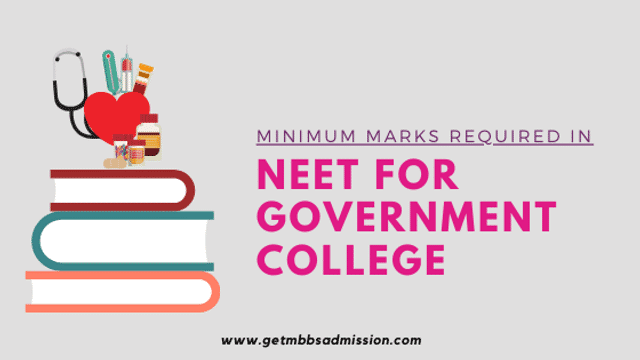 As I mentioned above there are 41,388 seats in 272 govt. medical colleges. These can be applied through NEET UG 2020.
Most of these colleges are in Maharastra, Gujrat, Karnataka, Tamilnadu and Andhra Pradesh.
These seats are divided into 2 types of Quota.
AIQ (All India Quota)
State Quota
In all government medical colleges, 15% of seats are reserved for AIQ and remaining 85% seats are for state Quota.
As per the last year's result of NEET UG 2019,General category aspirants need minimum need 50 percentile. On the other hand General-PH 45th and SC/OBC/ST requires 40 percentile.
For those who don't know what is the percentile?
Percentile used in NEET to determine students rankings. For example, 50 percentile means you must scores higher more than 50% of students appeared in NEET UG.
And for getting admission in Govt. medical colleges under an unreserved category or general, students have to get minimum 575 to 600 marks.
Minimum marks required in NEET for MBBS in private colleges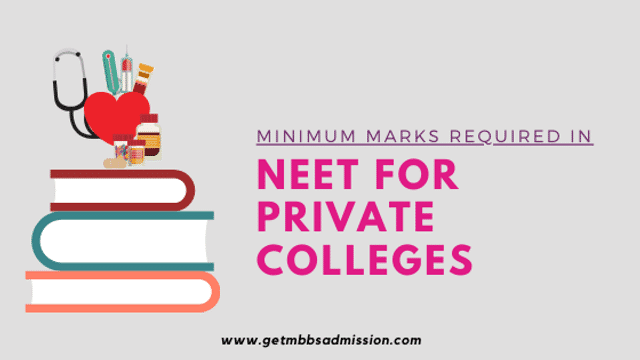 There are a total of 533 medical colleges (in which 38 are related to deemed medical universities). And they offer 78,748 seats for NEET aspirants.
For qualifying in NEET, students must have to score a minimum of 50 percentile for unreserved category and 40 percentile for SC/ST/OBC category.
And to get in the GOOD private medical college's cut off you have to obtain above 500 marks.
Minimum marks required in NEET for MBBS for General
General category students have to get more than 550 marks in NEET to get admission in government medical colleges.
From the result of NEET 2019 we can see, 62 was the ending cut-off for Maulana Azad medical college with 662 marks in AIQ and for state quota, it was 603 marks.
For Private medical colleges, General category students need 50 percentile or above 134 marks.
Minimum marks required in NEET for MBBS for SC
SC category student needs to score 40 percentile in NEET. So they can qualify to get admission in private or government medical colleges.
And if we talked about marks, students have to get above 107 to 119 marks.
Minimum marks required in NEET for MBBS for OBC
OBC category students also need 40 percentile score for NEET. And to get MBBS admission they need more than 120 to 133 minimum marks. This is based on last year(2019) cut-off .
---
Please note we are not the right authority to provide accurate data for NEET marks and rankings, all the details are based on previous year's NEET results, marks, cut-off and rankings.
If you have any suggestion or query related to rankings, marks or admission you can contact us or comment below. We like to help you!
Share this post?